The School Label Pack
PK3
Personalised mixed school name labels pack to label it before heading back to school

7 review
Please personalise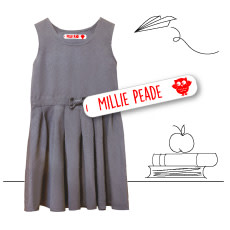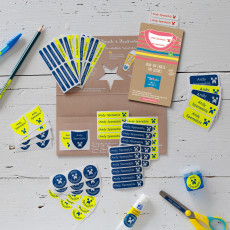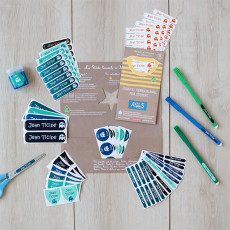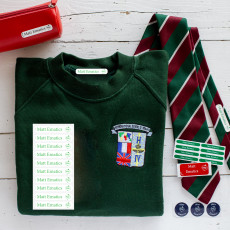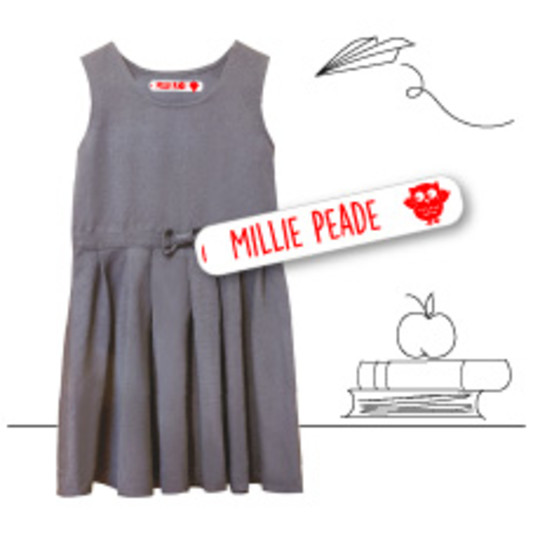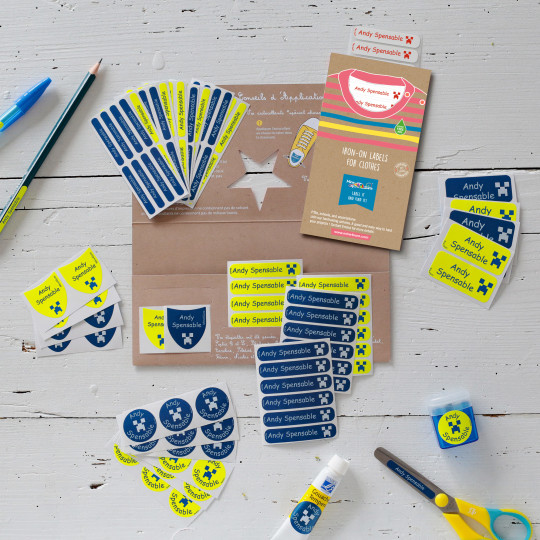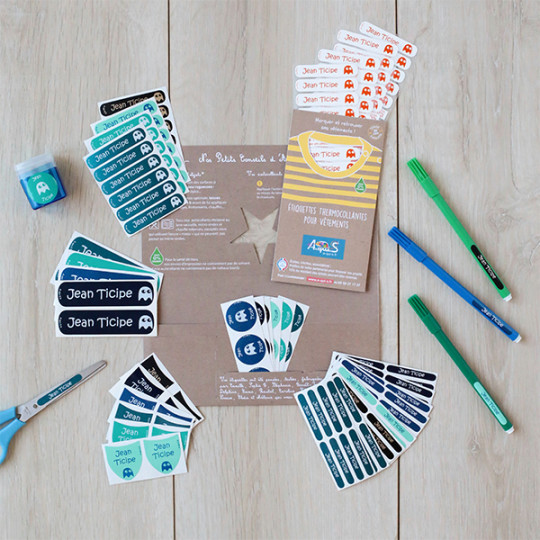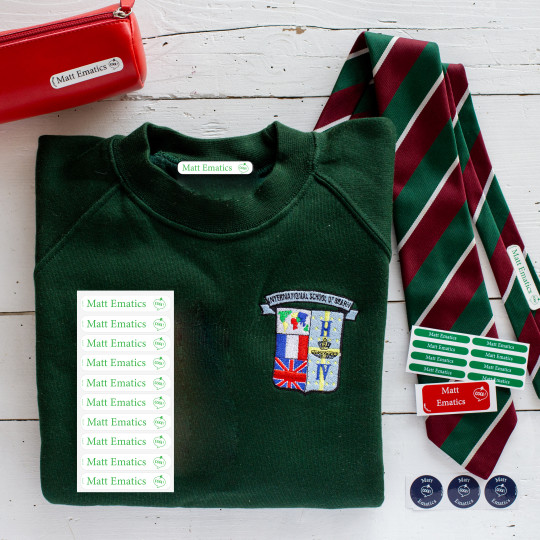 This combo pack of mixed school name labels contains:
40 name labels for clothes (choice of iron on or stick-on)
18 round stickers
24 small stickers
72 mini stickers
8 rectangular stickers
6 pairs of stickers special shoes
Personalised name stick-on labels or iron on name labels to identify in one's name school uniforms, PE kits, coats, jackets at risk of being forgotten at school and also personalised name stickers to label school supplies, books, sports and music equipment as well as shoes.
No more lost, swapped, misplaced or missing uniform thanks to Mine4Sure school iron on name labels. Personalise the kids name labels with your child's favourite colour(s), writing font and logo.
Our name tag for objects and shoes as well as our name tapes for clothing are all printed with solvent free inks.
Mine4Sure's range also includes sew in name tapes for clothing items that cannot be ironed. They come with the same choice of text colours as the iron on name labels and can be a useful addition to your School Pack labels.

7 review
Like uniforms and supplies, school name labels are an essential part of every Back to School. The kids name labels will help your children clearly recognise their belongings, reduce lost items and therefore save you money in the long run!
The different label types you will find in the personalised School Pack:
These school labels are perfect to identify in your child's name school clothes and all personal kids school items.
You are in the right place, if you are looking for school name labels for clothes and personalised stickers to identify, in your child's name, school uniforms, PE kits and school supplies. Since 2009, Mine4Sure is the specialist for high quality personalised name labels, perfect to identify all clothes, school supplies and personal belongings to label everything for school.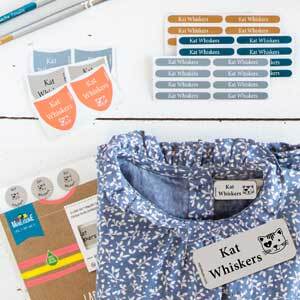 The 40 school clothes labels will allow you to label clearly, simply and durably coats, school uniforms, jackets, PE kits, hats, scarves, sweatshirts, jumpers and all the clothes children are likely to forget at school. They are easy to apply and happily go through the washing machine and tumble dryer. You can choose between iron on clothing labels or stick on name tags, specifically designed to be affixed on the care label.
The 18 personalised round stickers are perfect to identify, in your child's name, objects as required in the back-to-school list. Waterproof, the custom sticker are dishwasher safe so you can use them for cups, drink bottles, snack boxes for example.
The 24 small stickers are the best to label all school supplies such as pencil cases, rulers, calculators, even small music instruments like recorders…
The 72 mini stickers are ideal for pens and pencils. Very narrow and souple, they adapt perfectly to the rounded shape of pens and suit perfectly small surfaces, like scissors for example.
The 8 rectangular personalised stickers are perfect for bigger objects such as books, binders, note and exercise books, snack boxes, water bottles…
The 6 pairs of shoe stickers will allow you to mark durably 6 pairs of shoes: school shoes, plimsoles for gym, sports shoes… The number of stickers should cover your labelling requirement for the year (winter and summer shoes for example).
The mixed tags contained in this combo pack for school ideally suit your labelling requirement for the entire school year, whether in preschool or in primary. Personalising all your child school supplies and personal belongings for school is not only a way to help the adults (teachers, assistants…) caring for your child to have less lost property to manage. It's also the best way to avoid mix-up or loss of your child's belongings at school, in the bus on the home run…
A little investment in school stickers will save you money. With everything, from clothes, shoes, supplies labelled in your child's name, they will be more easily found and handed back to their rightful owner and you will not have to buy new items during the year!
Why choose Mine4Sure school name tags?
Quality and expertise: Since 2005, Mine4Sure is the "go to" place for the best school name tags for kids and school uniform labels. You can fully personalise them: with the name of your children, in their favourite colour(s) and with their favourite theme of the moment (footballl, uniform, skate, giraffe, unicorn, princess…) The tags contained in this pack are only printed with solvent free inks, environmentally respectful and safe for children's health. They are ultra-thin to adapt and stick perfectly to the shape of the object labelled: no risk of them becoming unstuck involuntarily during the year. Their adhesion is guaranteed. Stickers happily go through dishwashers and microwaves. And because, labelling does not need to rhyme with boring our stickers come in a wide range of solid, bright, fun colours: metallised, sparkly, neon that children love. To this date, over 94000 customers in the UK and worldwide are convinced by the quality of Mine4Sure sticker name labels for school.
Speed: Our production times are 24-48h business hours after you have placed your order. All kids school labels are dispatched free worldwide*, unless you choose otherwise, and will be delivered, by the postal services, directly into your letterbox : no need for you to be there to sign for the delivery. *Free standard airmail delivery worldwide. Tracked and express delivery options are also available when you need to receive your labels packs within a few working days.
Ethic and solidarity: In addition to favour a sustainable production mode, solidarity is also big on our agenda. Thanks to your orders for printed school name labels, we organise during the holiday season reverse calendars and each year Mine4Sure donates a share of its benefits to the Senden home foundation, who looks after and cares for street children in the Philippines.
Focus on customer service Emma and Franziska are here to respond to all your questions by emails on info@mine4sure.com or phone +44(0)7952 045 292. Monday to Friday during office hours: 8h30-12h30 and 14h-17h (CET).
Iron-on labels for clothes
Peel off the label from the backing sheet
Place the label where you want it directly on the fabric of your garment
Cover the label with the greaseproof paper supplied
Apply your iron with a downward pressure for 8 seconds, with the steam function off, temperature cotton/linen 180°C
Stickers for clothes
Select the shape of stickers most suited to the brand or care label of the garment you want to mark
Peel it off from the backing sheet
Stick it directly onto the synthetic brand or care label of the garment
Leave for 24h before washing
Stickers for objects
Mine4Sure stickers for objects can be stuck on most surfaces, as long as they are clean and smooth.
We recommend that you leave the stickers for 24h before using the object labelled.