Sew-on Labels for clothes
EVS1
Satin sew-on labels to personalise in your name or brand clothes and handmade creations
US$4.90
Shipping fee included
Please personalise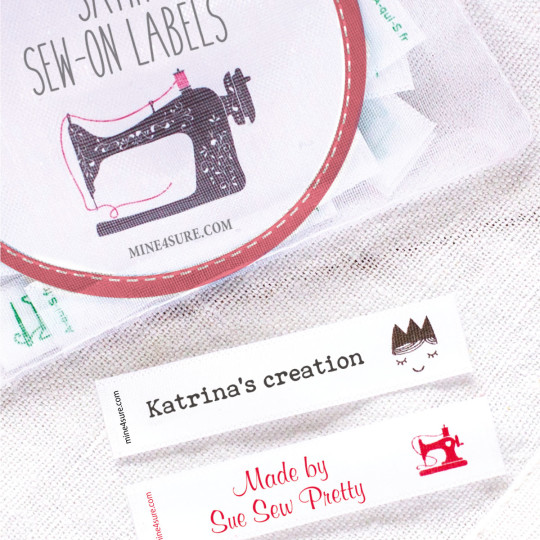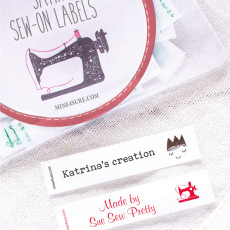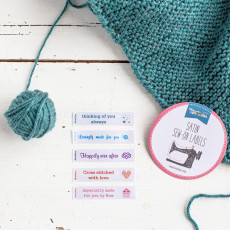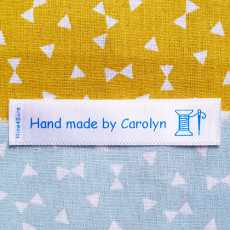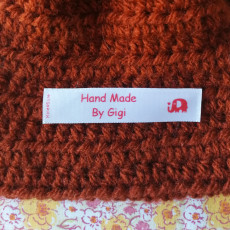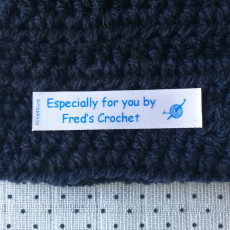 Mine4Sure sew-on labels for clothes are ideal to label clothes, « homemade » knitted, crocheted garments and items. They are our bestseller and will allow to label in your name your creations and designs. These personalised labels will add a beautiful personalised finishing touch to your sewing projects.
These labels for clothes can also be used to label clothes, linen and fabric items of your loved ones in communal living: care or retirement homes, boarding…
Made of quality white satin, these personalisable labels are printed. Thermo-cut, they do no t fray and are of equal quality with the embroidered labels, found in haberdasheries.
Solvent free inks guaranteed like all our personalised stickers.
Dimensions: 58 x 12mm -2.283x0.472inch
If you would like more than 20 characters on your labels, it is possible! Please contact our customer service on info@mine4sure.com
Dimensions: 58 x 12mm -2.283x0.472inch
Machine washable
2 lines of text possible
Choice of 9 text colours
If you would like more than 20 characters on your labels, it is possible! Please contact our customer service on info@mine4sure.com
High quality sew-on labels!
(https://images.a-qui-s.fr/image/upload/v1585579137/produits/EVS/etiquette-vetement-a-coudre.jpg)
Mine4Sure sew-on labels are especially designed to label your sewing and craft work or your more delicate clothes. They are made of a very soft satin, smooth to the touch, these fabric labels are perfect to label babies clothes. But also more delicate and fragile *textile** items such as tights, compression stockings or tights and silk blouses … for which iron-on labels are less recommended.
A reference in the world of name labels since 2005, our sew-on labels are made and printed with the greatest care. The labels are thermo-cut so they do not fray and come ready to use.
Why choose Mine4Sure fabric sew-on labels ?! You can make truly yours thanks to our large choice of pictures, fonts, text colours !
Start the personalisation of your logo by entering your text : two lines, of 20 characters maximum each, are possible. In addition to the name of the owner or your brand name you can add a telephone number, an email address, a class name, a room number or have your very own sweet message « Made with love"… Carry on personalising your fabric label by choosing your favourite writing font amongst the 15 fonts we offer.
Then, you choose a logo. Choice is endless ! In the category « Sports/hobbies », you will find logos perfectly adapted to match your favourite needle work: a needle and thread, yarn and knitting needle or crochet, even a sewing machine. In the all logos category, you can choose a cross stitched to compliment your cross stitched creations made with love, but also a "homemade" logo perfect for your own creations!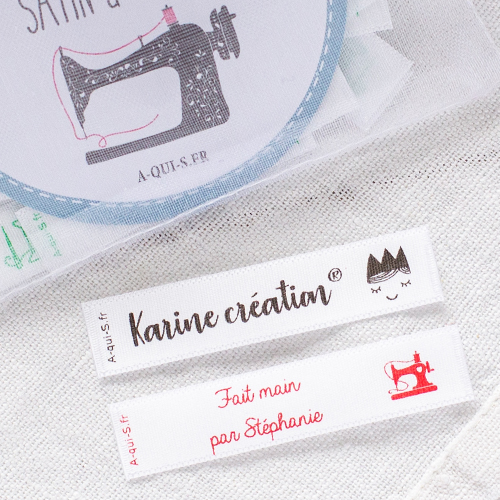 Finally, you select your preferred colour of text. The sew-on labels are white, you choose the colour of the text. There are 9 to choose from! The contrast is striking and it gives a little vintage feel, reminiscent of the labels our parents and grand-parents used to buy by the roll and have to cut one by one :) To keep the vintage feel, you can choose a red text, or for a more modern take or to match your work, choose pink, orange, purple, black, green or one of the 3 shades of blue we offer.
As are all our products, the sew-on labels are made within 24-48h maximum and delivered free worldwide (standard delivery). If you have any question, or need some extra information on our labelling solutions, do not hesitate to contact Emma on info@mine4sure.com or +44(0)7952 045 292
Tips to affix your labels
To be sewn directly on the clothes, in the location of your choice. So they are maintained durably in place, we recommend to sew your labels with a polyester thread.
You can sew your label in place by hand or using a sewing machine.