Personalised wristbands I Link U
BP
Custom wristbands making the link!
Please personalise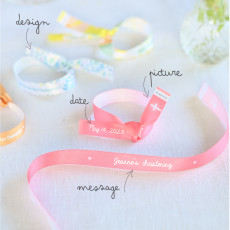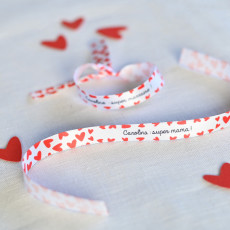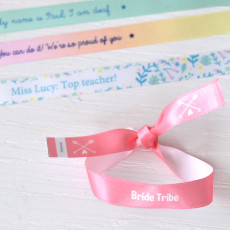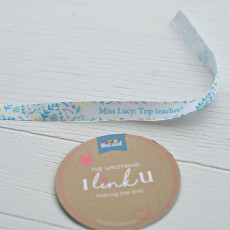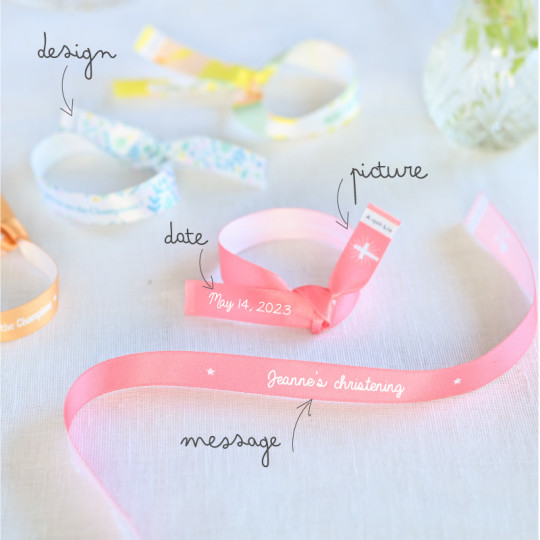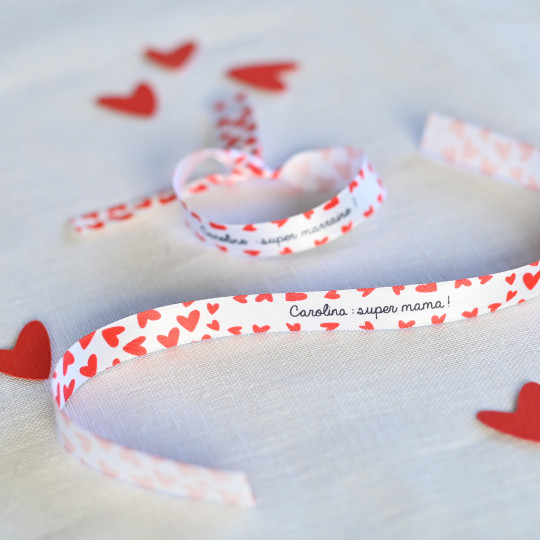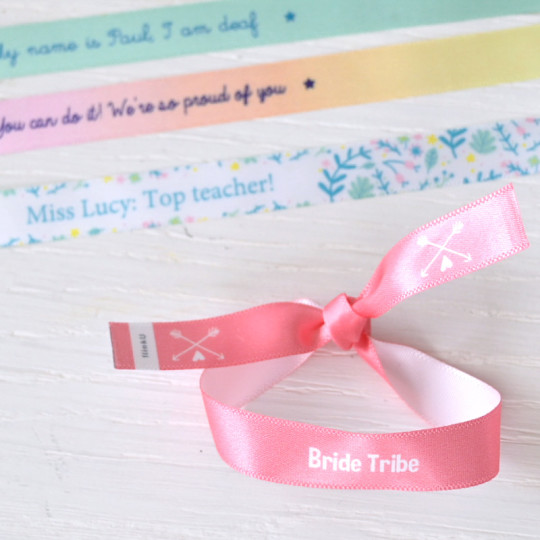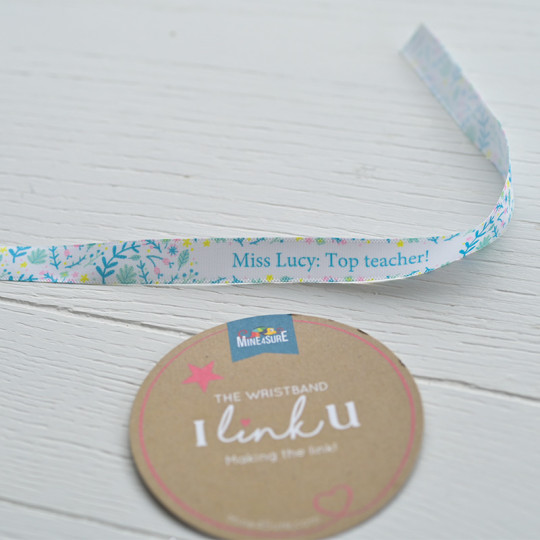 Mine4Sure is proud to present our new personalised bracelets I link U, to make the link whatever the circumstances.
Custom satin bracelet
Personalise it with a pattern, logo and your own little message
To knot on your wrist
For all your special occasions (weddings, christenings, communions, Mother's Day, hen nights, birthdays…)
To alert on allergies, special conditions or as an identification (If I am lost, allergies…)
Waterproof
Length: 30cm - 11,81 inches
Available in several quantities: Starting from 1 bracelet and up to 30
Made of satin, these personalised fabric bracelets are customised with your own little message and a pattern or you can choose a plain background colour. You attach them around the wrist with a simple or double knot. These will be THE personalised special touch, or customisedfavour gift idea to add your weddings, birthday parties, christening or even a team building event in your company.
Waterproof, this custom bracelet can also be used as an ID bracelet or alert wristband. personalized with a name and/or first name, an emergency contact number or a message alerting about a special condition or allergy.
Another great advantage is that you can buy it in a range of quantities depending on your needs, from the smallest: one wristband, up to 30 identical bracelets.
It comes in one dimension of 30cms (11,81 inches), a length that suits the vast majority of wrists!
Have fun personalising your personalised wristbands! :)
NEW! :)
Our personalised wristbands I link U, the satin bracelets making the link.
After a lot of hard work and thoughts, we are delighted to present this year's brand new product: the personalised wristband. This custom satin bracelet is very soft to the touch and very pleasant to wear. Attach this customized fabric wristand easily around your wrist with a double knot. As far as the length is concerned, the Mine4Sure team has opted for a 30cm length (11.81 inches). A standard size, that suits most wrists! These custom wristbands are available in a choice of quantities to suit your needs. You can choose to customize your bracelets individually (1 by 1), or in a small quantity (2, 3, 4, 6…) or in bigger sets (10, 15, 30, 50). Their added bonus: the personalised fabric bracelets are waterproof, able to cope with all events!
Become your wristband designer: Personalise your bracelets! You can customize your fabric wristbands with a message, a name or several within the limit of 40 characters maximum (spaces included). You also have the option to add a date (up to 17 characters maximum). Then you will choose between the different designs offered or plain colour backgrounds. Finally, you will select the quantity you want.
Our personalised fabric wristband is THE ideal custom gift to give or get for yourself for all special events, parties, and special occasions. A personalised attention that will please all your guests and can turn into a special, eye catching, party favour, a beautiful reminder or a special keepsake of your special celebrations. Here are a few personalisation suggestions and ideas, that we hope can help you:
A personalised bracelet/wristband for parties and special occasions: wedding, christening, communions, birthdays, anniversaries, graduations…
A custom fabric bracelet is the detail that can make all the difference at your wedding. Personalized with the name of the bride and groom and the date for example, it's the perfect token to slip in your save-the-date cards, wedding invitations, or as a small gifts for each guests on their tables. You can also personalise a bracelet for each of your best man, bride of honor, bridesmaids or groomsmen. It can also be a fun gift for a hen night or stag do. Customised it with a fun message, the theme of the evening or week-end, the date and give it to your friends joining the party. The idea of personalised bracelet for guests can be extended to other occasions and celebrations such as christening or communions for boys and girls alike. They make great event wristbands for birthday parties, sweet16, quinceñeras, anniversaries as well as for corporate events. They can be used for baby showers too. For example, the fabric wristbands could be divided in two equal parts, one with the text "It's a Boy!" and the other one with "It's a Girl!" and used by the guests to vote before the gender reveal.
Personalised bracelet with a name to tell them how much we love them, or as a Thank you
For Mother's Day, Father's Day, give them a fabric bracelet customised with a special message of your own, you name. A special attention full of love that will accompany them everyday, reminding them how much they are loved everytime they look at their wrist. This, of course, also works for grand-parents: grannies, grandpas, pops and nannas… This custom made satin wristband will also be perfect for Valentine's Day, a mariage proposal for him or for her, or for BFFs. It makes a lovely custom present. This satin fabric wristband is also a novelty gift to thank teachers, coaches, assistants, childminders… at the end of the year or for teacher's appreciation week.
The ID wristband or alert bracelet
These wristbands are, not only, soft to wear, they are also waterproof bracelets. They can stay in place for days and do not need to be removed when washing hands and so on. That also means that our children can bath, shower, play in the water, without worries, for their bracelets. The water resistant wristbands can stay on all the time. That makes them a very useful identification wristband to have for the children, when on an outing to the park, to the beach, to an amusement park, when travelling with school or family or away in a summer camp or day camp. You can personalise the ID bracelet with a name, a telephone number to contact in case of emergency or if the child gets separated from you or the rest of the group. It's also very useful for grown-ups with dementia. You can also personalise the wristband to have security features and alert on a special condition : allergy, intolerance, medical condition. Add a message, a telephone number, a name so that you can be easily contacted in case of emergency.
The wristband with a personalised message
"Auntie to be", "Future grandma", the fabric personalized wristband is a lovely way to announce a pregnancy, a event to come to friends and family. It makes a fun, unusual and special gift idea as well as a "beautiful" keepsake to treasures for years to come. A personalised message wristband is also perfect to encourage your loved ones or even school pupils*. Customised with a motivational, caring message: "You can do it", "Thinking of you", "Well done"… and distribute them to your children, family members, friends or to your pupils in class. It can also be used to raise awareness about a special subject, like *environment protection*: "I am cool, I walk to school", "Switch to green to win!" so many fun messages that can be printed on personalised message wristbands and given to school kids working on a special project, like earth or environment protection for example.
Event bracelet for all your corporate events
Team building events, seminars, sales team activities, workshops, galas, the event bracelet for these corporate events to reinforce the group's cohesion, brand image or company identity. In these types of events, you can also use the event wristbands as tool to allow entry, organise groups…
You will have seen by now how versatile these custom cloth wristbands are! They do really suit all events, special occasions… Time for you to personalise your own, just as you wish!
If you would like more information, or have any questions, do not hesitate to contact us on info@mine4sure.com.
Tips to affix your labels
Just knot the wristband/bracelet around your wrist.