The Nursery Label Pack
PK2
Personalised name labels to label clothes, shoes and objects for daycare

6 review
Please personalise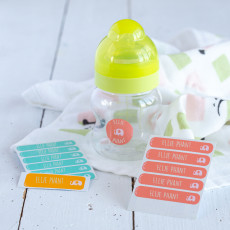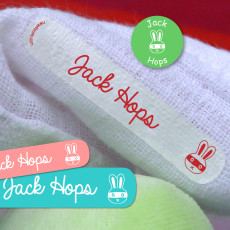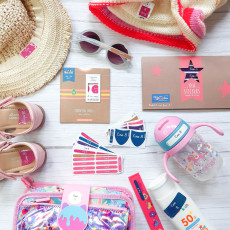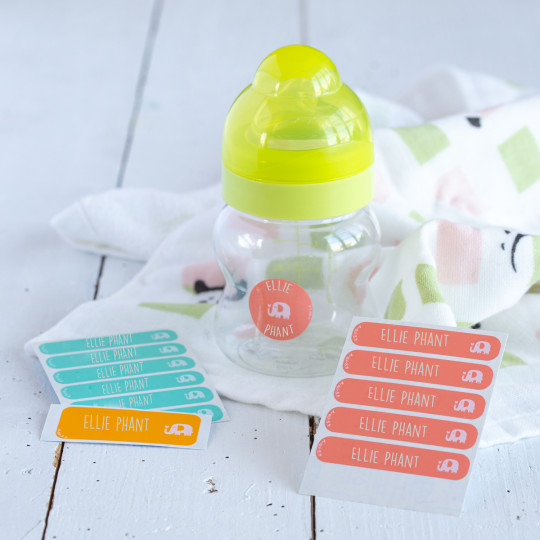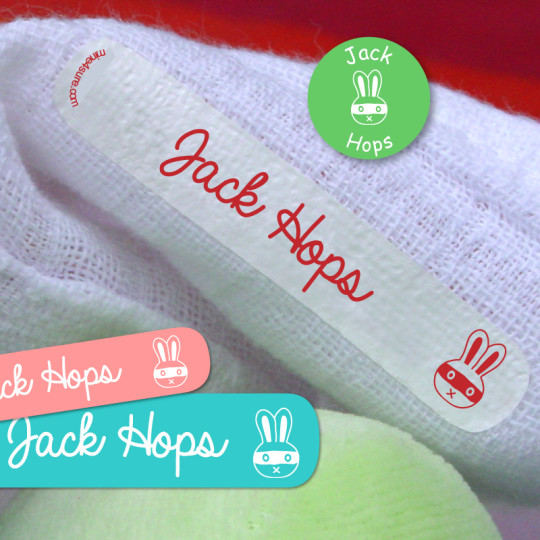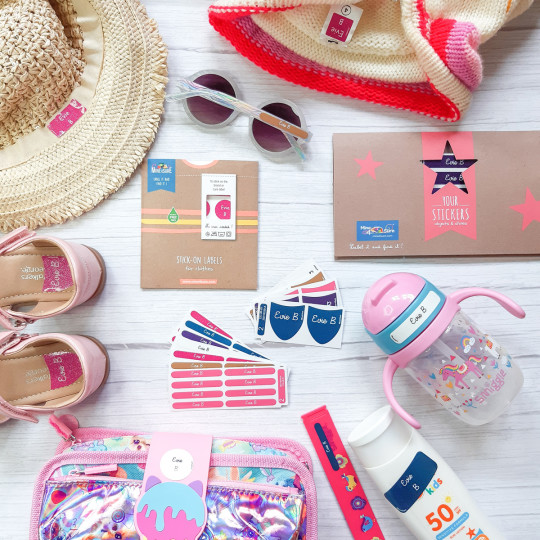 This pack contains:
60 labels for clothes (choice of iron on or stick on)
18 round stickers
24 small stickers
6 rectangular stickers
6 pairs of stickers special shoes
Thanks to the Nursery Pack, all your child's belongings will be labelled and clearly identified in his or her name with pretty colours, your favourite font and a cute logo. The Nursery Pack makes labelling easy and as importantly ensures that all that goes to nursery or childcare is clearly identified and comes back home. The assistants, carers and childminders will love you for that!

6 review
This pack contains all the daycare labels you will need for your child's belongings. Thanks to all the personalised mixed labels included in this combo pack you will be able to label all your child's clothes, worn at nursery, shoes and other personal belongings.
This label pack includes:
60 name labels for daycare. Select your favourite type: iron on labels or stick on name labels to identify in your child's name clothes and spare sets, required by the nursery or by the childminder: sleeping bag, onesies, t-shirts, trousers, skirts, dresses, coats, hats, gloves, scarves, bibs, THE favourite teddy or blankie… to name but a few!
18 round stickers to label in your child's name baby bottles, beakers, snack boxes…
24 small stickers to identify personal care products such as sun cream, skin or moisturising cream.., favourite toys and books…
6 rectangular stickers to personalise his or her daycare bag or bigger belongings, like a stroller, lunch box or bag, water bottles…
6 pairs of shoe stickers that will label everyday shoes, slippers…
The Daycare Pack is a must have for parents looking to identify clearly in their child's name all their belongings. Carers and childminders will very much appreciate you making their job easier as they will easily identify what belongs to whom.
The iron on clothing label as well as the clothing stickers happily go through the washing machine. The nursery name tags are all waterproof. The stickers are dishwasher and microwave safe.
What to write on your Mine4Sure nursery name labels?
The choice is yours but here are some suggestions: Either your child's first name in full and initials of his/her surname(s), or first name and surname in full. Complete the personalisation by choosing your favourite font, colour(s) and logo. Children of all ages love taking part in the personalisation choices! Even at a young age, your children can select their favourite colour(s) and/or the logo for their nursery name labels. Even if they cannot yet read, that will help them identify their belongings. The shoe labels are particularly effective as it is often a piece of their clothing that is removed during daycare.
Like for all our range of labels, for your child's health, we have chosen to only use guaranteed solvent free inks. The stickers will go through microwave dishwasher. Whether on clothes, on objects, in shoes the nursery name labels are easy to apply
To complete our range of name labels for clothes, we also offer sew in name labels, ideal to label more fragile items that cannot be ironed or do not have a brand or care labels, such as the cardigan knitted by granny, or the scarf crocheted by nana…
To clearly identify your child's nursery bag, you can also use our Tags4bags, on which you can add the name, a telephone number, your full address or even your email address.
Tips to affix your labels
Mine4Sure iron-on labels for clothes are fixed with an iron directly onto the fabric, in less than 8 seconds.
The stick-on labels for clothes should be stick on the synthetic brand or care labels of the garments you want to mark in your name.
The personalised stickers are very thin and will stick to most surfaces as long as they are clean and relatively smooth.