Personalised insulated water bottle 350ml or 600ml
PKGG
Mine4Sure personalised kids thermal drink bottle
From £27.10
Shipping fee excluded
Please personalise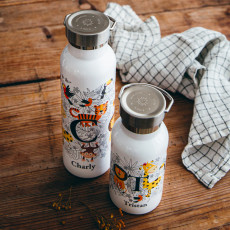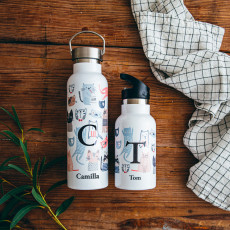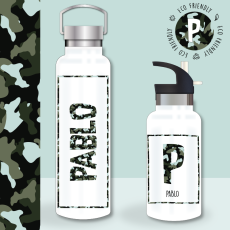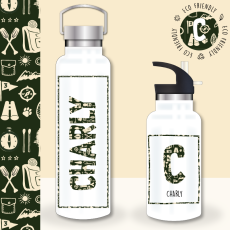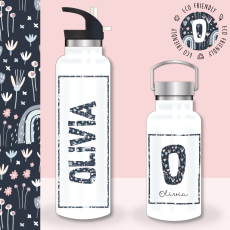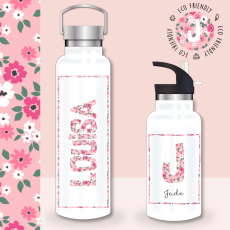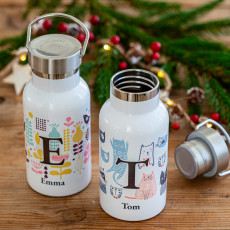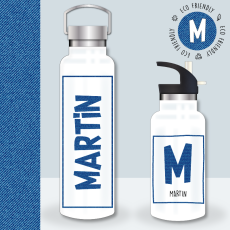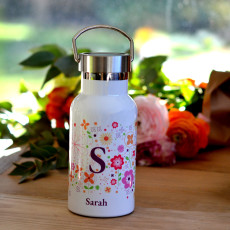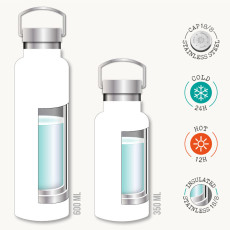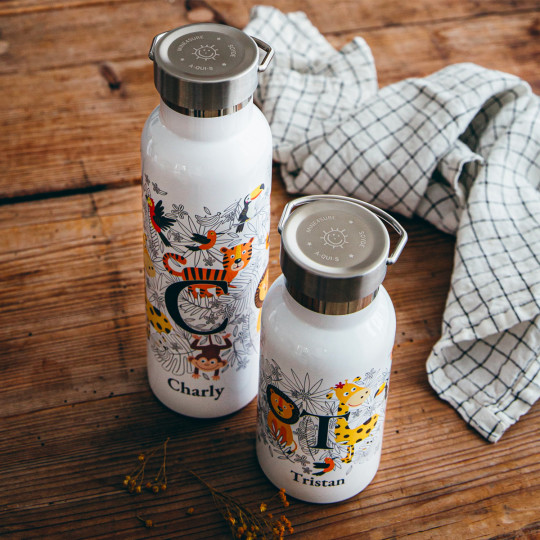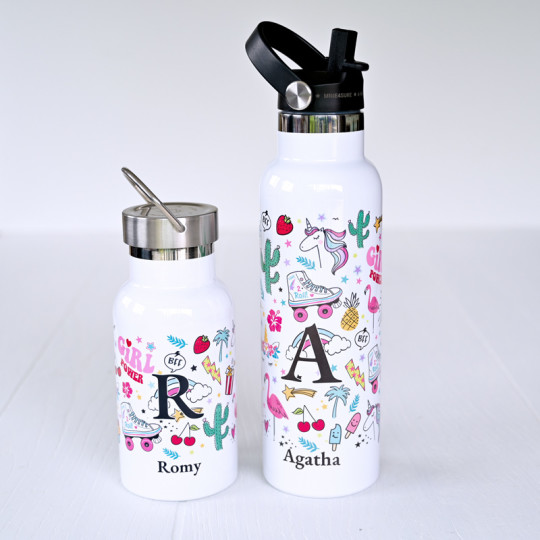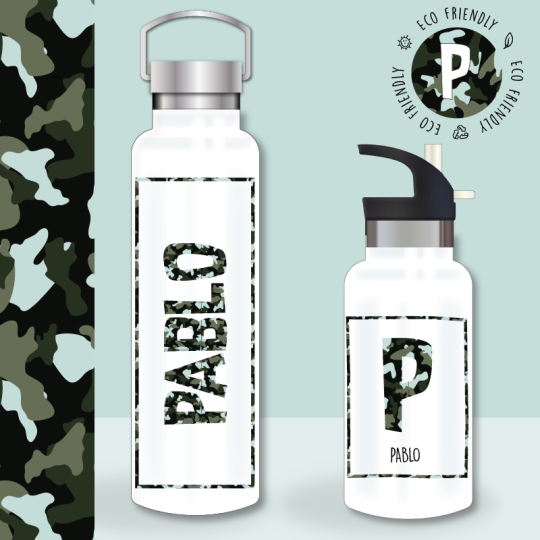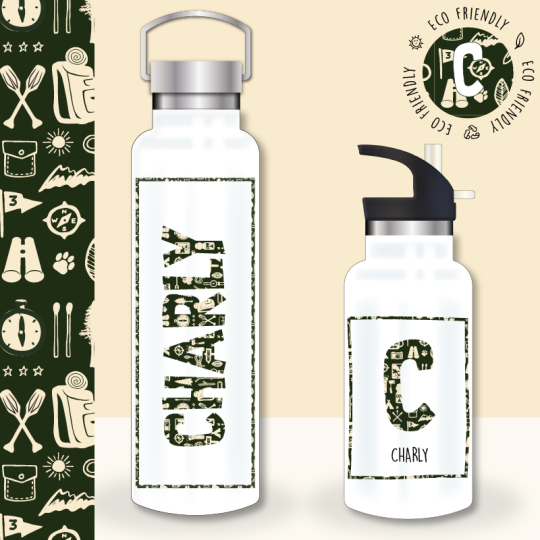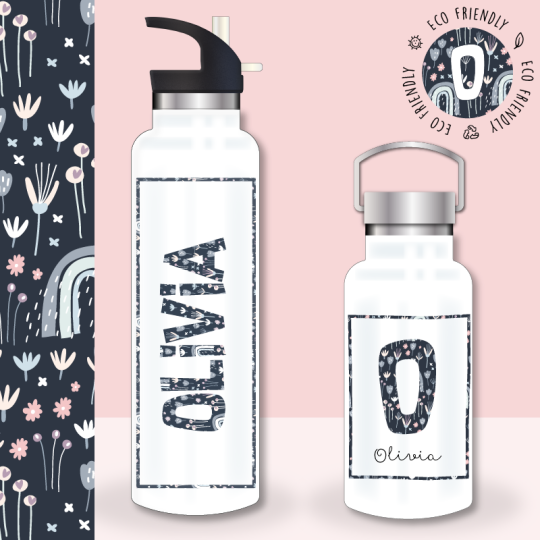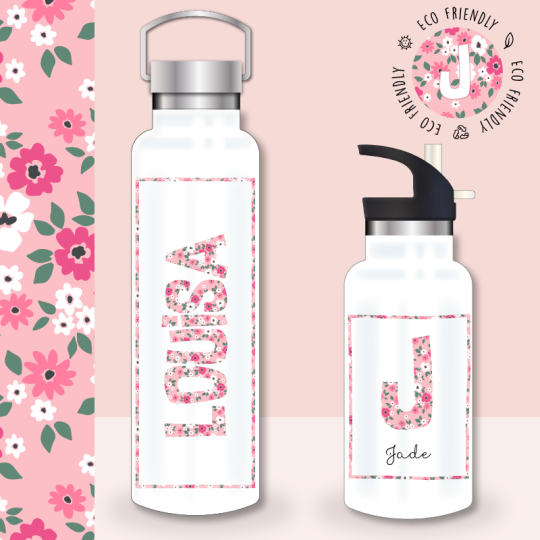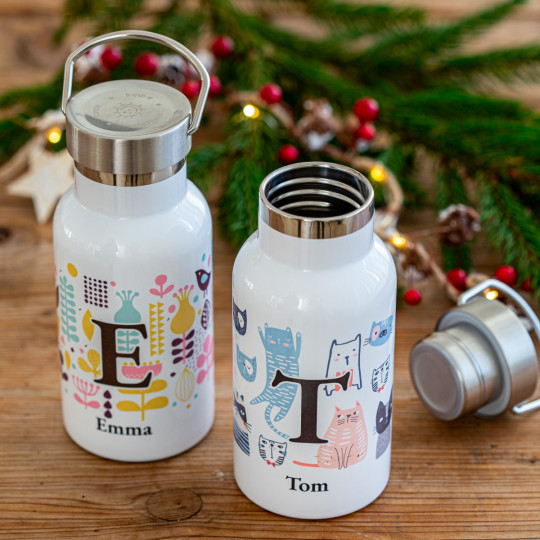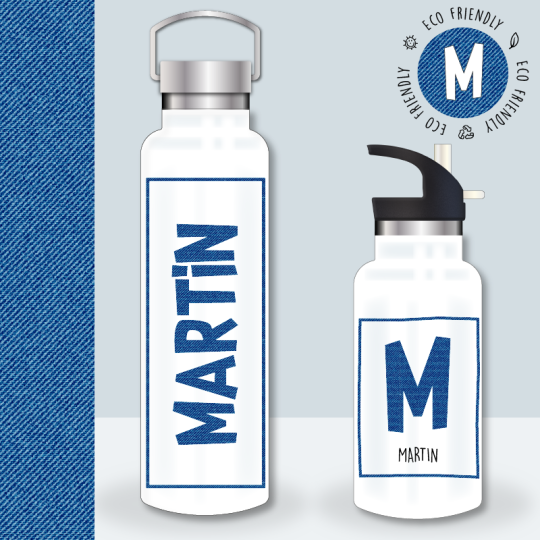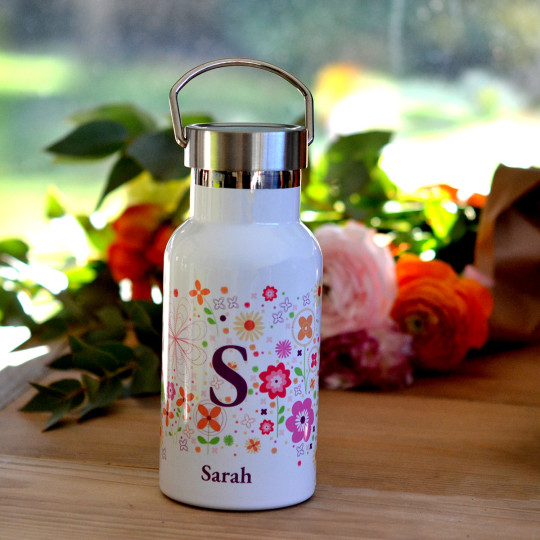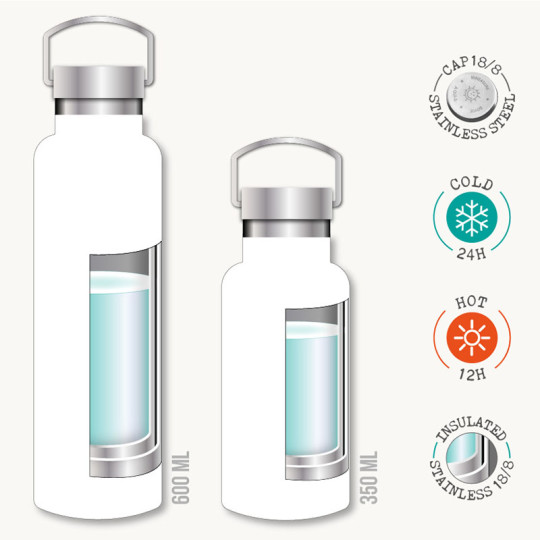 Our brand new personalised insulated water bottle, 18/8 food grade stainless steel, BPA free and recyclable
Thermally insulated, our personalised metal water bottles will keep your drink hot or cold (cold for 24h - hot for 12h), thanks to their metal double walls
Sturdy, personalised in the name of its owner, our water bottle will follow you everywhere! In the office, use it as a gym bottle to stay hydrated during sports class… Children will love the designs and take this personalised kid's water bottles to school, camp or on a day out…
2 types of caps: sports beaker with a straw or screw (stainless steel)
Stainless steel cap with silicone joint BPA free

Sports beaker cap with straw (not compatible with hot drinks)
Dimensions:
Small (350ml -12 floz): 16.5cm high x 7cm diameter – weight: 280gr

Large (600ml - 20 floz): 24cm high x 7cm diameter - weight: 400gr
A large choice of designs is available for our personalised children's water bottles: the hardest will be to choose! Cars, flowers, animals, unicorn, football… boys and girls of all ages are bound to find the theme they love.
Details of the personalised drink bottle
Volume: 350ml (12 floz) or 600ml (20 floz)

Weight: 280g or 400g

Material: Stainless steel 18/8 (100% food grade stainless steel recyclable), certified BPA free

Choice of 2 types of caps:
Stainless steel screw cap:
· Compatible with both sizes of personalised water bottles: small and large
. Stainless steel 18/8 (food grade) with a silicone joint, BPA free
· Ideal for all your hot drinks
. Sturdy stainless steel handle for easy transport
Beaker sports cap with straw:
· Compatible with both sizes: 350ml and 600ml
· Sturdy plastic straw
· Material: PP BPA free
· Supplied with a straw brush to allow full cleaning of the beak and straw
· Handle for easy transport
· Not compatible with hot drinks
Our large choice of designs: girly, comics, cats, jungle, football will no doubt appeal to kids whilst the flowers and initials… are beautiful designs that will suit all ages, grown ups included
Sturdy, reusable and thermally insulated: take this personalised water bottle everywhere with you
This customised drink bottle is perfect for all ages: children, teens and adults. Made within 24/48h
The double wall of this insulated, stainless steel bottle will keep your drink hot for 12h and cold for 24h. Sturdy, and durable, it is easy for all to hold, even younger kids with little hands.
How to personalise kids water bottles ?
Whether your children are football or comics fans, super girly, budding explorers, cat lovers, you are sure to find amongst all the designs we offer the perfect bottle for them! All our designs are compatible with a personalisation in the name of your choice. What theme will you choose? The adorable deer, the cute cats, the jungle?
Personalising your personalised metal water bottles is easy! Simply enter the name of your choice, choose the design and here you have it: your very own personalised water bottle!
Our personalised kids bottles are sturdy and BPA free. An alternative to single use water bottles for kids, this reusable water bottle, it is a great, eco-friendly, alternative to single use plastics bottles and a good way to raise childrens' awareness about simple, daily eco-friendly habits. Kids water bottles for school also encourages children to drink more water and stay hydrated all day long.
They also make a fantastic Mother's Day gift, or a unique gift for your best friends, maids of honour, best man/men
18/8 food grade stainless steel vacuum insulated drink bottle, BPA free
Mine4Sure personalised water flasks are made of food grade stainless steel and are BPA free. The quality of all our products, from the personalised name tags to the school water bottle, is essential for us. We commit to offer high quality, ethical and durable products. Our greatest pride? Our customers' satisfaction!
To date, the quality of our products has convinced and satisfied over 100K customers in the UK and all over the world.
Do you know? Mine4Sure personalised stainless steel water bottles are not uniquely for children. The bigger 600ml size of our insulated bottle can also suits grown-ups and will be an indispensable accessory in their daily life.
Do not hesitate to contact Emma or Franziska if you have any questions about this particular flask or any of our products, by email info@mine4Sure.com or by phone +44(0)7952 045 292.
Tips to affix your labels
Washing instructions: Before 1st use, wash your bottle and cap with warm soapy water. Rince and dry thoroughly. Thereafter, wash by hand in warm soapy water with a bottle brush. No compatible with dishwasher or microwave use.