Jam Jar Stickers
A5C-12
Tags4Jars: stickers to label all your homemade jam, preserve and sauce jars!

3 review
Please personalise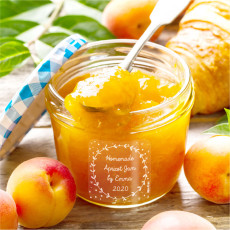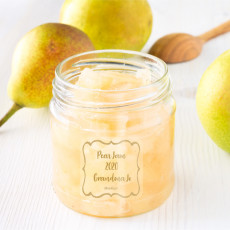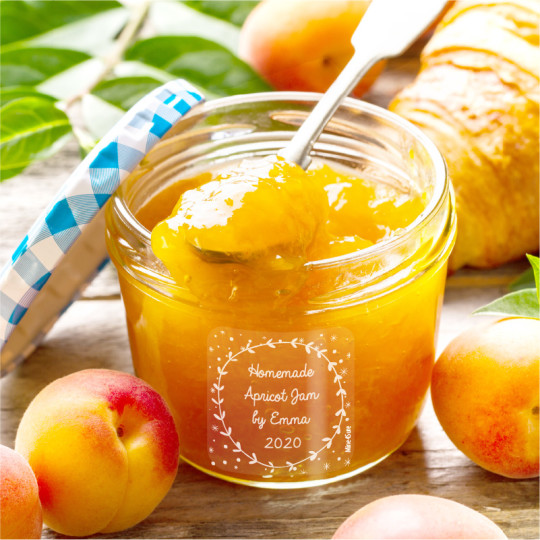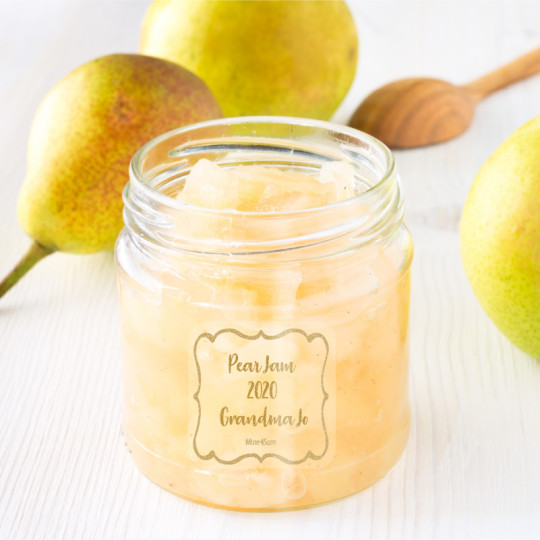 You want to label your homemade jam and preserve jars without getting in a pickle?! Mine4Sure'sTags4Jars are what you need! Waterproof, more durable and resistant than traditional paper jar labels, they happily go through the dishwasher and microwave oven. With several decors available, 8 writing fonts and more than 30 logos available, personalise the labels to your liking!
With up to 5 lines available, the text printed on the tags4jars is entirely up to you. You can have the date, the ingredients, the name of the cook or a message of your choice… Like all our labels, they are made in our office in 48h maximum and will be dispatched free by airmail to be delivered directly in your letterbox :)
To stick without moderation on all your jar of delicious homemade strawberry jam, blackberry jam… These labels are also ideal for preserves, baby purees made with love:)
Ultra-thin, washable, waterproof and durable
Solvent free inks
Dimensions 45 x 45mm - 1.771 x 1.711inch

3 review
Mine4Sure beautiful Tags4Jars will allow you to label quickly, easily and beautifully all your jars of delicious homemade jams, chutneys, preserves and pickles!
Waterproof, washable, durable labels for jam jars
A lot more durable than a simple jam jar label printed on paper, these stickers are washable, they perfectly resist dishwasher cycles, but also microwave oven use. Unlike the paper labels, less durable, the colours of our stickers are solid throughout and the durability of the solvent free ink is also guaranteed. Exit the paper labels with drooling ink ! Once stuck on the jar, your Tag4jar sticker will not move allowing you to reuse the jar and its sticker again
Beautiful quality labels for your lovingly « homemade » jams
Our jam jar stickers are made like the rest of our labels and personalised products, exclusively, in our office. For the last 15 years, we have been the specialist in personalised name labels for clothes and objects for children and all those living in a community environment. So why jam jar labels ? For the last few months, amongst name labels for children's, from 1 to 99, we found more and more stickers with resolutely fruity texts: Blackberry and Apple Jam, Homemade Lemon Curd, Garden Strawberry Jam, Granny B Orange Marmelade… Thanks to our customers creativity and imagination, our jam labels "Tags4Jars" were born! Like all our personalised labels, these stickers are printed with solvent free inks.
Jam jar labels characteristics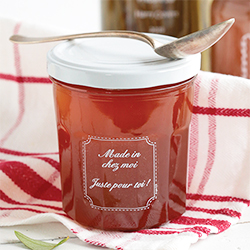 The jam jar labels are square adhesive labels (45 x 45 mm), and offer up to 5 lines of text, of 20 characters each. For your text style, more than 10 fonts are available: script, cursive, modern or more elaborate ones. Colour wise, we offer more than 30: bright, transparent, neon, metallised or sparkly… If choosing just one is too complicated, then our personalised colour range is what you need: it allows you to select up to 6 different colours. Finally add a border or logo to your labels amongst the different ones available. You are sure to design a label that will complement best, your delicious culinary creations ! The text is entirely up to your imagination: ** « Granny Smith's Apple Puree » **, Rapsberry, sugar and so much love », "Angie's Green tomato Chutney 2020"….
They are designed to suit jars of most shape and size and the minimum order quantity starts at 12. See you on Mine4Sure's blog, where we share all our tried and tested jam recipes
We offer free uk delivery as well as worldwide and our customer service always available for you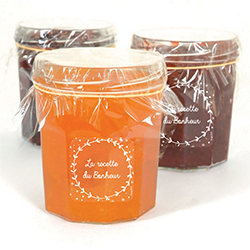 The production time of our personalised labels for jars is 48h maximum. Standard delivery is free worldwide.
They will be delivered directly into your letterbox. If you need any help when ordering your Tags4Jars, contact our super customer service by email info@mine4sure.com or by phone +44 (0)7952 045 292.