The Senior Pack
PKVRM
Personalised labels special Senior, for your loved ones living in care, retirement or nursing homes
Please personalise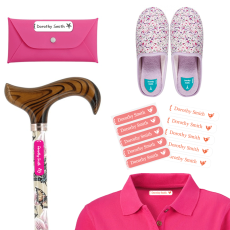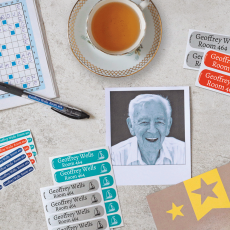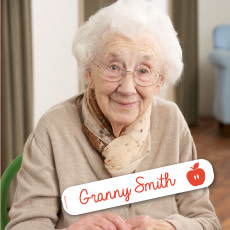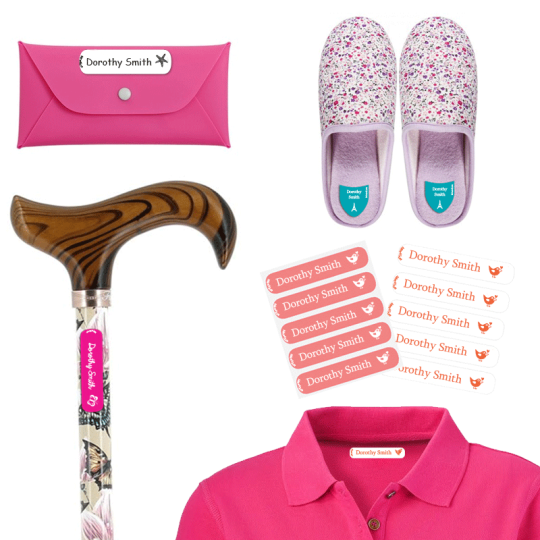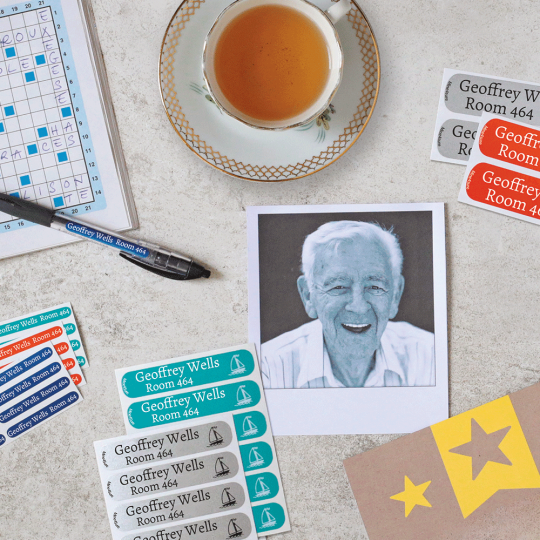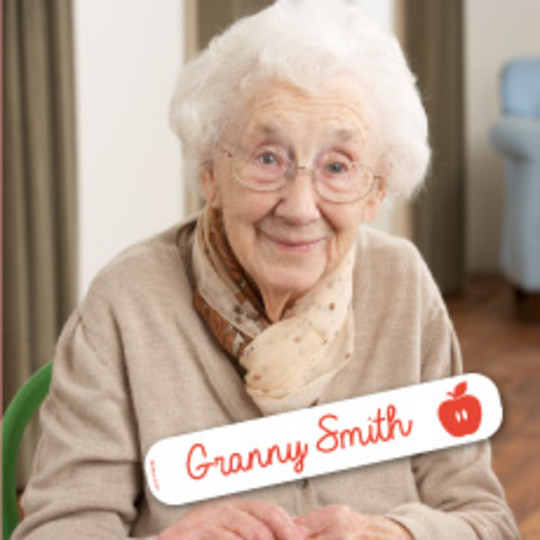 This pack, specifically designed to suit the labelling need of our beloved seniors, contains:
90 iron-on or sew-on labels for clothes
24 small stickers
2 rectangular stickers
16 mini stickers
12 shoe stickers (6 pairs)
144 personalised labels to label easily and durably all of nursing/care homes residents' belongings: clothes, linen, towels, toiletries, pill boxes, shoes, glasses, books, walking sticks…. The iron-on labels for clothes are fixed, with an iron easily and quickly, in less than 8 seconds. They withstand the most intensive washings and meet the standards required by the care organisations. Their adhesion is guaranteed 10 years.
Our LARGE print option will make reading the names on the labels easier
The labels contained in this pack have been specifically designed to meet the labelling needs of seniors living in care and nursing homes.
They meet the standards set by the homes. Their adhesion is guaranteed 10 years and they withstand intensive washing.
The iron-on labels for clothes are fixed in less than 8 seconds with an iron.
The personalisation choices available for the labels included in the Senior Pack will add a special touch that your loved ones will greatly appreciate.
Easy to apply, they will identify clearly the owner (name, room number…) of the belongings labelled making it easy for care homes staff and the owners of the belongings to reunite or be reunited with their belongings. They can also make a useful reference to an allergy or medical condition.
They are an ideal tool to help being reunited with lost or swapped belongings in an environment where feeling secured and reassured is essential.
Fixed on a pill dispenser or pil organizer, the labels will help reduce the risk of mix-ups and therefore help safeguard patients' health and can also give essential information on the patients.
Most fragile ** seniors** suffering from diabetes, allergies, asthma, mutism or deafness can be identified more quickly and therefore be cared for faster and more adequately.
Easier management of care homes residents' belongings means freeing up precious time that can, then, be dedicated to quality time, smiles, discussions and benevolence.
A complete pack that will allow you to label not only clothes and other fabric items but also objects such as walking sticks, pill dispensers, glasses, care products, shoes… in total 144 labels including : * 90 iron-on or sew-on labels * 12 stickers for shoes (for 6 pairs of shoes, slippers…) * 24 small stickers * 2 rectangular stickers * 16 mini stickers
The labels contained in theSenior Pack withstand washing cycles up to 90°C, so that you can leave the washing to be done by the care or nursing home. The labels will help the laundry service easily identify who to return the clothes to.
The composition and printing method of these labels preserve their adhesion as well as their colour.
To buy **Mine4Sure ** labels is to buy quality, durable, solvent free products.
Do not hesitate to watch our little video on how to fix the labels and get in touch with us if you have any question.
Tips to affix your labels
This pack includes several types of labels, each for a different purpose and with a different fixing method:
The iron-on labels for clothes are fixed on the clothes and fabric items with an iron and the greaseproof paper provided. These labels are applied and fixed directly onto the fabric. Make sure to only fix these labels on fabrics that can stand a hot iron. More delicate fabric do not stand heat and could be damaged in the process.

If you have selected the « sew-on labels » option, then only a needle and some thread are necessary to fix these satin labels directly onto the clothes.

The special shoe stickers will allow you to label all types of shoes as long as the inside soles are clean and smooth. A plain transparent sticker, supplied for each shoe stickers, completes the set and protects the print on the shoe stickers from perspiration and rubbing action.

The other shapes of stickers are meant to label objects and can be stuck on smooth and clean surfaces.