Personalised iron-on labels special socks
AQCH1
THE solution to always find your socks and end mixed, lost socks!
£6.30
Shipping fee included
Please personalise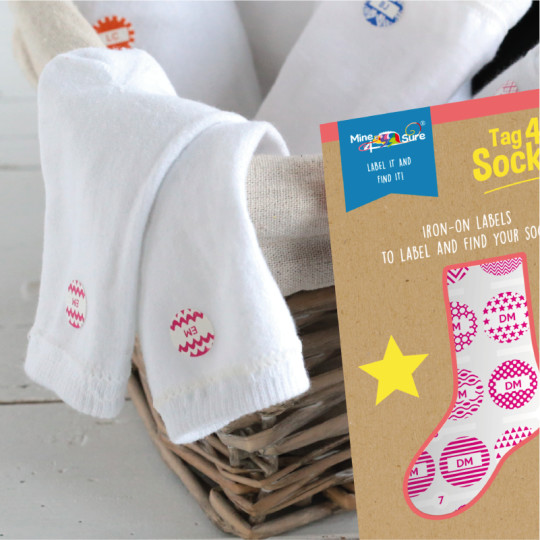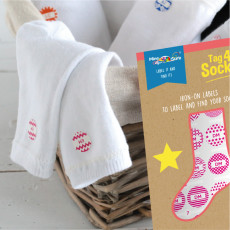 It's new, super useful and patented ! … and the end of orphaned, mis-paired, mis-allocated or lost socks!
To complete our iron-on name labels for clothes range, we have created the TAG4SOCKS, the iron-on dot labels that allow you to:
Match 2 identical socks and pair them "pronto presto"

Clearly identify the owner of the socks
It's easy ! Use a pair of identical iron-on dots to label one pair of socks.
The sock label is fixed, with an iron, inside the sock.
Each family members can have their own set of labels with their initials in their favourite colour.
A pack of Tag4Socks contains 20 pairs of labels, each pair with a different design . All the inks used to print our personalised stickers and custom clothing labels are solvent free.
Personalised iron on labels special socks: a revolution in clothing labels! Match the pairs and always identify their owner!
Personalised with the initials of each owner: Mine4Sure Tags4Socks are ideal to quick match the pairs of socks for the whole family!
Each pair of labels, with its unique background, identifies one pair of socks. Say goodbye to orphaned and mis-matched socks thanks to these labels personalised with the initials of the socks' owner.
With our special family prices, all family members can personalise their pairs of socks with a different colour, to be chosen amongst the 8 on offer. And, like all our labels, the delivery is free worldwide!
How to label your socks?
Use our iron on name tags to label all the socks of the whole family and put an end to orphaned and mismatched socks. Personalise them with the initials of the socks owners and their favourite colour. Each pair of labels has unique design to match each pair easily! Each Tags4sock set contains 20 pairs of labels, each with different design and will allow you to label 20 pairs of socks.
Dimensions: 15mm diameter
Special Family prices :) Order several sets of Tags4socks and a discount will apply on each set from the 2nd one onwards
n°1 = £6.30
n°2 = £3.50
n°3 = £1.90
n°4 = £1.60
n°5 = £1.50
n°6 = £1.40
Tips to affix your labels
Remove the label from the backing sheet

Place your tag4sock where wanted on the sock: we recommend to place the iron on dot inside the sock, towards the top, avoiding the elasticated band

Cover your personalised label with the greaseproof paper supplied

Apply your iron, steam function off, cotton/linen temperature, 180°C with a downward pressure for about 8 seconds
On synthetic socks, decrease the fixing time to 5 seconds
Let the greaseproof paper coll down before lifting it up
A well fixed label dot will let the fabric fibres show slightly through