Iron-on name labels for clothes - Classic shape
EV1
The original iron-on labels to fix with an iron, 10 years adhesion guaranteed!

14 review
Please personalise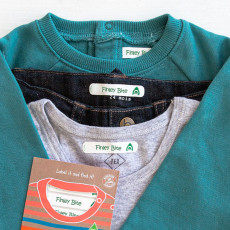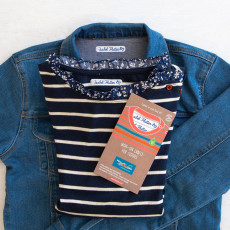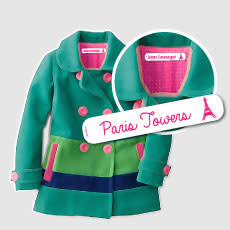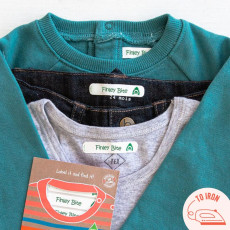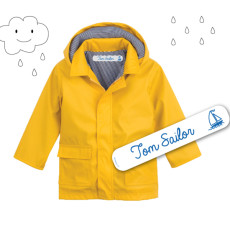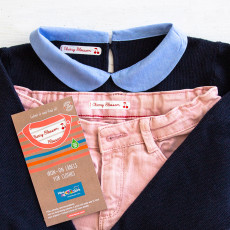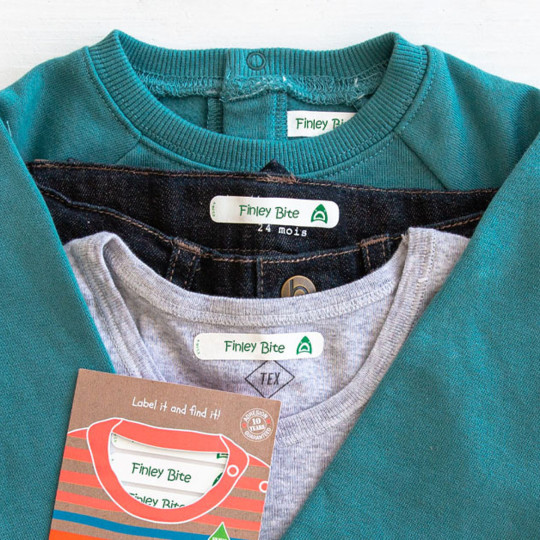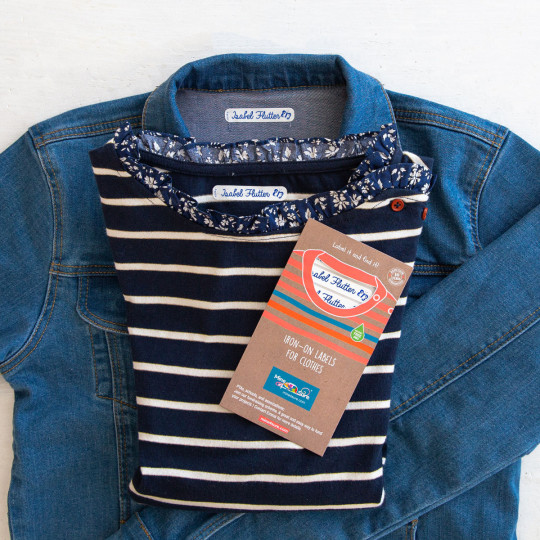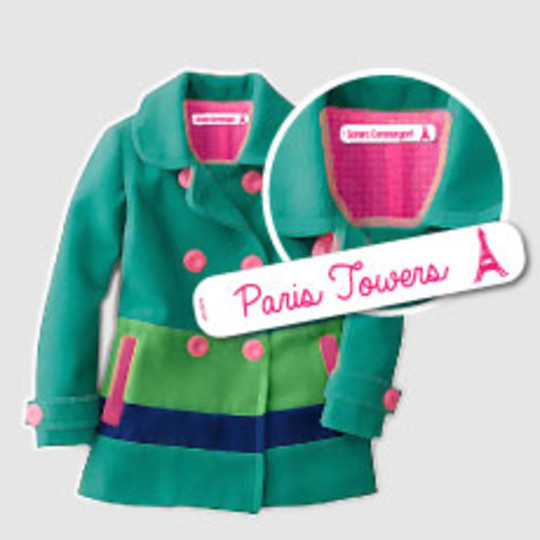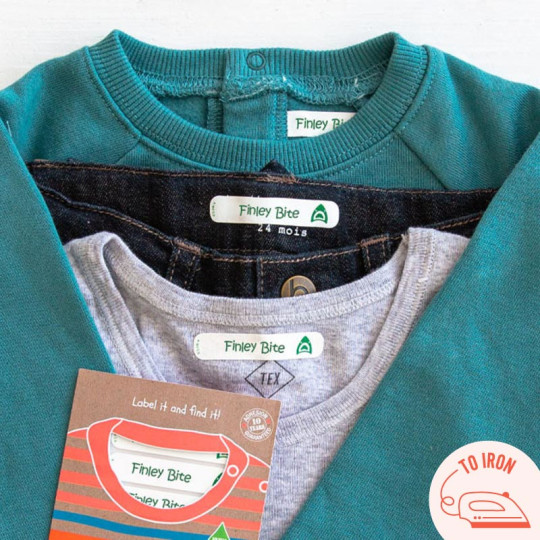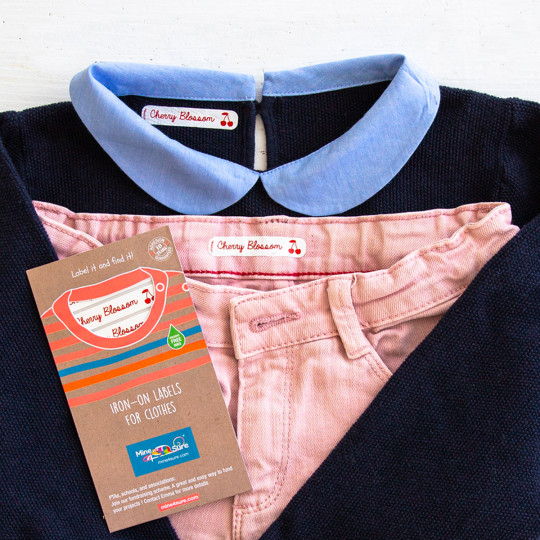 Our iron on name labels are Mine4Sure's bestseller name labels for clothes and have been designed to label, in your name, clothes and most fabric items
Easy to apply, these iron on name labels for clothing are fixed with an iron quickly, in less than 8 seconds.
As the glue melts, they bond with the fabric, your socks, jumpers, hats, jackets, coats, tshirts, bed sheets… are labelled durably. Our iron-on name tags have been designed to withstand machine washing and tumble dryer use for at least 10 years
Innovative, they have revolutionised the concept of personalised name labels, as we traditionnally knew them sewn in our clothes; and provide a real solution to the labelling needs of our children (at nursery, school, holiday camp) or our senior relatives (in care or retirement homes).
Thanks to these high quality labels personalised in one's name, marking all the clothes that could potentially be lost becomes a child's play!
For clothing or fabric items that cannot be ironed, we suggest using sew in name tapes as an alternative.
From the start, Mine4Sure focused on using solvent free inks on all our personalised stickers and labels, as they might be in direct contact with the skin.
Free delivery in the UK and worldwide, even for our minimum quantity set (so from 10 labels) !

14 review
Mine4Sure classic iron on name labels are fixed with an iron and will identify in one's name clothing and fabric items that can be ironed.
Dimensions: 54mm x 10 mm – 2.12x0.39 inch
QUICK and EASY to apply! It takes less than 8 seconds to iron on clothing. These labels are perfect to solve the problem of lost clothes
RESISTANT: the Mine4Sure iron on name labels uk withstand washing machines (60°C) and tumble dryer cycles
SOLVENT FREE: All of Mine4Sure tags are printed with guaranteed solvent free inks
QUALITY guaranteed 10 years – More than 1 million tags sold since 2005
INNOVATIVE: Ultra thin, they bond with the fabric and are imperceptible
FREE DELIVERY to the UK and worldwide! Your customised tags are dispatched within 24/48h from our premises – Express shipment option available* (*at extra cost)
QUALITY MADE: We print, pack and dispatch all our products exclusively from our office in France so that we can keep a tight eye on the quality.
What quantity to choose?
10 iron-on labels: To « test » or to tag your homemade creations, a very small quantity of clothes or linen
30 iron-on labels: To mark the top 30 of clothes lost at school (or elsewhere) such as jumpers, jackets, coats, scarfs, gloves, hats…
60 iron-on labels: This quantity is best to tag your child's essential clothing : school uniforms, PE kits, coats, jackets, trousers, jumpers, sweaters, hats, skirts, dresses, polo-shirts, shirts…
110 iron-on labels: The ideal quantity that will enable you to identify in your children names, according to your needs (change of season, in size..), all the essentials, but also sports clothes and all clothes required for camps, school trips…
160 and 210 iron-on labels: Large quantity sets to mark in one's name ALL clothes and fabric items. These sets are perfectly adapted for people in community living: children in boarding, or our loved seniors in care home and assisted living facilities. There are the ideal solution to reduce lost clothes.
Our clothing tags are designed to identify in your name clothes and fabric items
These iron on name labels for clothing are easy to iron. They take less than 8 seconds to apply. They bond with the fabric. They are our best selling clothing name labels, and their good quality is recognised worldwide. If you are looking for iron on school labels, search no more! Iron on clothing such as jumpers, coats, hats, shirts, polo shirts, and all items of your school uniforms. They are also great for labelling your child's bed linen when boarding. They are designed to withstand washing machine cycles and be dryer safe, for at least 10 years.
Their elasticity quality allows the labels to adapt perfectly to all kind of fabric fibres and their thinness will make them imperceptibles.
How do you iron personalized name labels?
Wondering how to iron your clothing labels? Check out our "Tips to affix your labels" category and of course, you can also find detailed instructions at the back of your packaging. You won't need to hold the iron more than 8 seconds. Once the labels applied correctly, the labels stay on the clothes. Our iron name tags are supplied with the appropriate number of sheets of greaseproof, baking paper.
Since they can be in direct contact with the skin, all our tags are printed with guaranteed solvent free inks.
Two lines of text are available for your customisation (the 2nd line is ideal to add a telephone number, a room number, a class or school name…) A large number of personalisation options are available! After entering the text or name you want, you select the colour of the text amongst the 8 available We only use solvent free inks for our printed iron on name labels and all our other customised labels. You then choose your favourite font amongst the 15 fonts we offer. Finally, you can complete your customisation by adding a logo (optional). They are over 100 pictures to select from! From pirate, mermaid, or dinosaur to car, football and unicorn.

These personalised iron on tags cannot be sewn. If you would like personalised sew-on labels, click here.
For specific socks tags, we recommend the Tags4Socks, our iron on name labels for socks.
Pressed for time? No iron at your disposal? Check out our stick on clothing labels: the name labels to stick on the care label or brand tags of the clothes you want to identify in your name.
Tips to affix your labels
Peel off the label from the backing sheet

Place the label where you want it directly on the fabric of your garment

Cover the label with the greaseproof paper supplied

Apply your iron with a downward pressure for 8 seconds, with the steam function off, temperature cotton/linen 180°C
On synthetic fabrics, reduce the time to 5 sec
Make sure to let the greaseproof paper before lifting it
A well fixed label will let the fabric fibres show slightly through.
Adhesion guaranteed 10 years!
Need some advice?
Don't hesitate to contact Emma on info@mine4sure.com or +44 (0)7952 045 292