Stickers for cables, chargers and small objects
AD-12
The SticKables: to label discretely but surely one's own small belongings

3 review
Please personalise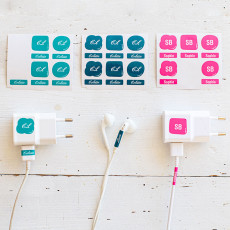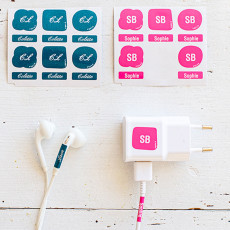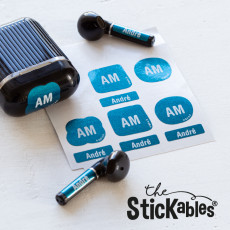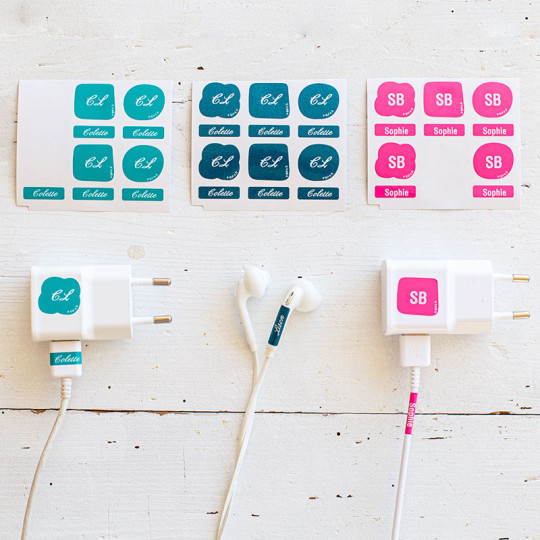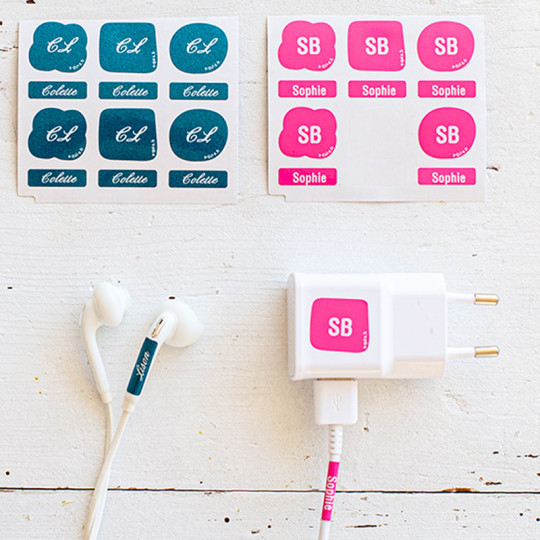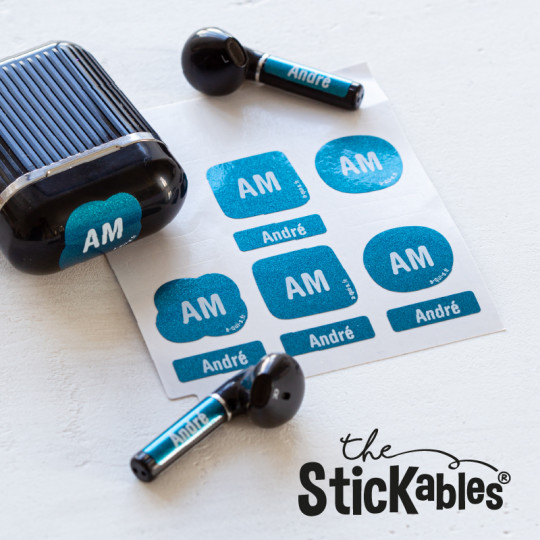 ** The SticKables** include initial stickers and first name stickers to label discretely but surely one's own small belongings.
The small size of these personalised stickers make them ideal to label small objects such as chargers, cables, glasses, keys, locks, and small supplies…
Everyone can have their own labels! Choice of 12 colours, ideal to identify your belongings at home, at work, at Uni or school…
** SticKables dimensions :**
Rectangular first name stickers: 20mm x 6mm

Initials stickers: 20mm x 18mm
Waterproof / Durable / Production time 24h / Free delivery / 0% solvent ink

3 review
No more lost, swapped or missing cables! These small personalised stickers are the solution to label all your cables and chargers!
Thanks to the narrow stickers personalised with a first name, you will be able to label all types of cables, even your headphones.
The SticKables also include larger initial labels which can be stuck on an adapter or lock for example. These labels have been designed to work in pair. They are very useful to identify 2 objects working in pairs, such as a lock and its key, the adapter plug and its cable…
Sold in sets of 12 labels minimum, you will be able to label all your cables and chagers at home (either for your phone, camera, computer, digital tablet, headphones…)
Labels for everyone ! And with 12 colours to choose from all family members can, each, select their favourite. These stickers are ideal to ideal one's own belongings at home, at work, at uni or college…
** SticKables dimensions :**
Rectangular first name stickers: 20 x 6mm
Initials stickers: 20 x 18mm
Waterproof / Durable / Production time 24h / Free delivery / 0% solvent ink
Tips to affix your labels
These small personalised stickers can be fixed on most surfaces, as long as they are clean and smooth. For an optimal adhesion, leave your sticker to rest for 24h before applying any constraint : washing, rubbing, heating…