Stick on name labels for clothes
EVA1
Customised to mark in your name your clothes, in 3 seconds flat. NO iron needed!

21 review
Please personalise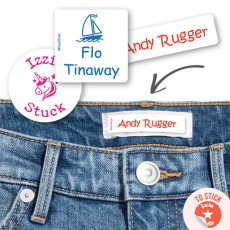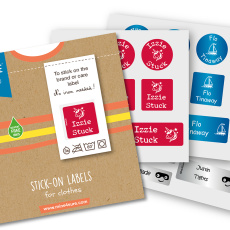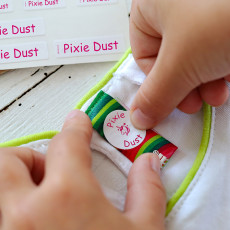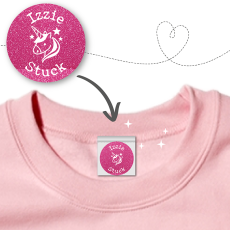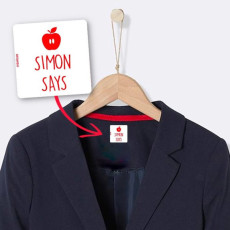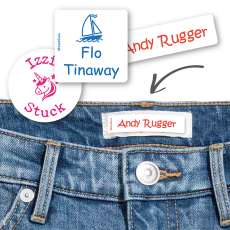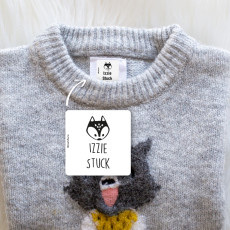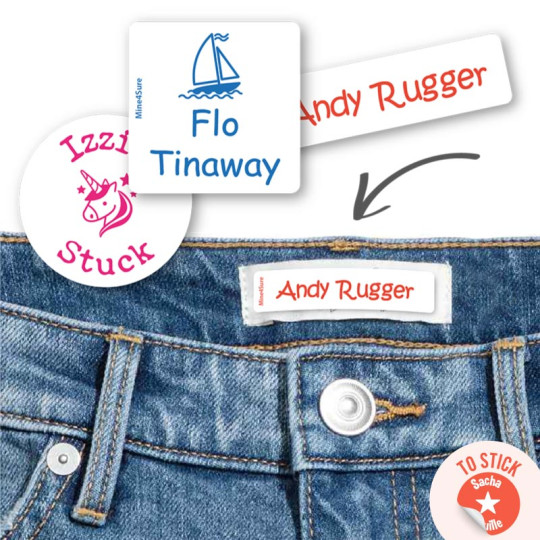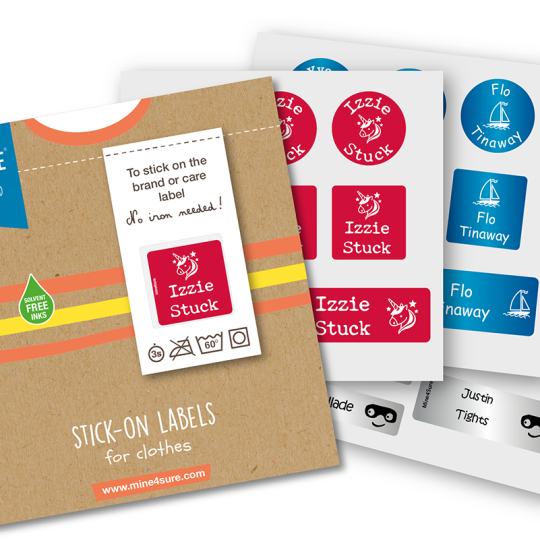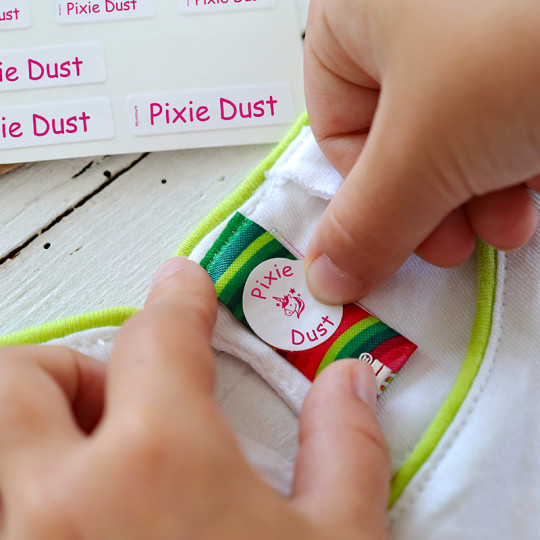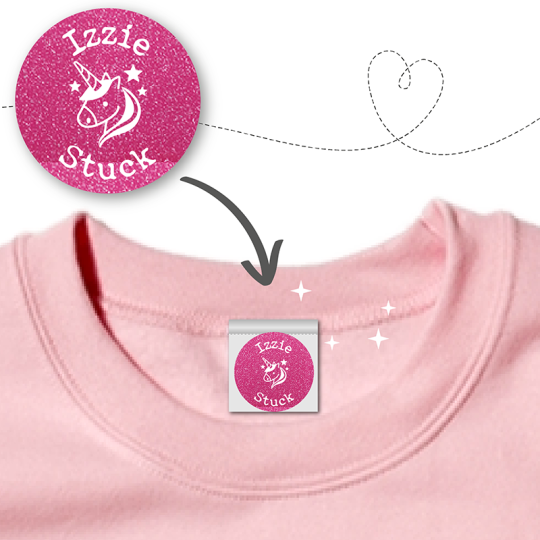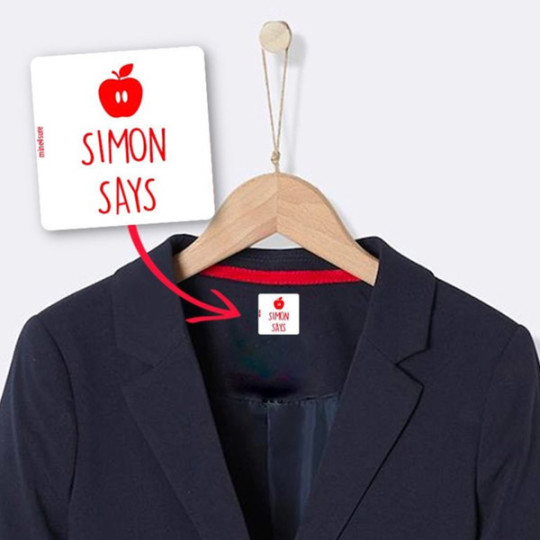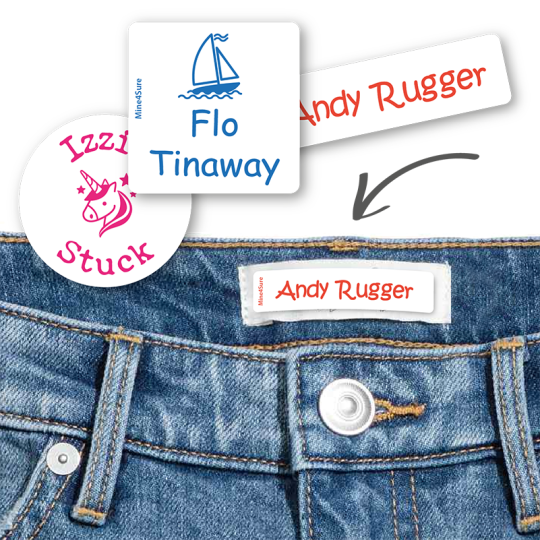 Stick it and label it! the best fast and durable solution to name marking!
Say goodbye to your iron! No iron needed, these stick on clothing labels are stuck directly on the synthetic (ideally polyester) brand or care tags of the clothes. On some clothes made of synthetic fabric, the name stickers can be fixed directly onto the clothes themselves.
Ideal marking solution for "pressed for time" parents and last minute labelling of your child's new coat or favourite jumper.
These personalised stick on name labels for clothes are waterproof and withstand washing machine cycles (60°C). They can also be removed (more easily than the iron-on tags) when you want to pass on the clothes to the younger siblings or little cousins.
No brand or care tags to fix these stick on clothing stickers? Our sew in name labels are a great alternative. Printed with solvent free inks, they are available with a large choice of text colours.
Mine4Sure lil'benefits
Mix of 4 different shapes to be stuck to the synthetic brand or care labels of all your clothes.

As all our personalised stickers, they are printed with solvent free inks

Quick and easy to fix, simply stick these personalised clothes stickers on the synthetic brand or care tag of the clothes you want to mark in your name. They are a real time saver when it comes to labelling clothes for seniors living in care or nursing home and for the kids' school uniforms, clothes.
*These tags are washable and can be tumble dried. They will save you time and money as clearly labelled clothes don't end up in the lost property box at school.
*Free delivery to the UK and rest of the world

21 review
Labelling made easy! Simply stick these personalised stick-on labels for clothes directly onto your clothes brand or care labels. They can be stuck directly onto the piece of clothing when this one is made of synthetic fabric (swimsuit, fleece, waterproof coat…). They are great for school.
For an optimal adhesion, leave for 24 hours before applying any constraint. The customized labels are washing machines and tumble dryer use.
Mine4Sure's name stickers for clothes' benefits:
A mix of 4 different shape stickers to be stuck to the synthetic care or brand labels of all your clothes. The mix of shapes (round, square, thin and large rectangles) of the just-stick clothing name labels is especially adapted to the shapes of care tags available so that each of your garments can have the personalised stickers that suits it best !
Another strong point of Mine4Sure sticky labels for clothes: they are also available in bright, metal, sparkly colours, the children will love. In those colours, they are sure to be spotted right away and help a lost garment find its way back to its owner faster :)
As for all Mine4Sure name tags, the ink used for the text is solvent free.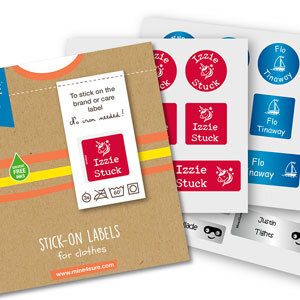 You can buy them on their own or as part of the labels for school pack. They are exclusively for use on garments, to identify, in your children names, their school supplies, water bottles and lunch boxes; you will need our specific stickers for objects.
These stick on name labels for clothes happily withstand washing machine cycles (washes at 40 and up to 60°C) and tumble drying. They are the best time-saving labelling solution and an alternative to sew or iron tags. Whether you have to identify the entire wardrobe content for your beloved seniors in nursing homes or for the kids: They are ideal for school or when they're off to camps. Simply peel the tag off the backing sheet and stick on the brand or wash care labels of the clothes you want to mark in the name of your choice. For camp labelling needs, check out our Holiday Camp Pack! It contains a large number of mixed personalised name tags: especially designed quantity for camp labels for clothing stick on or iron on, stickers for objects and shoes labels.
How to remove your clothing stickers?
Another of the main advantages of the stick on clothing labels is how easy they are to removed! Whilst their adhesion is perfect and long lasting, they are also simple to remove when you want to pass on the clothes to younger siblings or cousins, give the clothes to charities for example, or when selling the past year's UK school uniforms at the school's sales. You simply peel them off the care tags they are fixed on and tadam! Head to our blog for more tips on removing our other types of labels
A sheet of 10 personalised clothing label stickers includes:
3 Round stickers: Ø18mm,
3 Square stickers: 18x18 mm,
3 Thin rectangular stickers: 35x8 mm,
1 Large rectangular sticker: 35x15 mm
So you can be sure to have a shape or size to suit each and every one of your care or brand tags !
No care or brand tag in your clothing ? The Mine4Sure product range also includes iron-on labels, quickly fixed with an iron in less than 8 seconds. So thin, they bond with all kind of fabrics so you do not feel them.
RESISTANT to washing machine (60°C) and tumble dryer cycles
INNOVATIVE the stick on clothing labels uk come in a mix of 4 different shapes
FREE standard uk delivery and worldwide – (express at extra cost)
They are printed with SOLVENT FREE inks
Our stickers do NOT contain heavy metals
QUALITY: Satisfaction guaranteed
PRODUCTION TIME: 24-48 hours
Peel your personalised label from the backing sheet

Place directly onto the brand or care label of the clothe you want to identify in your name

Press strongly on the sticker to be sure that there is no air bubble between it and the surface it is stuck onto.

Wait 24h before washing the garment and voila !! Your stick on clothing tag is well and truly stuck, and your piece of clothing is labelled!
Never placed the personalized name sticker directly onto the fabric as it will come unstuck during washing, excepted for the clothes made of synthetic fabric (fleece, swimsuit, lycras…) on which the label can be stuck directly.
Need some advice?
Feel free to contact Emma or Franziska on info@mine4sure.com or +44(0) 7952 045 292