The Christmas Stocking
SJCH
Personalised and hand sewn in our workshop!
£18.30
Shipping fee excluded
Please personalise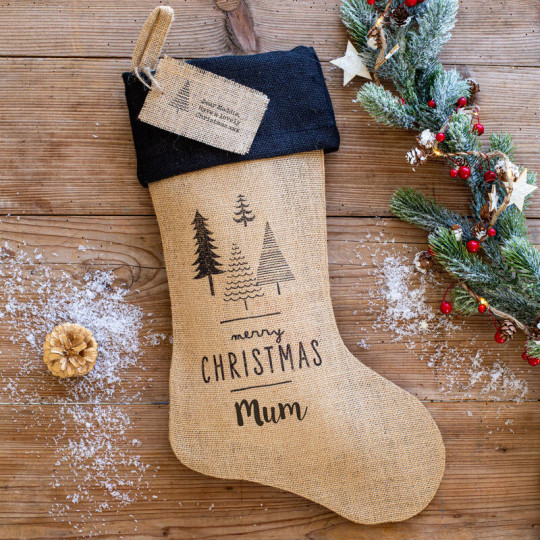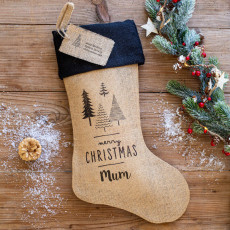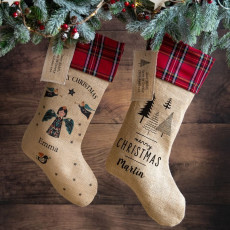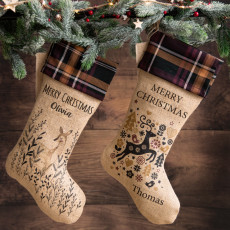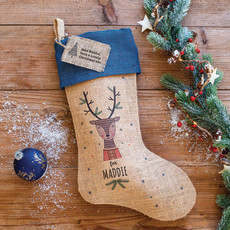 To complete our personalised Christmas range and its personalised Santa Sack, here is our personalised Christmas Stocking , made of natural hessian, handsewn and printed in our workshop!
Personalise, not only, the stocking with a name, but also the lovely gift tag made of hessian supplied with the stocking, with a message of your choice (« from Auntie Emma and Uncle Simon », « Milo's first Christmas », « For Georges, Merry Christmas »). Choose your favourite amongst the 4 colours of turnover available : blue, red, black and tartan. Different festive designs are available : Santa, Rudolph the reindeer, Santa's leigh, Christmas trees… to name but a few.
Hung from the mantel piece, these stockings are perfect to receive Santa's treats, small presents, chocolates and other treats. Handsewn and made of hessian, a natural material, they will add a touch of tradition and authenticity to your Christmas decor !. Each stocking is completed by a strong loop for hanging (8.5cm long - 3.34")
Each of our stockings being handmade, the dimensions may vary slightly.
Dimensions: Height: 45cm (17.71"), width (ankle) 18cm (7.08"), (heel to toe) 25cm (9.84")
Special Family! Buy several and enjoy a lower unit price. See below the price if you buy 1, 2, 3..... 6 or more
n°1 = £20.90
n°2 = £18.10
n°3 = £16.90
n°4 = £14.90
n°5 = £12.90
n°6 = £10.90
Ho ! Ho ! Ho ! Mine4Sure personalised Christmas Stocking
When it starts feeling a lot like Christmas, it's time to deck the halls and hang the Christmas stockings from the mantel piece ! Mine4Sure's Christmas stocking is personalised so all members of the family can have one of their own ! Hand sewn and printed in our workshop, made of 100% hessian, they will be a lovely addition to any mantel piece and will quickly become a part of your Christmas traditions and decorations. Several designs are available : Santa's sleigh is a more traditional design, much loved by all, both young and old, The Christmas Trees bring a more modern touch, especially combined with a black turnover, the Christmas deer or the bear will delight the younger ones amongst us. If you do not have a mantel piece to hang them from, they can be hang on the wall near the Christmas tree or a bannister.
A personalised gift idea for Christmas
Hesitating between all the designs? Finding it hard to make a choice? Here is our designs top 3 for all ages : the designs favoured for an adult are the owls, the Christmas trees and Santa; for the children the top favourites are: Santa's sleigh, the deers and bear, the Christmas village.
Special Family! Order several stockings and a discount will apply on each stocking from the 2nd one onwards
Tips to affix your labels