The Christmas Stocking
SJCH
Personalised and hand sewn in our workshop!
£21.05
Shipping fee excluded
Please personalise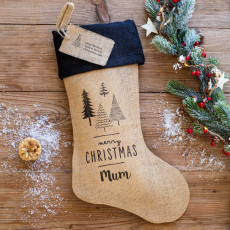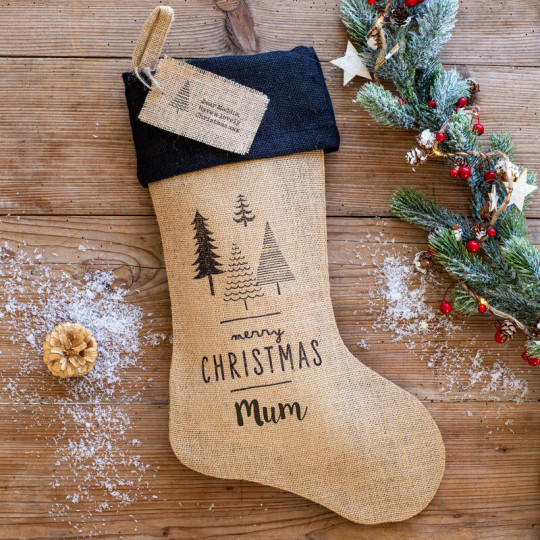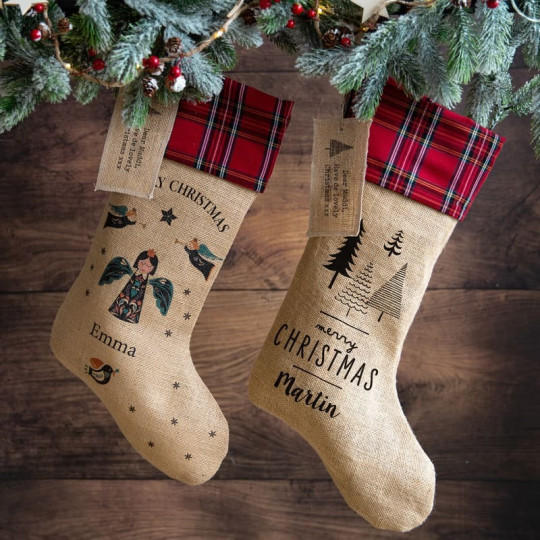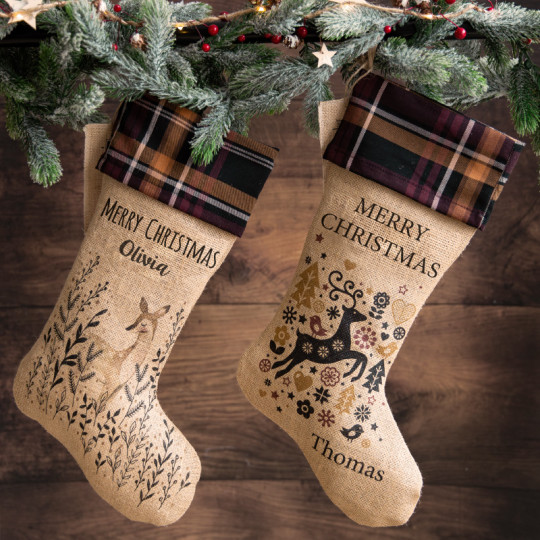 To complete our personalised Christmas range and its personalised Santa Sack, here is our personalised Christmas Stocking, made of natural hessian, handsewn and printed in our workshop!
Personalise, not only, the stocking with a name, but also the lovely gift tag made of hessian supplied with the stocking, with a message of your choice (« from Auntie Emma and Uncle Simon », « Milo's first Christmas », « For Georges, Merry Christmas »). Choose your favourite colour of turnover amongst our range of colours: blue, red, black and 2 shades of tartan. Different festive designs are available : Santa, Rudolph the reindeer, Santa's leigh, Christmas trees… to name but a few.
Hung from the mantel piece, these personalized christmas stockings are perfect to receive Santa's treats, small presents, chocolates and other treats. Handsewn and made of burlap, a natural material, they will add a touch of tradition and authenticity to your holiday season decor! Each stocking is completed by a strong loop for hanging (8.5cm long - 3.34")
Our personalised stockings christmas being handmade, the dimensions may vary slightly.
Dimensions: Height: 45cm (17.71"), width (ankle) 18cm (7.08"), (heel to toe) 25cm (9.84")
Special Family! Buy several and enjoy a lower unit price. See below the price if you buy 1, 2, 3….. 6 or more
n°1 = £20.40
n°2 = £19.60
n°3 = £18.80
n°4 = £17.20
n°5 = £16.00
n°6 = £14.40
Ho ! Ho ! Ho ! Mine4Sure personalised Christmas Stocking
When it starts feeling a lot like Christmas, that the Carols playlist is on a loop; it's time to deck the halls and hang the Christmas stockings from the mantel piece. No fire place at hands to hang them from ? The family stockings will look lovely hung on the wall near the Christmas tree or from a bannister. Each stocking has a strong loop (8.5cm long - 3.34") for easy hanging.
A long Christmas tradition, the stockings date back to St Nicholas, who moved by the poverty of 3 sisters raised by their widowed father, filled their socks, drying by the fire, with gold coins. Nowadays, treats, small gifts and chocolates from Father Christmas are used as fillers to everybody's delight on Christmas morning.
The Mine4Sure's Christmas stocking is personalised with a name so all members of the family can have one of their own.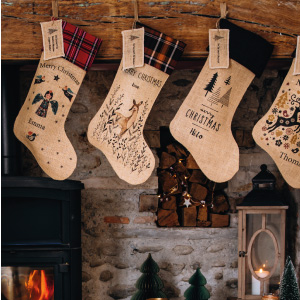 Hand sewn and printed in our workshop, they will quickly become a part of your holiday season decoration and traditions. The stocking is made of 100% hessian, a twist from the traditionally knitted stocking.
Dimensions: Height: 45cm (17.71"), width (ankle) 18cm (7.08"), (heel to toe) 25cm (9.84")
With over 12 designs available, the hardest will be to choose your favourite one : Santa's sleigh is a more traditional design, much loved by all, both young and old, The Christmas trees bring a more modern touch, especially combined with a black turnover, the holiday deer or the bear will delight the younger ones amongst us.
In addition, each personalized christmas stocking comes with a beautiful tag, made of burlap (hessian), on which you can add a little message of your choice : « Merry Christmas, Noah! From Santa xx » « Amelia Happy Holidays!» It is entirely up to you! You have up to 30 characters, spaces included, to play with, (2 lines of 15 characters each).
A personalised christmas gift idea
Customised each stocking! In addition to being personalised with a name, you can choose the colour of the cuff and your favourite design.
To personalise your traditional christmas stocking is easy:
First you enter the name you want on the personalized Christmas stocking
The following stage of the process is to select a colour for the cuff at the top of the stocking. They are several to choose from: white, black, red and two shades of tartan.
Then, pick your favourite design for each member of the family from the large choice available. Hesitating between all the patterns? Here are our most popular designs for all ages: The top 3 designs preferred for an adult are the owls, the Christmas trees and Santa. For the children the top favourites are: Santa's sleigh, the deers, the bear and the Christmas village.
Christmas fillers ideas
Now that you have beautiful stockings, the next stage is to find lots of small treats and pressies to fill them in. In addition to chocolates, "good for" vouchers, why not add a set of personalised sewing labels for the knitter, crocheteer, seamstress in the family, so they can add their name, a message to their special creations and handmade crafts. Our Stickables make also a super stocking filler to help each member of the family identify in their name their cables, chargers.
A whole range of personalised products for the festive season
Make your Christmas a totally personalised affair, starting with Advent!
Our Christmas countdown stickers will be a gorgeous addition to homemade Christmas countdown or Advent calendars. 24 round stickers available in a range of festive colours: gold, black and sparkly white and assorted inks. Add a personal finishing touch to all your presents with our special designs One by One personalised stickers and our Christmas gifts stickers.

Our Santa sacks, big and small, and our cotton gift bags will allow you to go for a more sustainable Christmas. Re-usable year after year, these lovely bags are an alternative to the traditional wrapping paper. The personalised santa sack is made of hessian. Available in two sizes, it is personalised with a name. The hardest will be to choose amongst our gorgeous designs.

To complete our range of stockings and sacks, the personalised christmas gift bags are a beautiful, sustainable wrapping solution. Customised with a name, you can choose amongst several seasonal designs. They are available in two sizes: S and M, drawstring they are 100% cotton.
Special Family! Order several stockings and a discount will apply on each stocking from the 2nd one onwards