Personalised Santa Sack
SJN
A beautiful way to deliver Christmas presents
From £21.10
Shipping fee excluded
Please personalise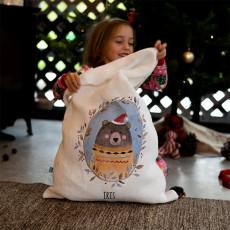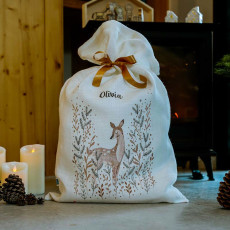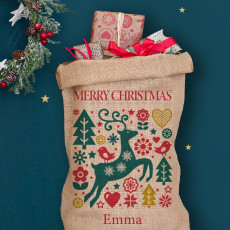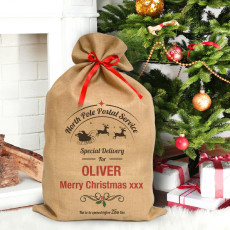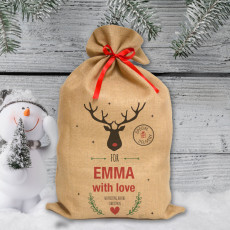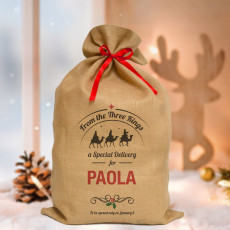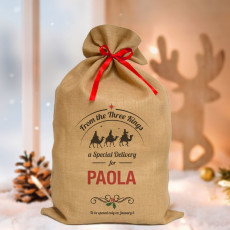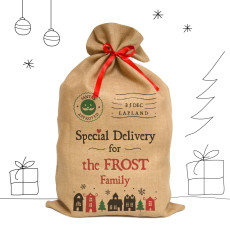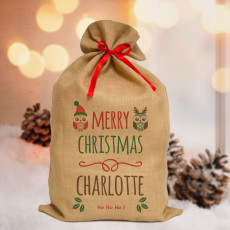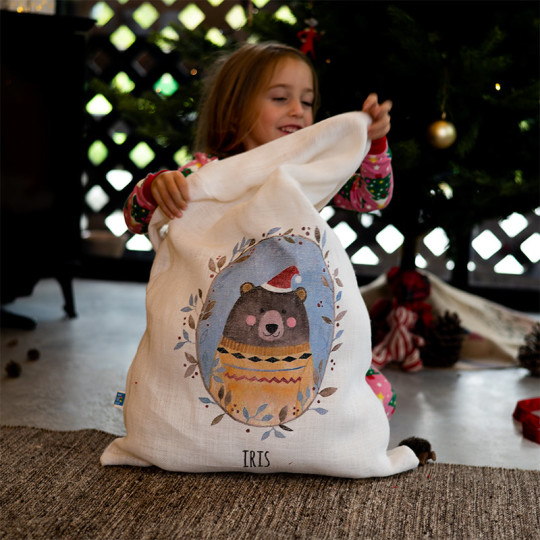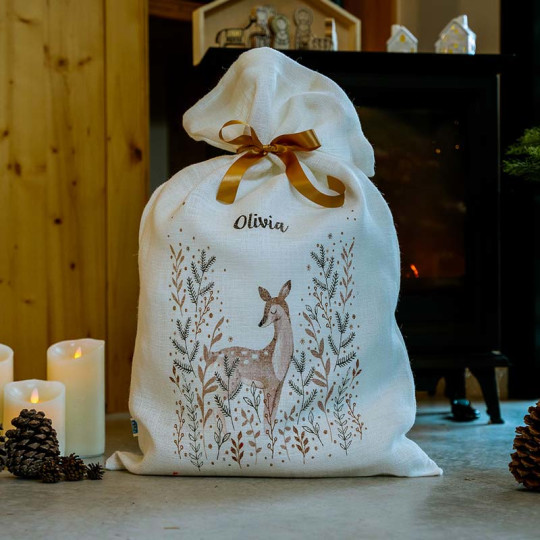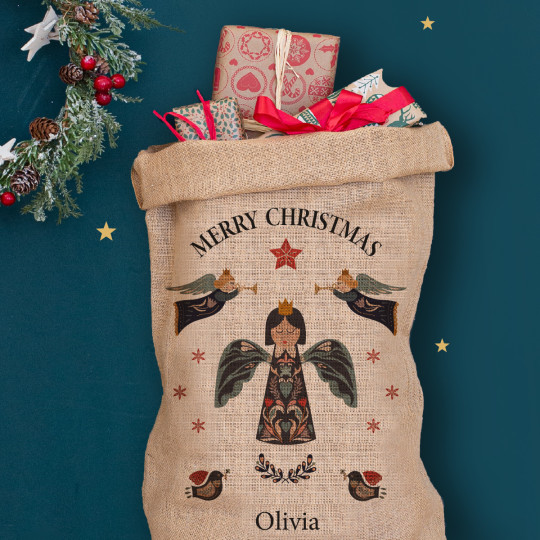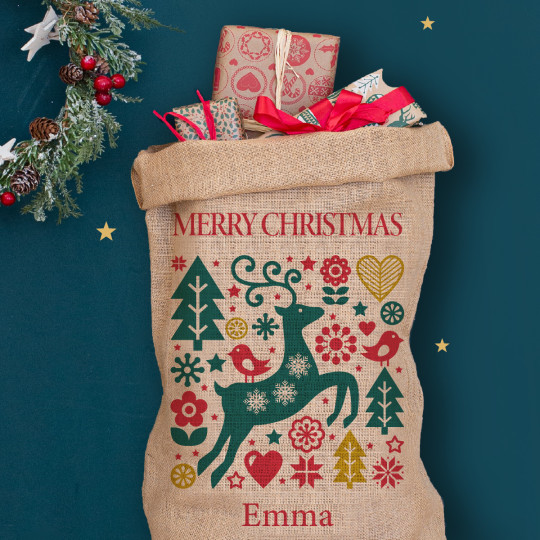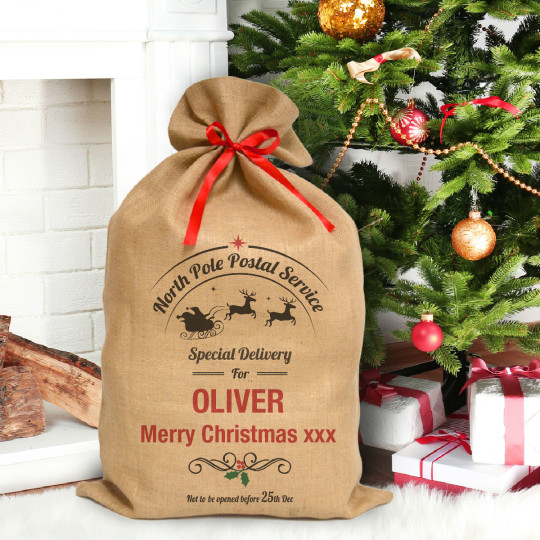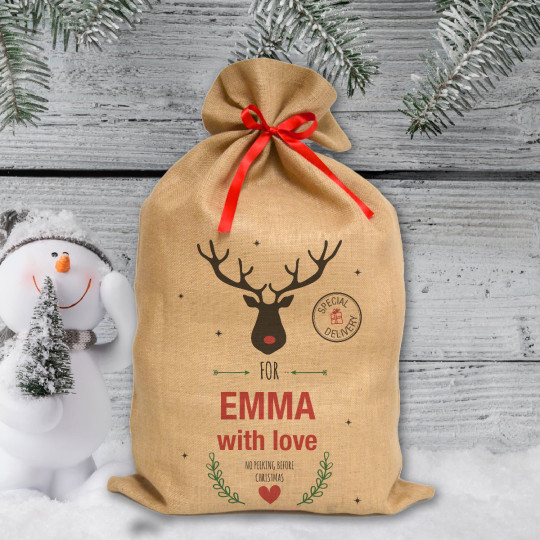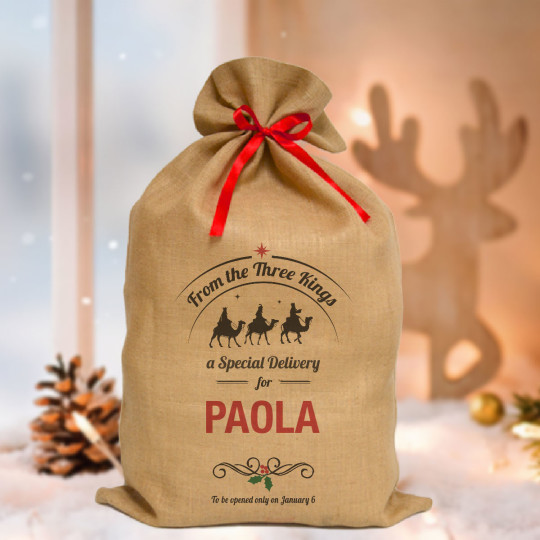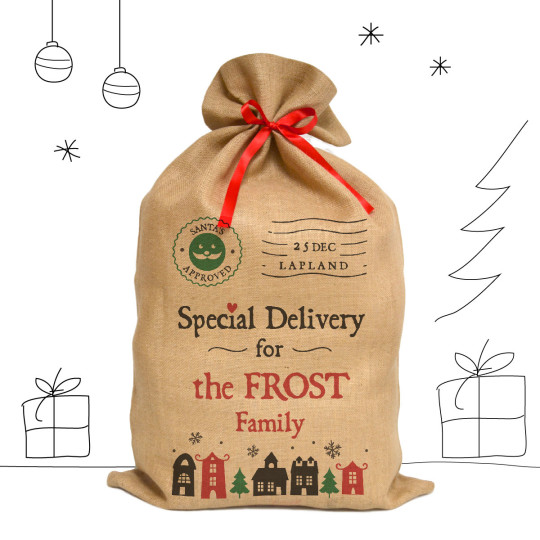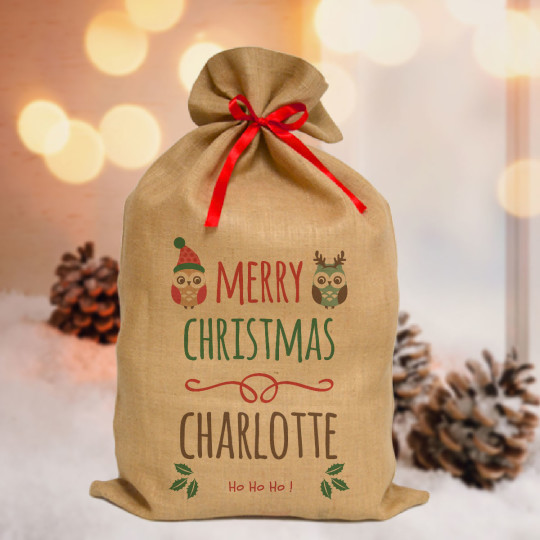 Ho! Ho! Ho! Discover Mine4Sure's personalised Santa Sack, made with love and care, in our workshop, by our team of elves!
NEW! Choose your colour of bag between natural or white hessian! And select the colour of ribbon you prefer: red, green or gold!
Add to the magic of Christmas with this personalised large hessian sack that can hold all kinds of presents. Kids, big or small, will be delighted to dive in their sack on Christmas Day to discover what surprises it holds. Choose your favourite design amongst the 17 on offer: Nutcracker, Father Christmas and its sledge, reindeers, Christmas village, Christmas trees and personalise your Santa sack with the name of your choice.
The quality and durability of this personalised Santa Sack are such that you will be able to use it year after year!
Made of 100% hessian (burlap), the sack is handmade and printed in our workshop. It is also supplied with a lovely satin ribbon to close it. Choose your favourite colour between red, green or gold.
The dimensions of this hessian sack are 77 x 50 cm -27.55 x 19.68 inches. Its capacity is about 45 litres. Being handmade, dimensions can vary slightly from one sack to another. The Santa sacks cannot be washed.
For smaller or individual presents, have a look at our small personalised Santa Sack.
Special Family! Buy several and enjoy a lower unit price. See below the price if you buy 1, 2, 3….. 6 or more
n°1 = £21.20
n°2 = £19.60
n°3 = £19.20
n°4 = £18.00
n°5 = £16.00
n°6 = £15.20
Hohoho! Mine4Sure's Santa sack: the personalised hessian sack to hold the presents of children, small and big!
Made in our workshop (officially certified by the North Pole ;-)), this hessian (burlap) sack is a beautiful finishing touch to your Christmas decor and will remind you of the vintage postal sacks, used by Father Christmas postal services to deliver the presents. You can choose between natural or white hessian for your Santa Sacks as well as the colour of the ribbon to close it: green, red or gold.
Mine4sure's team of elves will personalise each of them as per your request and will send them to children of all ages (from 0 to 110!)
With 17 different gorgeous designs to choose from: the traditional Santa's sleigh, Rudolph the reindeer, a festive reindeer or bear… Everyone is sure to have its very own personalised Santa sack!
Some designs allow for 2 lines of personalised text.
Dimensions: this large hessian Santa sack is about 77x50cm - 27.55 x 19.68 inches for a capacity of about 45 litres.
Our sacks being entirely hand sewn, dimensions may very slightly from one to the other. They cannot be washed.
In natural hessian (burlap), these personalised Santa sacks can be used year after year! In addition to adding a beautiful finishing touch to your Christmas decor, they are a beautiful alternative to wrapping paper. Sewn and personalise in our office. Special family degressive prices!
A truly personalised merry Christmas
Go all personalised this festive season thanks to our complete range of beautiful personalised christmas sack, gift bags and christmas stocking! Imagine the awe of all, young and old, discovering on christmas morning, their personalized christmas stockings filled with little presents from Santa, personalised christmas gift bags and christmas sack.
Which Christmas bag to choose
In addition to our extra large hessian christmas gift sack, the skilled team of Mine4Sure's elves also makes :
A smaller size of this Santa sack: The small Santa sacks for smaller presents. This size bag is ideal for a small present (book, jewellery, phone…) and adds a beautiful finishing touch to your gift. Dimensions : 25x36cm

Personalised Christmas gift bags: Made of 100 cotton, these lovely drawstring bag are available in different festive designs. They are a very special addition to any secret Santa gifts or presents to your besties or special people you want to treat for Christmas. They will turn any present into a truly personalised gift. They are a durable, sustainable alternative to the traditional wrapping paper. Their lucky recipients can use them again during the rest of the year to store their belongings or little treasures. Available in two sizes (S and M), they will hold perfectly small to medium size gifts.

Personalized Christmas stocking: With their beautiful designs to suit the whole family, these stockings, made of hessian, will welcome all the stocking filler and treats left by Santa on Christmas Eve. And no risk of mixing up since each stocking is customised with your chosen name. The hardest will be to choose your favourite design amongst all on offer. They can be coordinated with the designs of our Santa sacks, large and small. Available in one size only: Height 45cm (17.71 "), width (ankle: 18cm (7.08 ")) - (heel to toe 25cm (9.84 ")).
The large hessian sack also exists for Birthdays. Our Birthday sack is available in 3 special designs and will hold large and small presents. It size is identical to the large Santa Sacks (77x50cm - 27.55 x 19.68 inches) – Capacity about 45 litres.
Special Family price !
Order several Santa Sacks and a discount will apply on each sack from the 2nd one onward. See below the price if you buy 1, 2, 3….. 6 or more**
n°1 = £21.20
n°2 = £19.60
n°3 = £19.20
n°4 = £18.00
n°5 = £16.00
n°6 = £15.20