The small Santa Sack
SJNS
For smaller presents and Santa's treats
Please personalise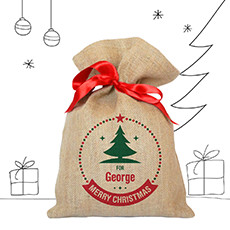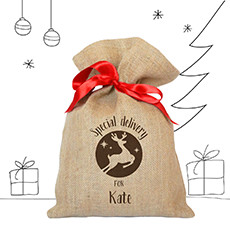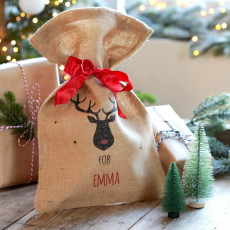 The small Santa Sack completes our range of Personalised Santa sacks!
A little brother to our bigger sack, this smaller personalised Santa sack is ideal for all your small presents.
Its size is ideal to wrap books, jewelry, bottles, perfume boxes, telephones, watches, headphones and all small gifts.
With 3 themes: Saint Nicholas, Christmas and the Kings and 10 designs to choose from, you are bound to find the perfect one to suit the occasion. Just personalise it with the name of your child, favourite auntie, or other half!
Like its bigger counterpart Santa Sack, it will add style and magic under the Christmas tree! And can be reused year after year.
Made of 100% natural hessian (burlap), sewn and printed in our workshop
Dimensions : 36 x 25 cm (2.5 litres) - 14.17 x 9.84 inches
Supplied with a length of lovely red satin ribbon
Special Family! Buy several and enjoy a discount on the 2nd item onwards. See below the price for each if you buy 1, 2, 3..... 6 or more
n°1 = £13.50
n°2 = £12.40
n°3 = £12.30
n°4 = £11.10
n°5 = £10.60
n°6 = £9.50
Smaller than its big brother our large Santa Sack:
Its dimensions are 25cm wide x 36cm high -- 14.17 x 9.84 inches
This smaller personalised Santa Sack is perfect for all your small presents, like books, jewelry, wine bottles, headphones, smartphones.... and also homemade goodies, jams, cookie mixes... personalised with a lovely jam jar label or a one by one Christmas sticker.
This small Santa Sack in addition to be a beautiful way to present gifts is an excellent 0% waste alternative to wrapping paper.
Special Family! Buy several and enjoy a discount on the 2nd item onwards. See below the price for each if you buy 1, 2, 3..... 6 or more
n°1 = £13.50
n°2 = £12.40
n°3 = £12.30
n°4 = £11.10
n°5 = £10.60
n°6 = £9.50