Christmas Advent calendar-countdown DIY kit: number stickers, treat bags, string and small pegs
PKECA
24 number stickers + 24 kraft treat bags + string and 24 small pegs to make your own Advent calendar
Please personalise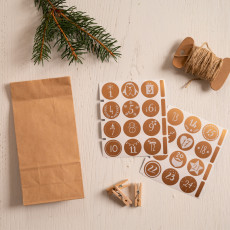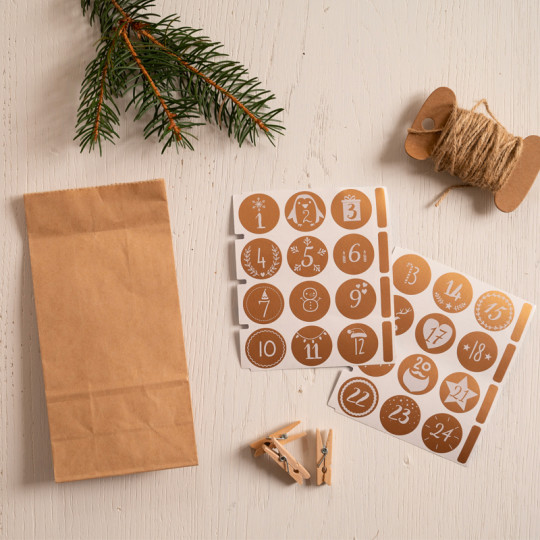 This is the perfect DIY kit to make your own Advent calendar! This kit includes all you need to use with your personalised wooden Advent calendar.
It contains:
24 round Christmas countdown/Advent calendar stickers (individually numbered from 1 to 24) - Ø26mm (1.023")
24 kraft paper bags (dimensions 9x16x5cm- 3.54"x6.29"x1.96")
10m hessian string
24 small pegs
Match your Advent calendar paper treat bags kit to your Christmas decor! Choose the colours of your stickers amongst the numerous colours available.
You can then stick them on the 24 kraft treat bags included in the kit. Next, fill in the small bags with the treats, surprises of your choice. Once you have decorated and filled the bags, you can hang each one on the base/medium of your choice thanks to the string and small pegs the kit also contains.
Thanks to our Advent Calendar DIY kits, you can make your very own custom Advent calendars! Our super team of elves have thought of everything to help children patiently wait til Christmas day!
Our make your own advent calendar kit contains:
24 stickers numbered from 1 to 24: Ø26mm (0.123"). They come in 12 colour combinations possible: gold, sparkly black, mat black, sparkly white, metallic silver, red, night blue, green stickers with a choice of text colour: gold, black, metallic red, silver
24 kraft treat bags: 9x16x5cm - 3.54"x6.29"x1.96"
10m of hessian string to hang your treat bags to your chosen Advent calendar base
24 small wooden pegs
A complete kit
This kit includes everything you need to make your personalised fill your own advent calendar and it is so easy! First, you number the small paper bags with our Advent-Christmas countdown stickers. Next, you fill up the bags with the little presents, treats, surprises and personal touches. Finally, hang each bag to your personalised Advent Calendar thanks to the string and pegs provided in your calendar kit.
Add to the Christmas magic
All kids (young and old) will love opening their small surprises every day and wait until Christmas day in the most magical way! For those with a sweet tooth, you can fill your bags with chocolates to make chocolate advent calendars. Another idea with love, especially for grand-parents or aunties, is to slip a different photo each day of the great children, nephews and nieces!