Iron-on name labels for clothes - Rectangular shape
EVL1
Iron-on labels for clothes to fix with an iron, adhesion guaranteed 10 years

10 review
Please personalise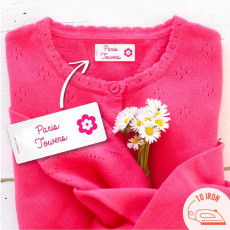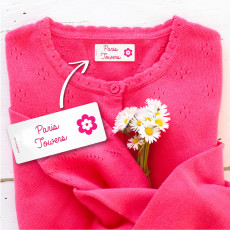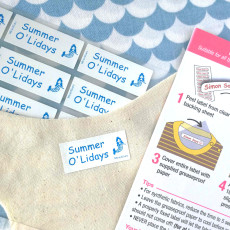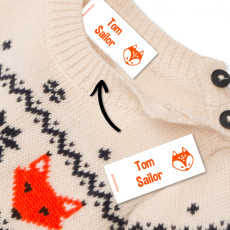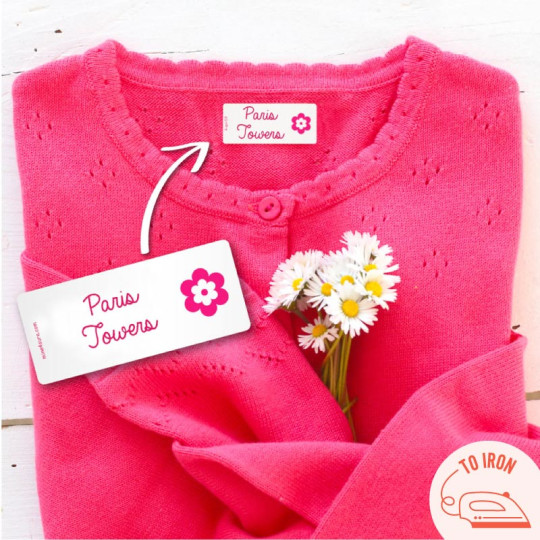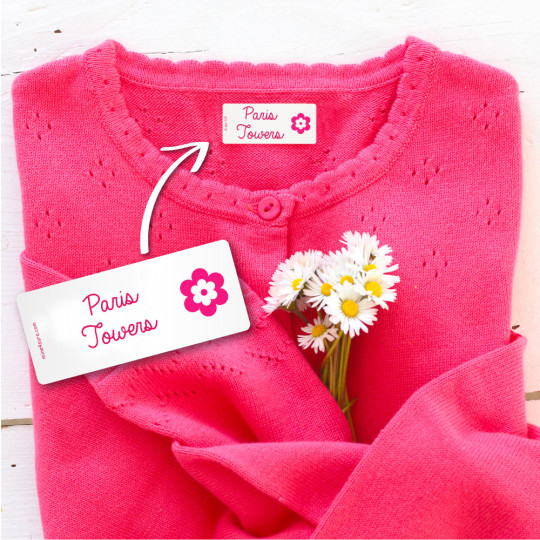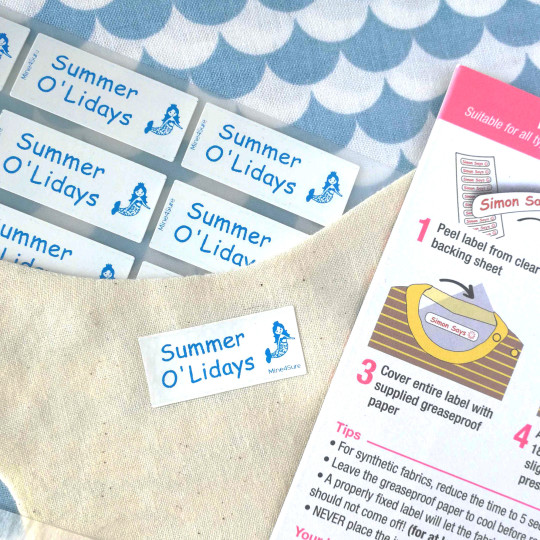 Larger and shorter than our classic shape iron on name labels!
Discover our rectangular iron-on labels for clothes, to be personalised, to label all clothes and fabric items.
Shorter and wider than the original « classic » format (35x15mm-1.378x0.394inch). Two lines of text are possible to not only have the name of the clothes owner but also a telephone number, a room number or a class name for example. Make the labels truly yours by adding the picture of your choice, amongst the vast number we offer, and selecting your favourite font and text colour. Quality and adhesion are guaranteed 10 years.
The iron on name labels, classic or rectangular, are so easy to fix ! In less than 8 seconds with an iron and using the greaseproof paper provided with the labels. They are fixed directly onto the fabric of the piece of clothing you want to label.
We offer different set quantities to best suit your labelling needs, whether for school, nursery, holiday camp, boarding and for your loved ones living in care or retirement homes. Like all our personalised stickers, they are printed with 0% solvent inks.
For clothing or fabric items that cannot be ironed, or if you want a more traditional look like woven name labels in the past, we suggest using sew in name tapes as an alternative.
FREE worldwide delivery.

10 review
Larger and shorter than our classic shape iron-on labels!
35mm x 15mm – 1.378x0.394inch
Our personalised rectangular iron-on labels, to label clothes and fabric items. These labels for clothes are shorter and larger than the original « classic » iron-on labels for clothes. They also come with a 10 year quality and adhesion guarantee. They are easy to apply, with an iron in less than 8 seconds.
On these labels, you can have two lines of text, each with 15 characters maximum
Once fixed, our iron-on labels for clothes bond directly with the fabric and are machine washable and tumble dryer proof.
These name labels for clothes are ideal to mark children's clothes: coats, school uniforms, PE clothes, hats, gloves, scarves, socks (even woolly ones !) but also jumpers, t-shirts, onesies…
Since this label for clothes is often in contact with children's sensitive skin, your personalised text is printed with a solvent free ink, as are, in fact, all Mine4Sure labels.
If you do not have an iron or prefer to use sew-on labels, check our fabric labels, available here.
Discover also our stick-on label for clothes to stick directly, no iron needed, on the care or brand label of your clothes.
Tips to affix your labels
The iron-on labels are easily fixed on your clothes:
Peel your personalised label from the backing sheet
Place the label in the desired location on the clothing
Protect the label with the supplied greaseproof paper
Apply a downward pressure for 8 seconds with your iron Temp 180°C (steam off)
If you use a large steam generator iron to fix the personalised labels, increase the temperature to its maximum.
Never apply your iron directly onto the iron-on label as it will melt. Always use the greaseproof paper provided or kitchen greaseproof paper
A well fixed label will let the fibres of the fabric appear slightly through
For synthetic or « fragile » fabrics, decrease the fixing time to 5 seconds.
For any question, do not hesitate to contact us on info@mine4sure.com or +44 (0)7952 045 292