Left-Right Stickers for shoes
ACDG1
The clever stickers to always find your shoes and put them on the "right" feet

2 review
Please personalise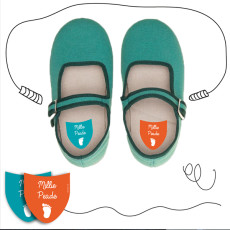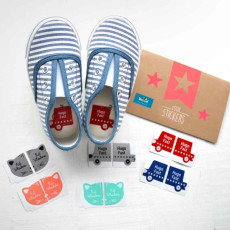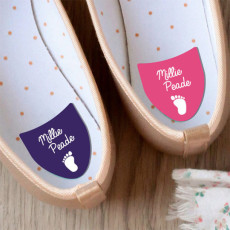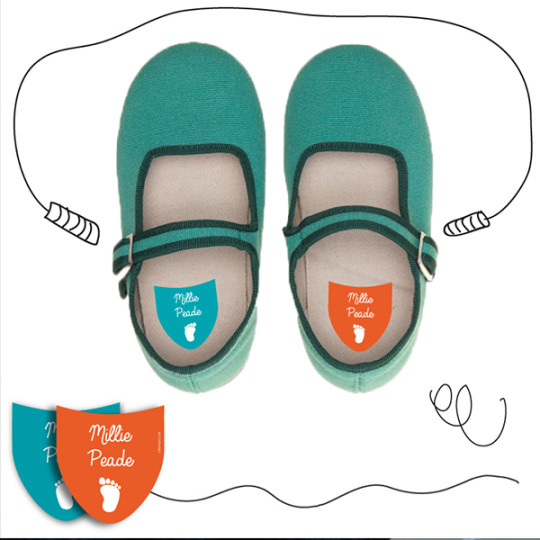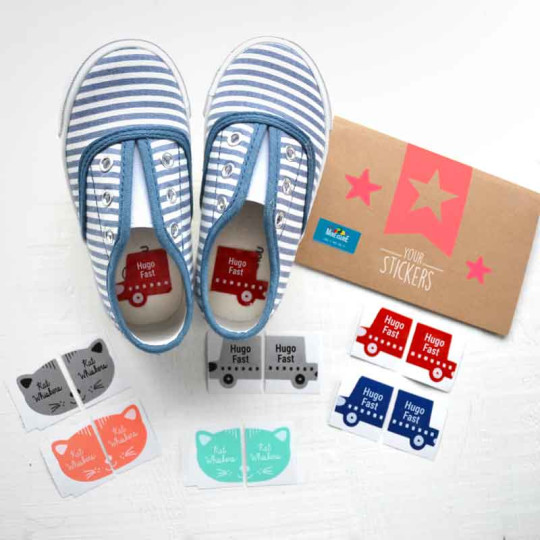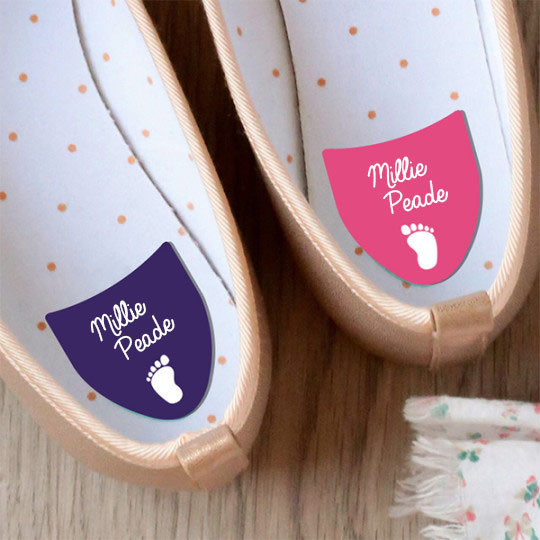 Personalised stickers to label in one's name 6 or 12 pairs of shoes.
These « clever » personalised left/right stickers not only identify the owners of the shoes, but help them differentiate the right foot from the left! ed shoe stickers, the cat shaped stickers or the car shaped stickers
How do they work?
The bi-colour shoe stickers
On the sticker destined to the left shoe is a picture of a left foot and on the one for the right shoe is a picture of the right foot!
Each sticker of the pair is in a different colour. So the youngest children will learn to differentiate the left from the right and will no longer mixed up their shoes. These labels fit all types of shoes, from toddler to adult size.
The Car or Cat shaped stickers: Both stickers of the pair makes the shape. Children must match each side correctly to make the proper shape and put the shoes on the "right" feet!
The stickers are protected by a transparent overlay that must be stuck on top. They, then, resist to perspiration and rubbing.

2 review
Discover Mine4Sure personalised left-right stickers special shoes.
These labels have been specifically designed to help the younger children be autonomous when putting their shoes and this from the youngest age!
3 designs of personalised left-right stickers for shoes are available: Bi-colour, cat shaped or car shaped!
The children will easily identify their left foot from their right thanks to the different colours or parts of the shape.
The left-right shoe stickers are sold by set of 6 or 12 pairs of stickers. This will allow you to label in your children's names all their shoes (school, PE, summer and everyday shoes, slippers…).
The repeat colour coding or shape matching will become an easy reminder for your child of which shoe is which, and putting them on the right way will become « child's play »!
Tips to affix your labels
With their specific « heel » shape , the bi-colour stickers are to be stuck inside on the shoe on the sole at heel level, the pointed side towards the back of the shoe.
Plain transparent stick-on labels are provided with the printed name stickers, see the sheet(s) of 6 transparent stickers included in your pack of Mine4Sure personalised labels.
These protective overlays are to be stuck over the name stickers, that you will have stuck beforehand in the shoes. They will protect the personalised stickers from the rubbing action of the feet, perspiration and will ensure optimal adhesion and durability.