Babies and children clothes size guide
---
We don't know about you but here at Mine4Sure, we find that regardless if you have one, two, three or… six kids. finding your way through babies and kids clothes sizes is like being in an endless maze. We never find our way around!
To help you find your way (and the right size 😉) we have compiled a babies and children clothes size guide, complete with ages, sizes and weights. These are indicative as sizes vary significantly between manufacturers and countries. The best solution is, whenever possible, to try them on.
Babies  clothes size guide
Baby is in between two sizes ?
It can happen that your child stature does not match exactly the average size or weight detailed in our table. As we all know : things are never straightforward with kids and this is completely normal ! All children are different, and fortunately so! In this case, we advise you to take a size up. Your baby will then wear a garment that is a little big. But no doubt it is just going to be a matter of weeks before the garment fits perfectly. Until then: let's roll up the sleeves, trousers legs…
Your bestie is expecting or has just had a baby and you can't help finding these adorable baby outfits you want to get for her ? But you're not sure of the size. This is where we can help !
What size to choose for a new baby gift? Follow our babies and kids clothes size guide
If you already know the height and weight of the baby, you can refer to the table above.
If you don't have the information, then common sense will have to apply and maybe a little patience too! Babies vary in height and weight at birth. Some will need a size 0, for others size 1 month will be the perfect fit for a few weeks, whilst others will start wearing 3 months old outfits straightaway.
In doubt, we would suggest going for the size 3 months as baby is likely to wear it a little longer.
Buying clothes for a baby gift:
To avoid buying clothes that might be too small from the start, you might want to consider buying a bigger size such as 18 months. Babies grow very fast in the first few months. Going for a size 18 months, with a longer age span than a size 1 month or 3 months, it is more likely that the outfit will be worn and for longer. If you prefer to go for a smaller size (oh we know, how cute these small size outfits are and so difficult to resist to, 6 months is a good size to go for !
The thing to bear in mind, though, when you go for a bigger size is the season! A fleece in summer, or a short sleeve tshirt in winter, might not be of very much use even if it is the cuttest outfit on earth !
In general, new parents, especially if it is their 1st baby, are gifted a lot of clothes for their newborn, especially in size 3-6 months. To the point, where unless baby is changed at least twice a day there is little chance that he or she will be able to wear it all by the time he or she has outgrown that particular size.
So why not stand out with a different, unusual alternative gift ?
Alternative gift ideas for a new baby:
The Mine4Sure close family counts about about 32 kids of all ages, and more are on their way 😊. So we are always looking for new baby gift ideas and we can test them on the Mine4Sure new babies and parents 😉.
Here are a few of our favourites :
With all these new, cute clothes in the closet, it would be a shame if they got lost at nursery. So what best way to make sure they come back than labelling them in the new baby's name.
Our Baby pack is a hit when it comes to new baby gifts. It contains a mix of clothing labels (iron on name labels or stick on clothing labels, the choice is yours) and stickers for objects and shoes. It is super practical for marking baby's belongings. Last but not least,  you can are sure it will be a gift that will be used. The labels come neatly presented in a super cute gift box and you can have it shipped free directly to the new parents wherever they are.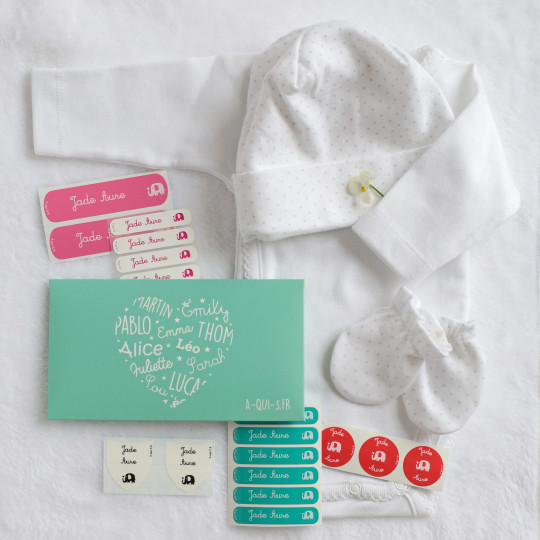 Teddies, comforters and stuffed toys are also a traditional gift for new babies (it's almost as hard to resist buying those than baby clothes in my opinion). Why not complete your gift with a personalised Bag4Teddy in baby's name? With its ears making the handles, this is an adorable gift idea, again super useful to carry Teddy safely everywhere baby goes.
Finally, you could go the handmade, homemade way with a gift made by your very own talented hands. This always make it extra special ! There are a lot of ideas around but a lovely baby blanket knitted with love makes a fabulous, very special and useful present that will over time become an heirloom. Sweaters, clothes made by grannys, nannys, great grand nanas… are also great gifts. Add a little sew in name label bearing your own message to give an extra touch that makes them even more special.
Children clothes size chart
When it comes to getting the right size for older children, knowing their height and a few dimensions is important. It will help  identify the best size to choose for your ever growing kiddo.
Hips, waist and inseam are the most common dimensions to know and that you will find in children clothes size charts.
We have compiled an indicative children clothes size chart to help you get an initial idea of what size correspond to what age:

As you may have concluded by now, there is no universal clothing size guide that manufacturers and retailers worldwide are required to follow. Each brand will have its own specificities and for each country or geographical zone, the sizing is also based on different criterias.
When shopping online, you will find that pretty much all websites include a size guide or chart that is more specific to their brand. This is a « must stop by » if you are unfamiliar with how the brand sizes or if you have doubts.
If you have been brave enough or have succeeded to drag your kids out and you hit the high street, the best way is to try the clothes on. Luckily, if you have been shopping alone, you can always return the clothes if you discover once you're back home that they are not the best fit.
European vs United Kingdom and USA children's clothes sizes
To complicate matters a little bit more, in this day and age of internationalisation, you will find that sizing is based differently whether you are shopping British, US or European brands.
Whilst British and American brands base sizing on age, European brands use height as the base of their sizing guides.
The web offers many international conversion charts that can really be helpful. However, do keep in mind that those with size listings are approximate. If possible, use a conversion chart that allows you to use actual measurements.
Why labelling your kids clothes will help you save time and money?
Shopping and getting the right size involves a lot of hard work. Now, the last you want is all these lovely clothes to be lost forever!
Labelling clothes and objects in the name of your child will save you time and money.
We all know that, as parents, our time is already stretched. So spending time, we do not have, searching high and low through the lost and found boxes of your kid's school, nursery, sports clubs… is really something we could do without. Not mentioning the time we spend shopping to replace the lost items.
Whilst the purchase of personalised labels may seem an additional cost at first, it is a worthwile expenditure. It will end up saving you money.
We all know the high cost of school uniforms. The last thing parents want is to have to replace these items. We all know when clothes disappear at school, it's never our kids fault.
And since they all pretty much have the same, identical looking, sweater; all there is left to do is to get a new one. Times that by "several" within the school year! Now, you can just imagine how much you have saved by adding that little name label!
Here at Mine4Sure, we have imagined and designed labels to suit all your labelling needs for clothes, objects, shoes. In our extensive combo packs range, there is a pack to suit your every need: school, uniform, daycare, holiday camp…
Now all there is left for us to do is to wish you HAPPY SHOPPING!
Join our community of super parents on Instagram and Facebook @mine4Sure