Personalised name labels for children: what type to choose?
---
Name clothing labels have become an essential part of the items, needed for kids, on the back to school list, or when they start nursery. We all remember the woven labels painstakingly sewn by our parents or grand-parents, when our parents dedicated the task 😉
But this has changed!! Today labelling clothes for school is easy, quick and fun. Thanks to the personalisation, you can design your very own personalised name labels for children in the name of your choice: choose your font, text colour and picture.
However, a wider choice poses the question of which type of clothing label to choose. So, to help you, we have listed the several types of labels available today and their caracteristics.
Personalised name label for kids: What type of name tags to choose?
The different types of name labels to identify in their name childrens' clothes
First things first! Let's list the several type of labels for clothes available. There are 3 types:
First, our best seller, Iron on clothes labels: Fixed with an iron (or hair straightener) in a few seconds only. These very thin labels bond with the fabric. Well fixed, the iron-on clothing labelsy will remain in position 10 years and happily withstand repeated washing machine and tumble dryer cycles. Furthermore, they are printed with solvent free inks and are entirely personalisable: text, font, text colour, logo. These name tags are not easy to remove. However, if you contact us we are happy to provide you with blank labels to apply over them once it is time to donate or pass on the clothes to a younger sibling, little cousin… for example.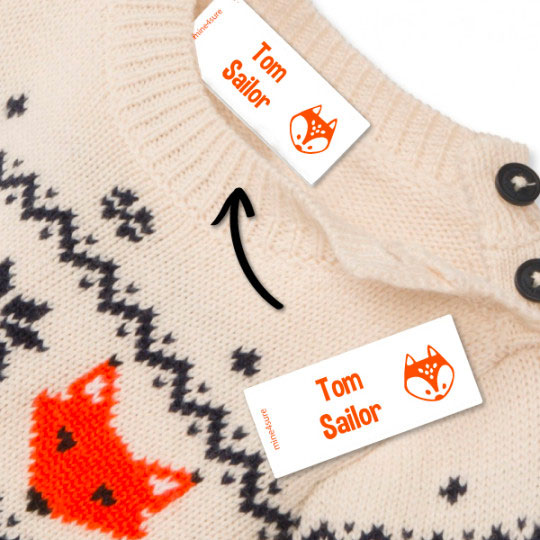 Then, you have the stick on labels for clothes: You stick them directly onto the brand or care label of the garment you want to identify in your child's name. There is no doubt that this is the easiest and quickest label to stick! All you need to do is stick it on the polyester/synthetic care or brand label, like you would for an ordinary sticker.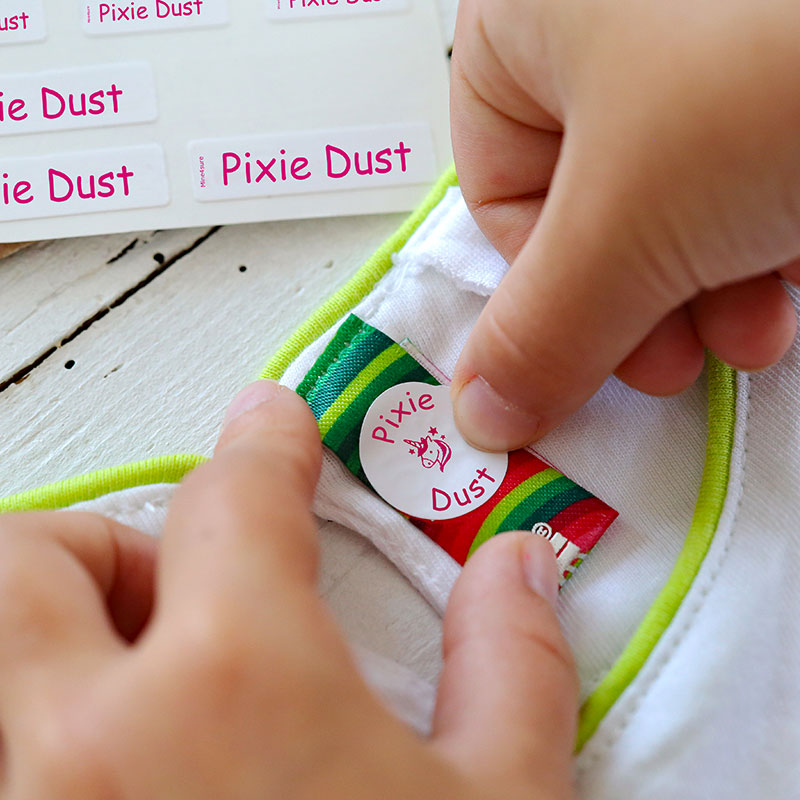 These two types of personalised clothing labels are available, as options, in our School Pack, our great value for money pack of customised labels for school. It contains 174 mixed personalised labels for clothes and stickers. This pack is especially designed to suit your kids labelling needs for school: school uniforms, school shoes and PE kits and all their school supplies and equipment.
Finally, the sew on labels: These gorgeous polyester satin labels have been especially designed to label more fragile garments and all your handmade, hand knitted, crocheted and sewn works and creations. Like all our labels for clothes, you can personalise them fully. They are pre-cut, thermally so they do not fray (no need for a hem) and are printed with 0% solvent inks. We recommend the use of a polyester thread to stitch the labels on.
Here is a comparative table of the different types of personalised name clothing labels for children :
Caracteristics

Iron on

Stick on
Sew on
Fixing speed
8 seconds
3 seconds
A few minutes
Adhesion
Guaranteed 10 years
Guaranteed 60+ washings
Depend on sewing
Washing machine
compatible
      at 60°C ✅
    60°C ✅
          max 60°C ✅
Tumble drier
compatible
Yes ✅
✅
✅
Quantity
Mini 10 labels
From 10 labels
From 10 labels
Colours
8 colours of text available
Choice of 9 colours
9 text colours to choose from
Dimensions
Choice of 2 sizes
54x10mm – 2.12×0.39inch
or 35x15mm – 1.38×0.394 inch
A pack includes 3 shapes: Ø18mm,
18x18mm and 35x8mm
58x12mm
2.283×0.472inch
Product page link
Discover this product
See these tags
Voir le produit
Do not hesitate to contact Emma or Franziska, from our customer service team, if you would like more information on our personalised name labels for children and everyone who needs to label their clothes by email info@mine4sure.com or +44 (0)7952 045 292 (during CET office hours)
What type of name labels for clothes for what purpose?
Labelling clothes and belongings for care home or nursing home: As a first recommendation, we advise to choose iron-on labels for clothes since they will happily withstand intensive « industrial » washing and secondly they can be applied directly onto the clothes. However, we recommend sew-on labels on more fragile fabrics such as nylon socks, tights or compression stockings, for which the heat of the iron is not recommended. For ease of use, our satin labels are thermo cut. Besides, they will easily sew on all fabrics, either flat or folded in half.
Labelling childrens' clothes for school or babies and toddlers going to nursery: Our iron on and stick on labels are ideal for children. If you  are used to cut off the brand or care labels in your kids clothes, then choose the iron-on labels. However, if you do not remove them, then the personalised stickers for clothes are what you need ! Bear in mind, that this type of name tags will only stick on the polyester/synthetic brand or care labels, we do not guaranteed their adhesion when stuck directly onto the clothes' fabric.
For all your handmade creations: Mine4Sure sew on labels are the most poular, for your knitted, crocheted and sewn creations for your family, friends or your Etsy boutique. They will require some sewing skills and a bit of time to be applied on. For example, if you have launched your own little (or not so little) line and brand: The labels can be customised with the name of your brand. As always, Emma and Franziska are here to respond to all your queries, if you want your labels with your own logo for example.
What name labels for shoes and comforters and teddies? 
To label shoes: We recommend personalised shoe stickers. With their crest shape, the stickers special shoes are easily fixed on the inside sole of the shoes. Most importantly,  they will resiste to rubbing and perspiration thanks to the protective overlays supplied with the stickers.
For the younger ones, the personalised bi-coloured shoe stickers are a great tool. They, not only, help them to recognise their shoes but also to know their right foot from the left
Identify in one's name a comforter or special teddy : For teddies, comforters and other blankies, you can use either of our 3 types of labels ( iron on, stick on or sew on name label). However, our Tag4Teddy pack is probably the most suitable pack to use. It includes 3 iron on name tags and 2 sew on labels. Personalise these special Teddy labels with the full name of your child as well as your telephone number. This way, you can be contacted should, sadly, your child's favourite teddy goes astray.
What stickers for objects and other personal belongings?
To label school supplies: For example, for pens, pencils, books, pencil case, music equipment, lunchbox, drink bottle but also school uniform, school and sports shoes, PE kit… There are so many things to label in a child's name to make sure it all comes back home day after day! You want to identify them all quickly and affordingly? Then, look no further! Our combo packs for children are what you need!
Our School Pack, for example, contains 174 personalised labels to identify in one's name all the necessary items for school. Thanks to its mixed labels, you will be able to label clothes thanks to the iron-on or stick-on clothing labels (which both will happily go through the washing machine and tumble drier) and the stickers for shoes and supplies. The school labels contained in this pack you will be able to label all the school essentials and more for the entire year!
We guarantee the adhesion of the name labels for clothes 10 years. The stickers suit all clean and relatively smooth surfaces.
Finally, our labels benefit from a free delivery worldwide and satisfaction guaranteed, so there are no reason to hesitate any longer!
Finally, to label objects have a look at our personalised name stickers. Designed to stick durably on your office supplies, kids' school items, helmets, books, sports and music equipment in addition to all objects with a smooth surface. The stickers for objects, like all our personalised name labels for children, are waterproof and printed with solvent free inks. In addition, they will happily withstand dishwasher, microwave and steriliser use as well as… daily life with kids 😉
See our full range of name labels and stickers on our website!