Our tips to remove iron-on clothing labels
---
It's not a safe guarded secret, kids outgrow their clothes faster than fast! And more often than not, their clothes have still got some life into them so it is just great to hand them down to a younger sibling, little cousin, donate them or even sell them. But who wants the name of the previous owner in their clothes ?? Certainly not our kiddos!  So here are our tips to remove iron-on clothing labels when you need it!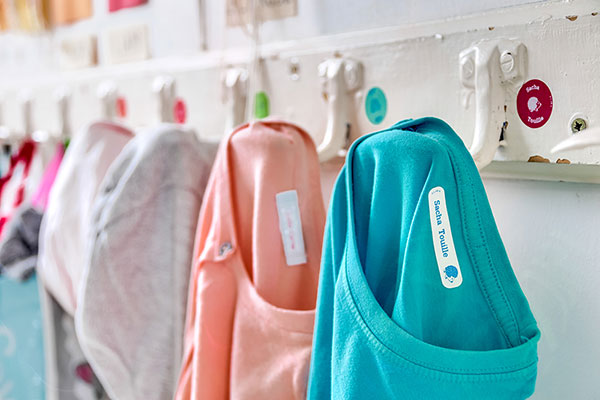 Our tips to remove iron-on clothing labels:
Whilst several of our customers and team members have tried and tested it, we cannot guarantee its success 100%.
Our "classic" iron on name labels and our rectangular iron on labels have been designed to stay on the clothes, for 10 years, it is, therefore, possible that some name tags are more difficult to remove than others. This will depend mostly on the fabric of the clothing they have been fixed to.
1 / To start with, cut a piece of  aluminium foil large enough to cover your iron-on label and some of the area of the garment around your label.
2 / Thereafter, set the temperature of your iron on wool setting.
3 / Then, cover your iron on label with the piece of foil previously cut and apply the iron on top of it.
4 / This process makes your personalised label go soft. The iron on name label might stick to the piece of aluminium foil. When you peel it off it will pull the label off. If it does not, using a pair of tweezers, peel the label off carefully before it hardens again.
You can renew the operation as many times as necessary to remove the label fully.
Cover an iron on label with another label:
You have bought Mine4Sure labels, and have no success with the method above?
Our iron on clothing labels are so thin, they can easily be covered by another iron on tag in the name of the little brother or sister or by a blank label if you are selling or giving the clothes to charities.
If you would like a few blank labels to iron over the previous labels, send us an email with the number of tags needed, to info@mine4sure.com and we will happily send you some for free 🙂
Adopt the stick on name labels for clothes: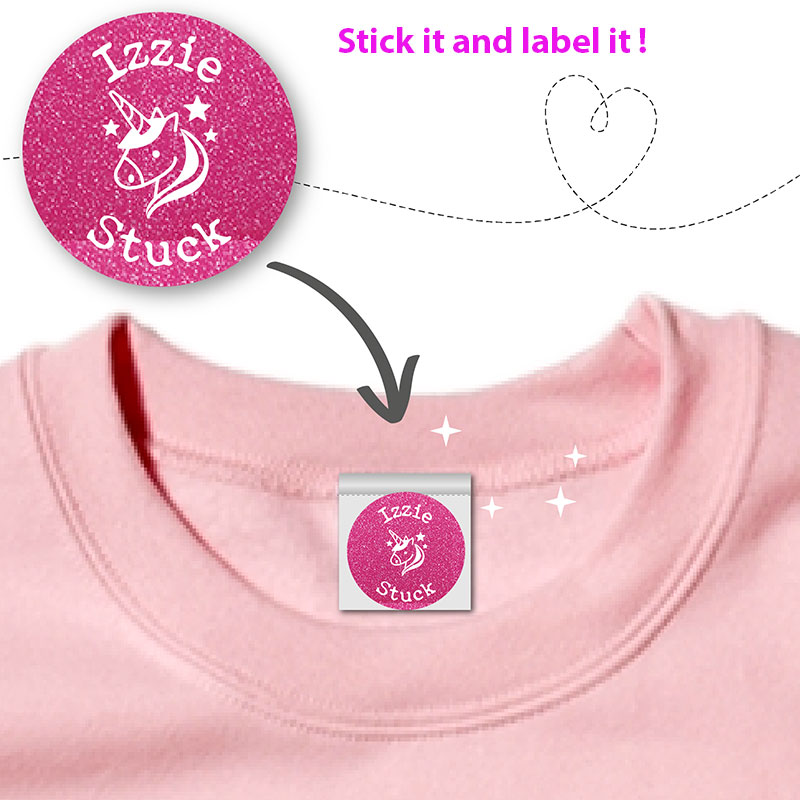 Not a big iron fan? Pressed for time?  Then we have the solution for you to label all your child's clothes quickly and effectively  without using an iron: Say hello to our stick on labels for clothes and say goodbye to your iron! These personalised name stickers for clothes are fixed, in only a few seconds, onto the brand or care labels and can be easily removed when necessary. Like all our labels, personalise these stick on name tags with a logo, colour and font of your choice. Their adhesion is guaranteed for 60 machine cycles and they also happily go through the tumble dryer.
Once adopted, you will never be able to leave these stickers!
You want to remove an iron on label special socks? The process is identical to the one described above for personalised iron-on name labels. We use the same thermal bonding material for our personalised iron-on labels special socks and iron-on name labels for clothes.
Here you have it! Our name tags now have no more secrets for you and you are officially an iron-on label expert

But if you need a bit more help or have a few questions, Emma and Franziska, from our super customer service team are here to help. Don't hesitate to contact them on info@mine4sure.com.