EASTER DIY EGG HUNT PRINTABLE!
---
Hippity Hoppity Hop… Easter is on its way!
And you know what it means?… Easter bunny, Easter egg hunting and…. CHOCOLATE!!
This year, the Easter bunny has teamed up with Mine4Sure, so the Easter egg hunt is even more fun and feels like a real treasure hunt! On his behalf, we've designed this Easter DIY Egg hunt printable: little signs to plant around the garden to help….or misdirect keen egg hunters, big and small!
Easter garden signs printable for the Easter Egg Hunt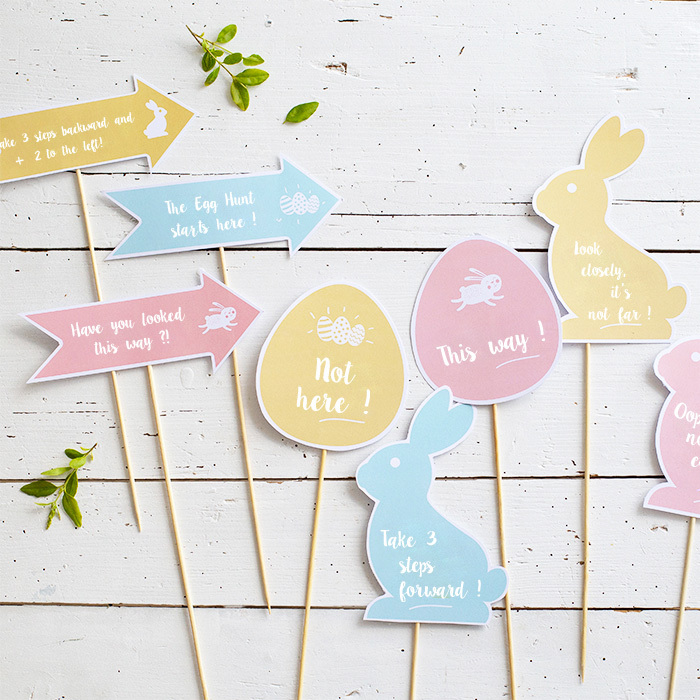 Add a special touch to the traditional Egg hunt this Easter with these little signs to plant around the garden. These cute signs will be a lovely surprise to your chocolate hunters.
To download and print your Easter garden signs, click here: Easter DIY egg hunt printable
How to make your Easter egg hunt signs
In addition to the printable, you will need:
Thick card or paper
Some kebab sticks
Cellotape
A pair of scissors
Easter egg hunt bag
Let's get making!
– First, print the signs. We recommend using thick-ish card or paper so that your signs will be rigid enough.
This free printable is in pastel colors so be sure to choose colour printing for a better finished look.
– Next cut around the shapes
– Then, tape a kebab stick at the back of each sign, making sure a long enough length is left at the bottom
– Now all there is left for you to do is to plant the signs around your garden.
Pssst: no garden available for the egg hunt? or the weather is so that no bunny should be outside, you can use the signs around the house too 🙂
Make Easter 100% cute and personalised
Easter is such a special time in the year! Who does not love it? Make this year's their favorite Easter yet thanks to our personalised Easter bags and Bunny bags, for which the bunny ears make the handles. They are an adorable alternative to the traditional Easter baskets.
Personalised with in their name, your little chocolate egg hunters will love to roam round the garden in search for all the Easter treats, and to keep their chocolate stash safely in their bags.
An added bonus?! These bags can be used each Easter, year after year and during the rest of the year to keep tidy little treasures, teddies, pyjamas…
They also make lovely Easter decorations or Easter gift bags filled with chocolate and treats.
Wishing you a very Hoppy Happy EASTER !!