Halloween place mat: Let's keep the kids entertained before going trick-or-treating!
---
Halloween is just a few days away! To get in the spooky spirit and go Halloween all the way, what's best than a Halloween themed menu complete with a fun Halloween place mat to keep the kids entertained before going trick or treating?!
If there is a right recipe for a successful Halloween menu, it starts with scary, yu(mum)mies toasts and witches brooms to accompany our very own Franziska's Halloween pumpkin and chestnut soup and ends with scary monster doughnuts.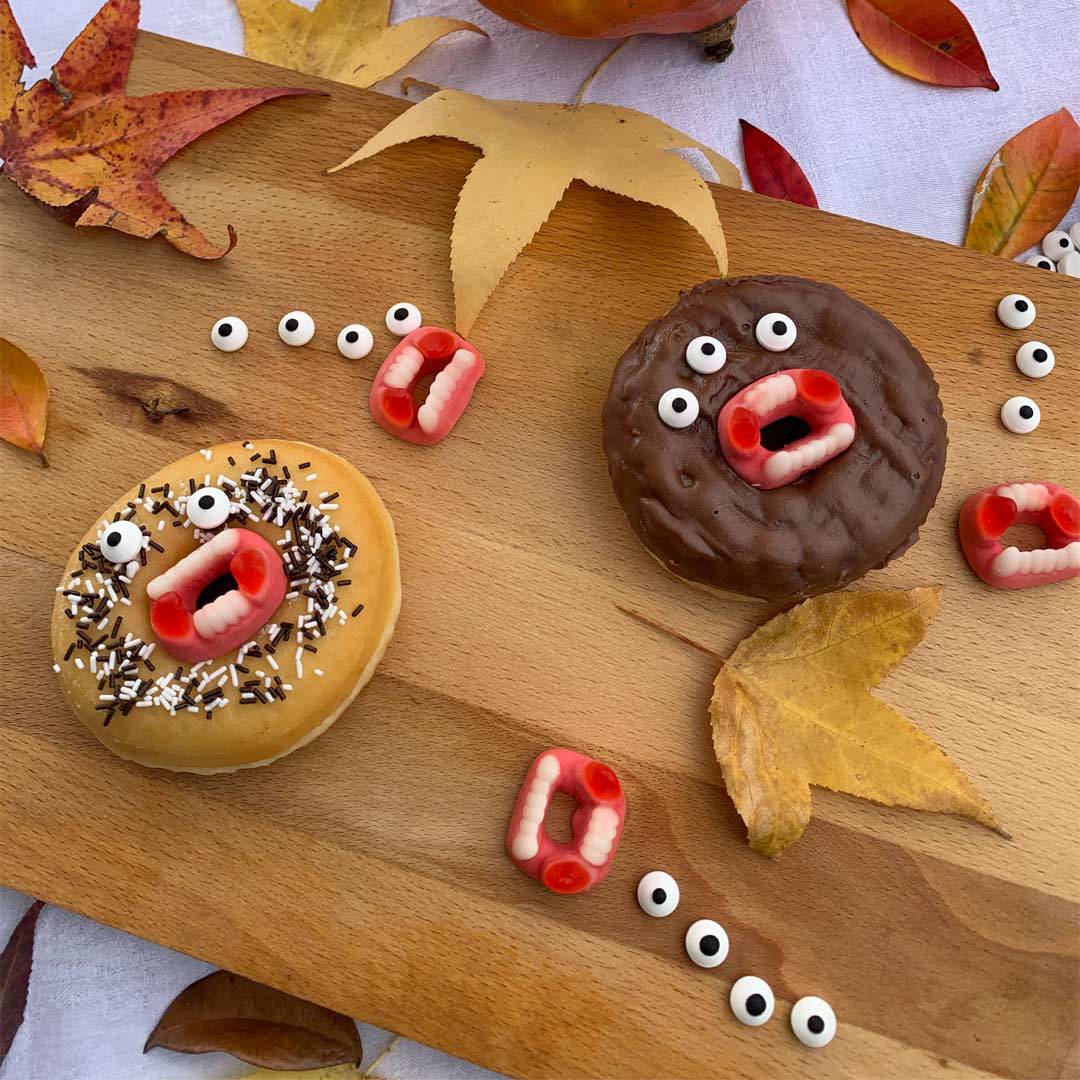 Make your own Halloween monster doughnuts
Turn plain doughnuts into monsters and they are sure to hit n°1 place in the favourite snacks list this Halloween! Winning you the title of best Mummy (literally) or Dad of the Halloween season.
And our favourite trick (more like treat for you!)  is that they are frighteningly easy to make!
All you need is:
Some doughnuts, with different coverings to make them all different
Some candy teeths
A bunch of edible eyes
Now, in with the fun part!
Assemble everything together or even better, get the kiddos to make their own.
A "make your own monster doughnut station" can be a fun activity for a Halloween party.
Halloween place mat to keep the kids entertained before going trick or treating
Add some extra fun to the Halloween table decor with this printable kids' activity place mat. A mix of games to make the children magically wait at the table before heading out trick-or-treating.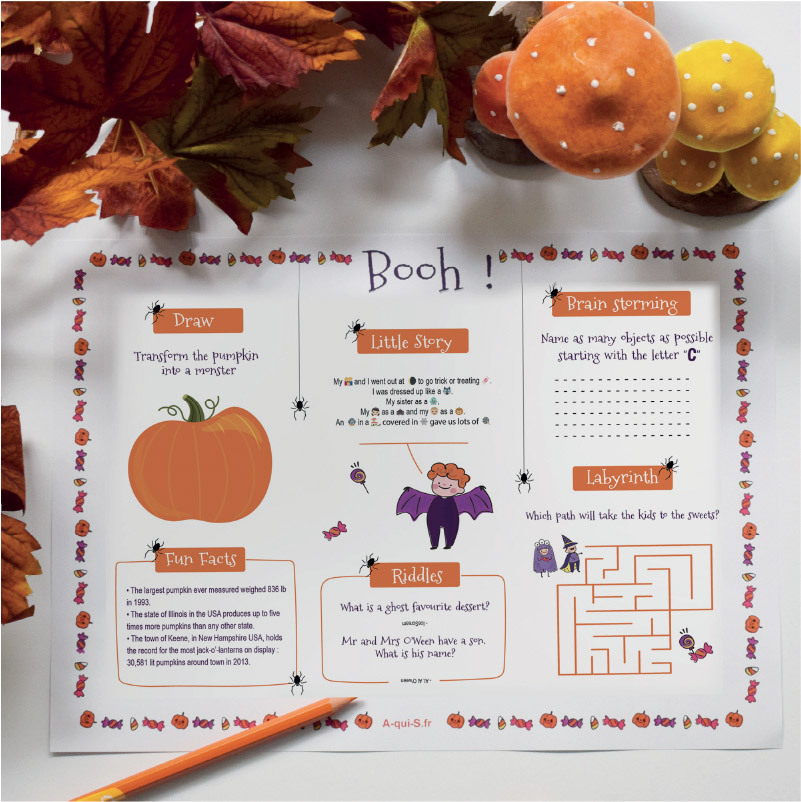 What are the activities of your Halloween place mat?
First of all, a funny pumpkin to decorate! Two scary creepy eyes, an evil mouth and vampire teeth…imagination is the one word
Then, a word guessing game on the Halloween theme. Bear in mind it won't be a piece of cake!
Read the story where words and pictures make the text
"Did you know?" fun facts about Halloween for the kids to impress their friends
2 brain-teasing riddles guarantee to keep their brain working!
Last, but not least, let's find the way out of the maze to escape the witch and grab the sweets!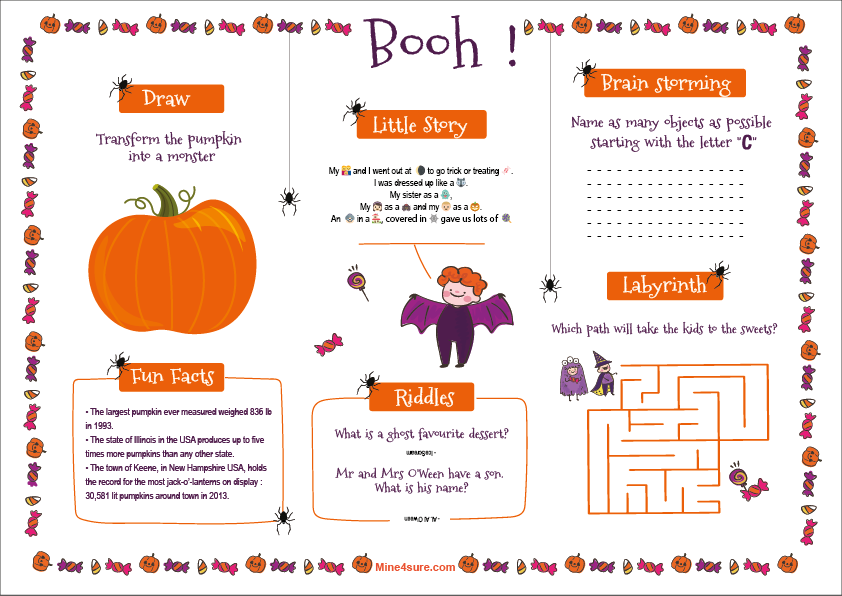 A personalised Halloween bag to go trick or treating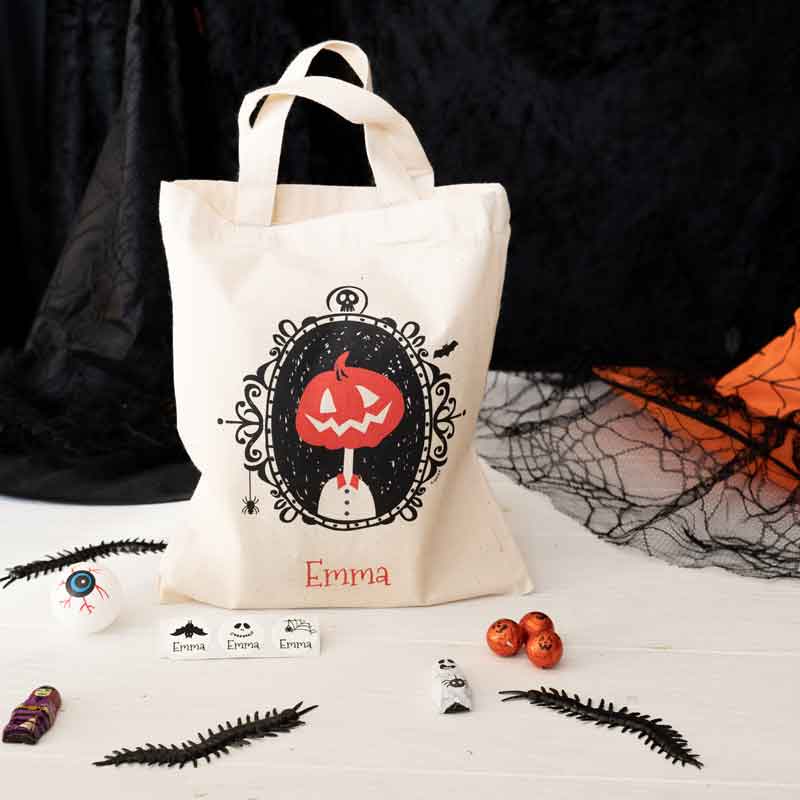 Kids have had fun at the dinner table and kept occupied with all the fun activities from the Halloween place mat, it's now time to head out for what Halloween is all about: Trick or treating with their friends around the neighbourhood!
What best than going out with their very own personalised Halloween bag?!
Personalised in their name, no risk of mix-up of treats with siblings and friends Halloween bounties!
Made of 100% cotton, Oeko-tek standard, it is available in several Halloween un-boo-lievably cute designs: the creepy bat, the black cat and its pumpkins, the witch or the twin ghosts…
And… because we love treats here at Mine4Sure, each bag comes with a set of 6 round glow-in-the dark stickers personalised in the name of your trick or treater.
Happy to share you Halloween snapshots of your monster doughnuts and little vampires, ghosts and witches going trick or treating? Share and tag your photos @mine4sure on Instagram!