24 Advent good deeds and activities
---
And if, this year for Advent, we give rather than just receive? Often giving is more rewarding and brings more joy than receiving. In the run up to Christmas, the Advent period seems an ideal time to encourage our children to get in the spirit of Christmas and share, give, care, protect…to loved ones, strangers, friends, the planet…
So we have thought a lot and come up with these 24 Advent good deeds and activities ideas for each day of the Advent. Simple, fun activities to do each day which will help raise their awareness for others close and far, the planet…
A Christmas of sharing and caring! Advent good deeds and activities
Download your free printable, just here
We have imagined and listed more than 24 Advent good deeds and activities so that you can choose the ones that suit you and your children the most.
There are also some blank notes too so you can make your own.
To keep it fun and unexpected, we have also added some fun ideas, activities to do as a family and create special times and memories.
Slip a note each day in their Advent calendar, or have a special jar/box to put them all in and get the kiddos to draw one everyday of Advent.
Print your 24 Advent good deeds and activities free printable
Download the printable and print your Advent good deeds and activities
Cut out each one.
Slip your chosen actions in the Advent calendar: 1 per day per child, or several if your children share the Advent calendar, writing their name on the specific action.
An alternative is to put all the notes in a special jar/box where each child, or family member even, will pick an action for the day.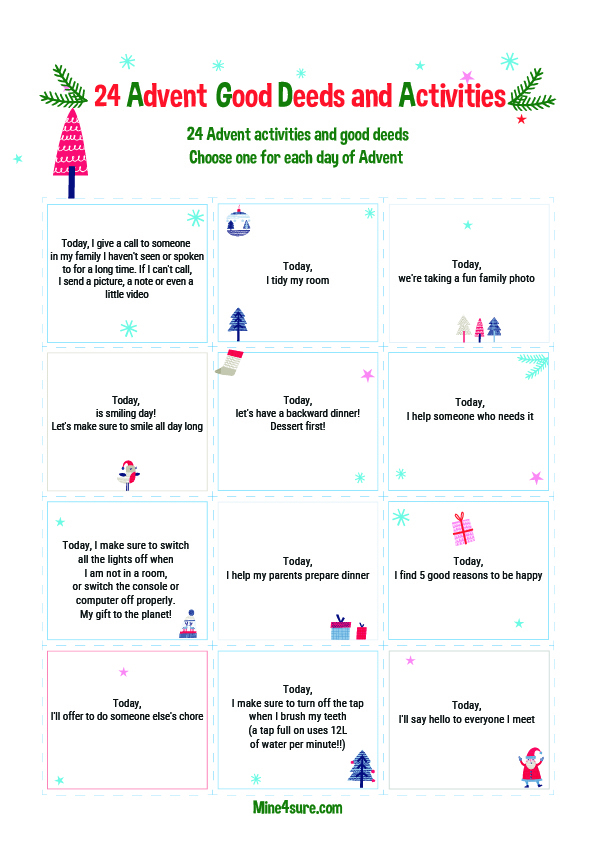 Here are a few examples of our the good deeds and activities we came up with :
1/ Today, I give a call to someone in my family I haven't seen or spoken to for a long time. If I can't call, I send a picture, a note or even a little video
2/ Today, I find 5 good reasons to be happy
3/ Today, I make sure to turn off the tap when I brush my teeth (a tap full on uses 12L of water per minute!!)
4/ Today, I bake Christmas biscuits and take them to an ederly neighbour
5/ Today, you will find a little surprise under your pillow
6/ Today, it's Christmas songs carpool karaoke
7/ Today, it's family movie night with lots of popcorn!
8/ Today, I sort out school supplies to donate to my teacher
9/ Today, I say something nice to everyone (even those I don't like very much)
10/ Today, let's make a Christmas decoration to hang on the tree
….
The printable includes 33 ideas of fun activities or good deeds. We have also included some blank ones so you can make your very own 😊
For more Christmas Magic !
No Christmas magic is complete without pretty Christmas decorations and a fully illuminated and decorated tree. Ok, we can't help you much for the tree. But we can certainly help you make your Christmas decor special and 100% personalised. Hang our gorgeous Christmas stockings to hang from the mantel piece or fill in our beautiful Santa sacks and Christmas gift bags with presents and leave under the Christmas tree.
We can also help filling these stockings and Santa sacks with great, personalised and useful presents.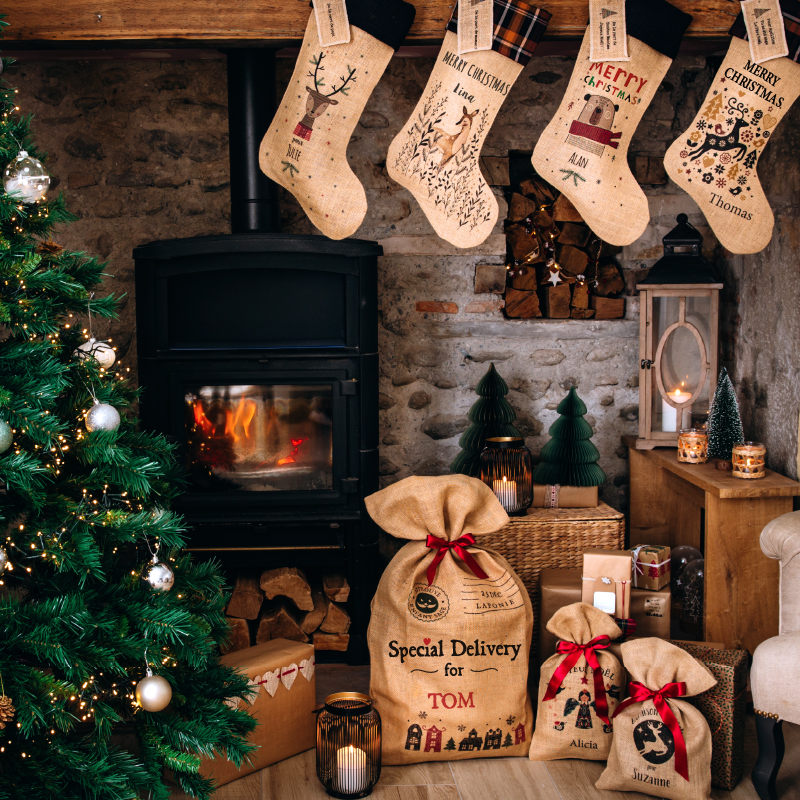 Don't hesitate to share with us your Christmas decorations, ideas and follow the adventures of our little company on Instagram. Join us on Pinterest for a lot more Christmas ideas, activities…