How to sew in a name label by hand?
---
Mine4Sure's sew in name labels are ideal to label clothes, jumpers and « handmade » knitted, crochet creations. Our personalised sew on labels are also very popular with knitters, crocheters, seamstresses to add their name or their brand onto their creations.
These sewing labels will bring the perfect finishing touch to all needle projects. The question that remains is « How to sew in a name label by hand ? » We have asked Stephanie, our talented colleague during working days, and expert seamstress at night. Here are the 4 ways she came up with with !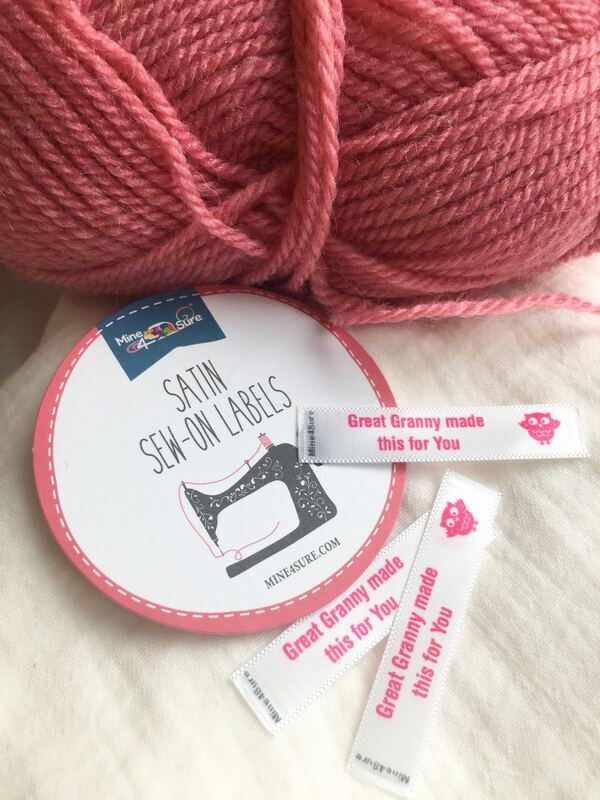 How to sew in a name label by hand : One line of stitches along the length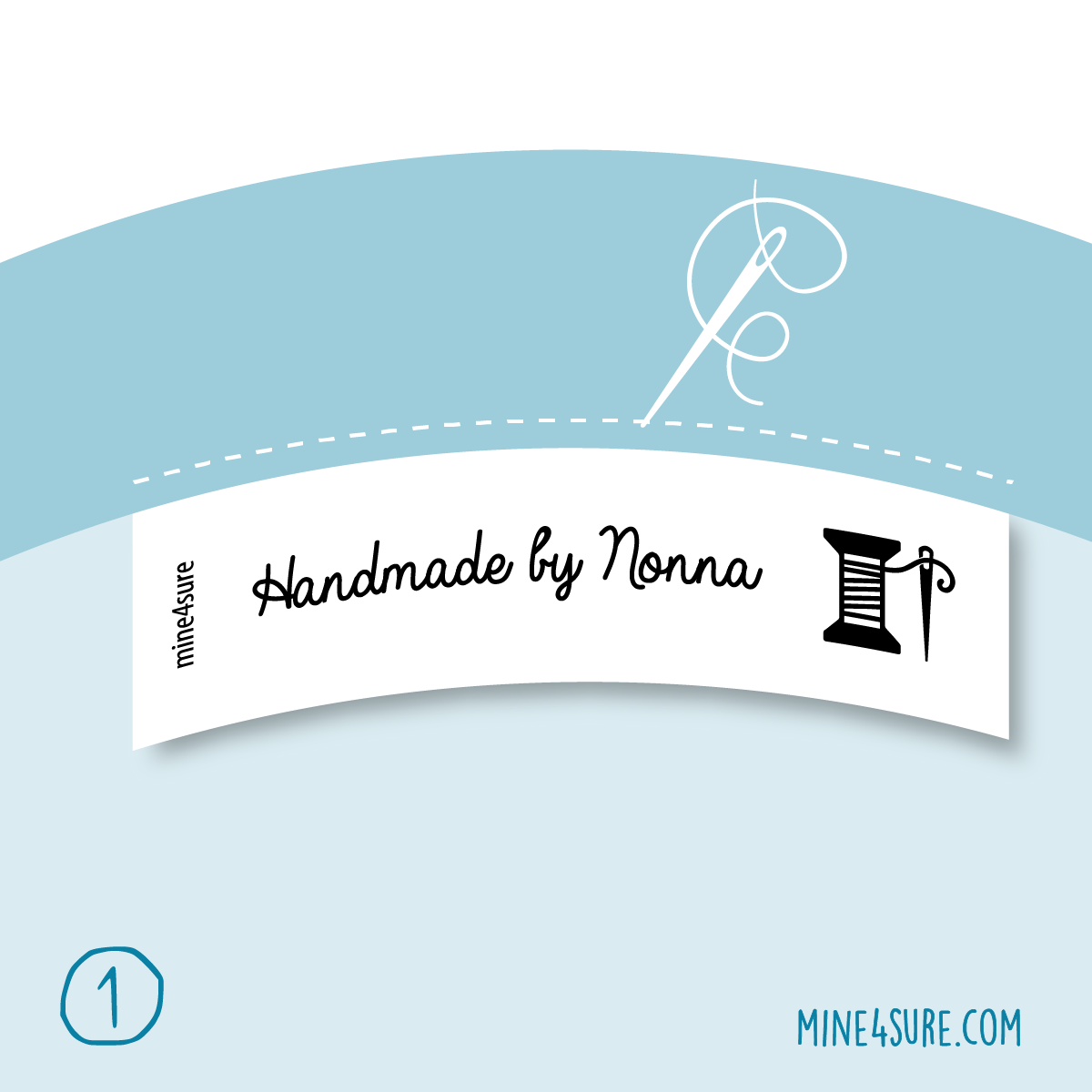 Similar to how the brand labels are sewn onto clothes, Mine4Sure's sew in name tapes can be stitched on along the length of the tags on one side only.
There are two ways to do it: You could either trap the side into a seam on your garment when making the garment or sew it on a piece of clothing once finished or if already made.
How to sew in a name label by hand : Stitches at both ends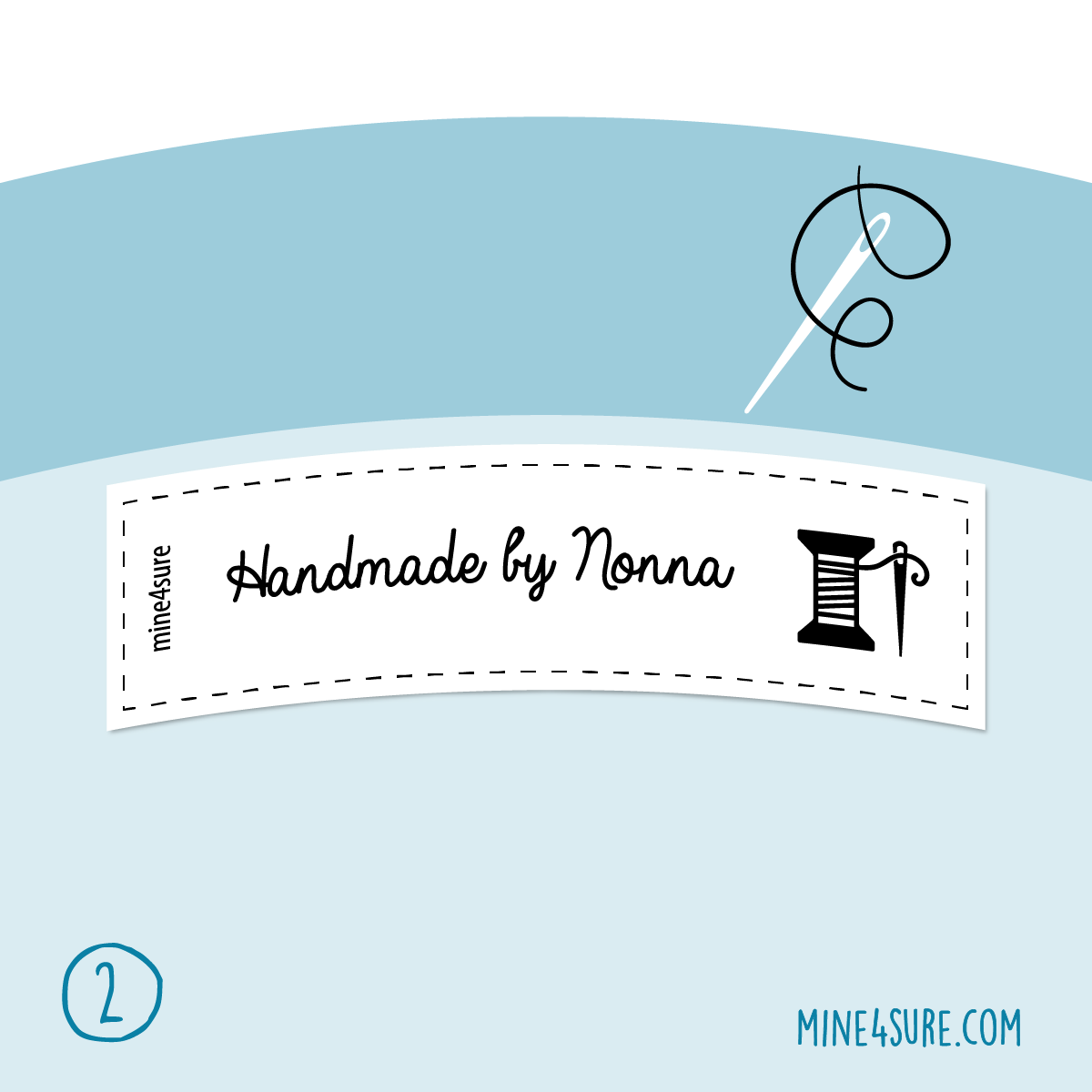 Possibly the easiest method: a couple of stitches at both ends.
This is the most used and easiest way to go for sew on name tags. You could just do a couple of stitches or a whole line of them. This is ideal to label the afghans, knitted jumpers, crocheted heirlooms in the name of the talented crafter « Knitted with love by Jo » or to identify the owner of the garment «Sue Sowell ».
With this technique, Stephanie, THE seamstress in our team, suggests doing two simple stitches at both ends to secure the label but you could also stitch all the way round so it is more tightly attached to the piece of clothing.
How to sew in a name label by hand : Stitches along the short end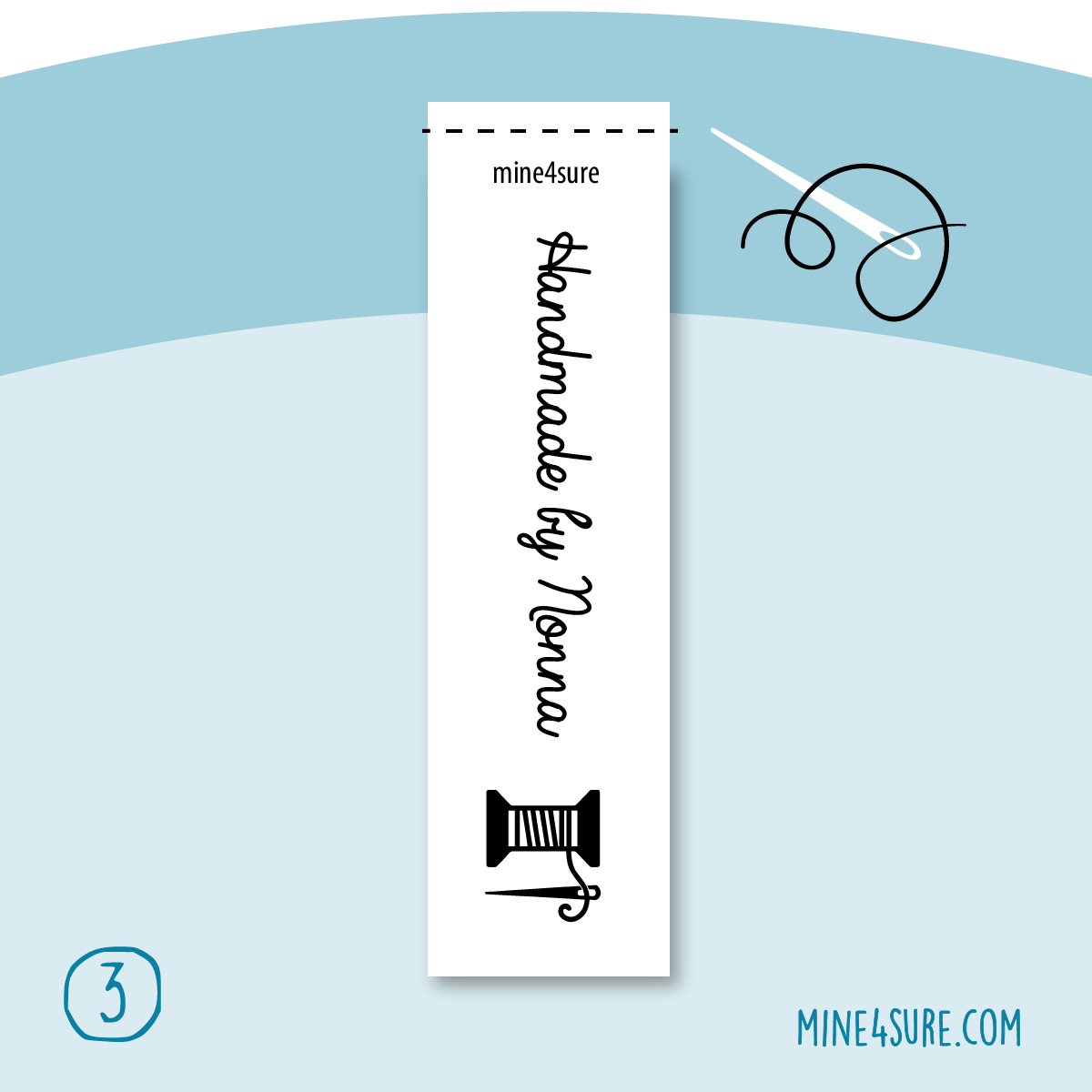 You can also stitch the label along its short end : either so the label is vertical (as shown above) or horizontal.
Similar to the 1st technique presented above, it is possible to integrate the short end of your label in your line of stitching whilst the garment is being made. Equally you can affix the label afterwards by a couple or a row of stitches.
This technique is particularly suited to label in one's name comforters, baby blankets. Indeed, often babies and young children particularly like playing with the labels on their fluffly toys and comforters.
In a similar way, you could fold the label in two and sew one end as presented below
How to sew in a name label by hand : Doubled on itself and stitches along the short end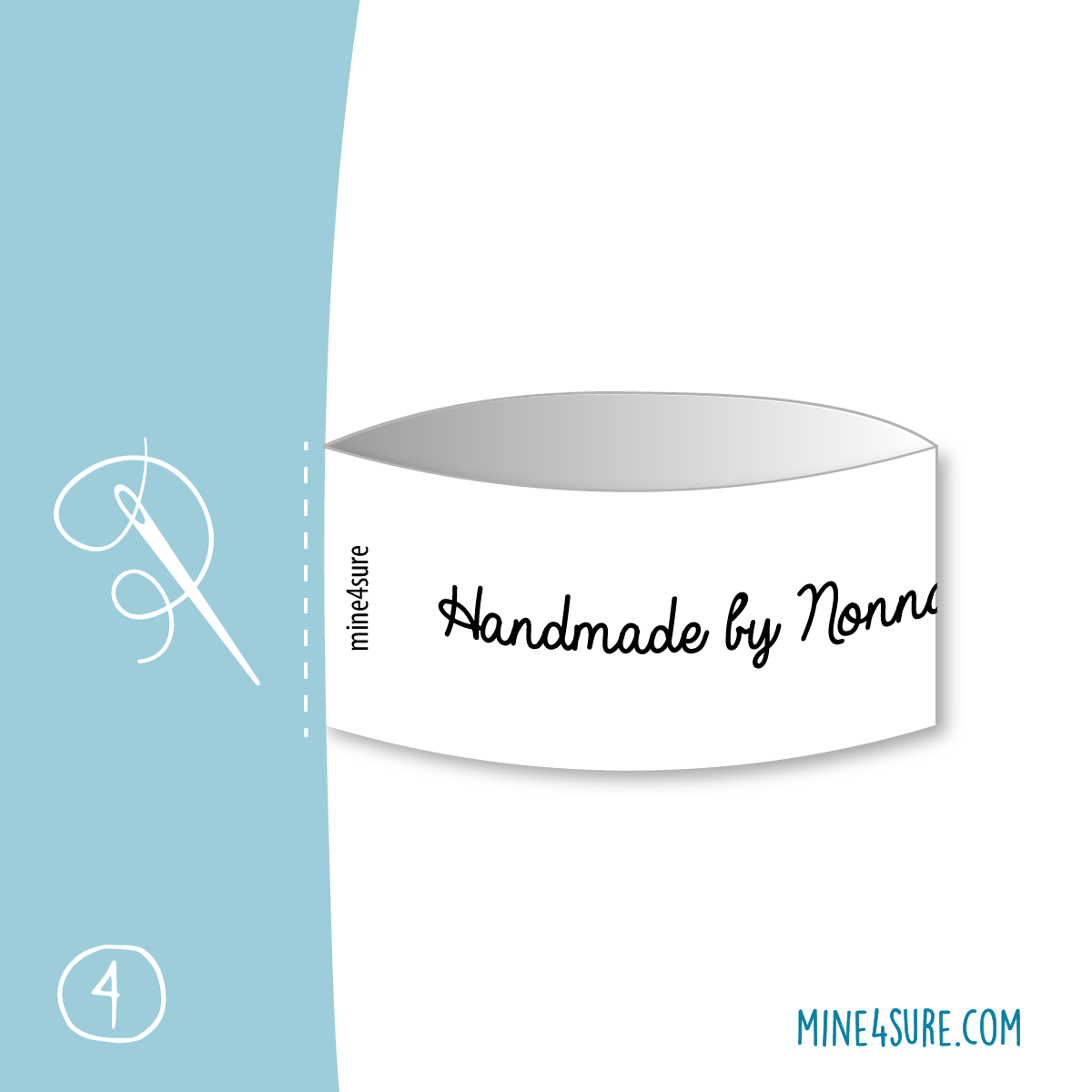 Last but not least, for all your homemade creations : afghans, blankets, throws….it is possible to fold the sew in label and fix by trapping the shorts ends in the hem of your handmade creation.
Firstly, fold the label on itself, printed face out. The label makes a loop.
Then position its ends in the line of sewing or your hem so they will be trapped when you do your sewing.
This is a quick and easy way to fix your sew on tags.
What thread to use when fixing your sew on labels ?
The invisible thread for attaching a sewing label
For a discreet, almost invisible seam, we recommend the use of invisible thread. This polyamide thread is similar to the fishing line used for making bracelets, except for one detail: Invisible thread is thinner and more flexible and can be used for hand sewing or sewing machines. This type of thread is ideal for sewing a label onto creations such as cuddly toys, nappies and bags. However, for attaching a label to a garment, we recommend cotton thread. The reason for this is that invisible thread tends to scratch on contact with the skin. This is due to the fact that the material is quite stiff.
Cotton or polyester yarn
Cotton thread is the most commonly used thread for easy sewing of labels. It is soft, strong and does not scratch on the skin. To avoid a "rough" finish, we advise you to choose a very fine thread. When buying threads, it is important to read the numbers correctly to determine the thickness of the thread. The higher the number, the thinner the thread. For example, a 40 cotton thread will be thicker than an 80 cotton thread. It is also important to know that these "numbers" do not represent the same thickness for all types of thread. A cotton 80 thread will not necessarily be the same thickness as a polyester 80 thread.
Quality sewing labels, made with 💖!
Do you know Mine4Sure fabric labels?
Much more economical than embroidered sew-in labels, our fabric labels offer excellent value for money. They can be used in many ways. Firstly, they can be used as sew-in name labels to identify the owners of the garments. These clothing labels can be used to mark all the textile belongings for those living in community such as retirement homes, nursing homes, schools, boarding schools etc. In addition, they are also perfect for labelling your creations! With so many personalisation choices you can really make them match your style.
Adding the perfect customised, personal finishing touch!
Whether you are a homemade addict or a small brand creator, Mine4Sure personalised sew-on labels will suit your needs. Why? They are fully customisable!
First of all, you choose your font and text. Several fonts are available, from the most classic to the most imaginative. Then, you choose your logo from the hundred or so available: from the sewing machine to a dinosaur, a cross stitched heart and to a shooting star. Worry not if you are a unicorn or cat lover, there is a logo or two for you too!
Then you choose the colour of your text: blue, orange, red, pink, purple, black, green, light blue or petrol blue.
Finally, choose your quantity. Our fabric labels are sold in sets of 10, 30, 60, 110, 160 or 210 labels.
Do you need advice on how to attach your personalised sewing labels or more information about Mine4Sure sewing name tapes? Do not hesitate to contact Emma or Franziska at info@mine4sure.com.
Don't hesitate to share your creations with the #mine4sureandyou