Starting childcare: what you should bring!
---
Taking the decision to use childcare for your little one is not an easy one to make! But be reassured, everybody will be fine! Already you have secured a place or find the child minder of your dream, and that is not so easy task. Well Done You!
Being well prepared will also help alleviate some of the worries. Your child minder or nursery key carer will give you some information but here is our general guide on what you should bring when starting daycare.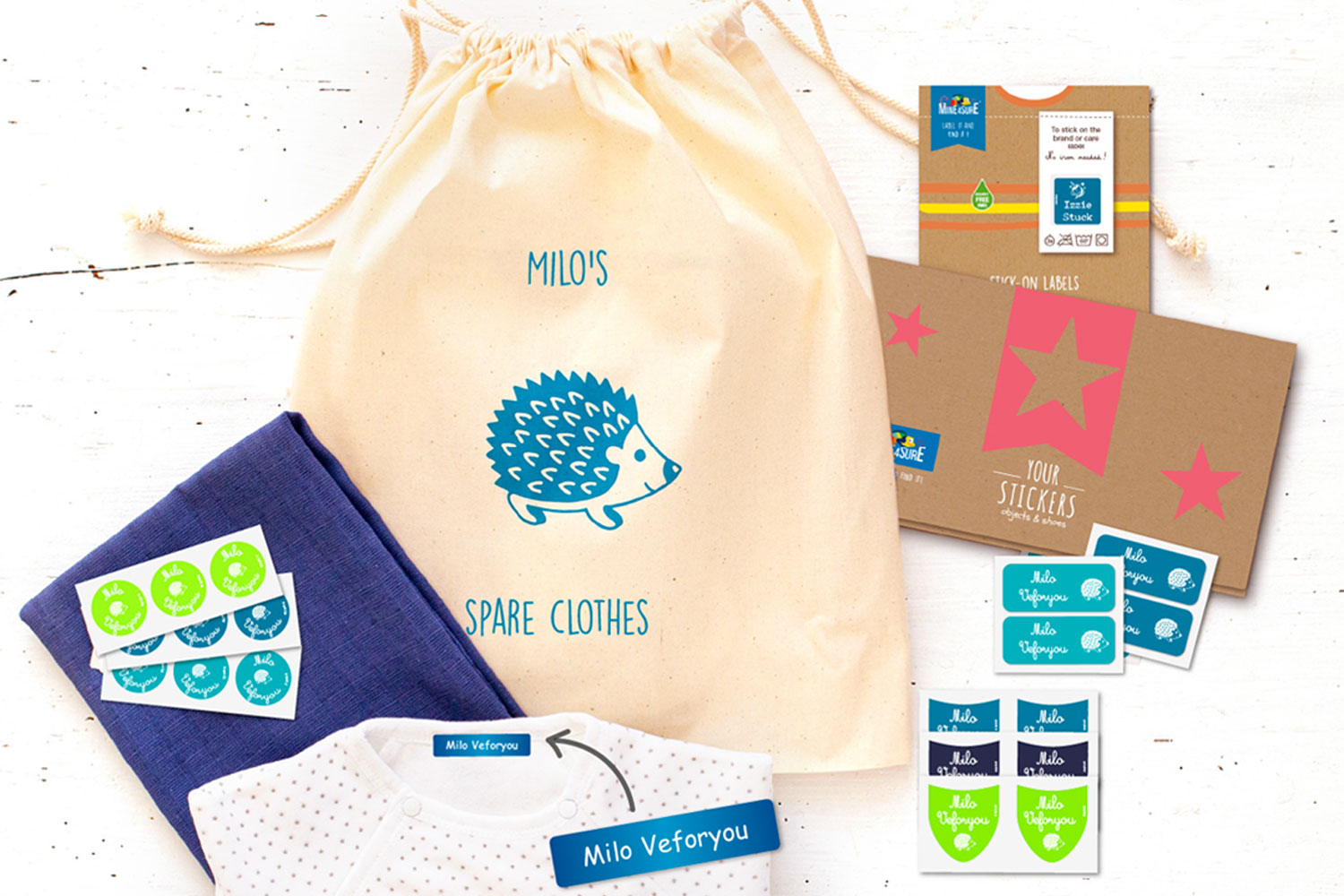 What you should bring:
Each nursery will have their requirements and suggestions but here is a general list of what is usually required.
Having a reminder from home can help with the separation and reassure your child when at daycare. You could have two identical ones so one stays at the nursery or child minder and the other one home.
Whatever its shape or form (blankie, cuddly toy, teddy, comfort blanket), losing one's special friend is not an experience parents want to go through. Make sure it is clearly identified in your child's name and ideally a telephone number or email address. For this purpose, you can use one of our personalised name labels for clothes.
Whatever age your child is, accidents can happen: an overflowing napp or too much fun playing outside
You will need to pack, at least, a complete set of spare clothes as well as some extra underwear, onesies and socks.
If your child is potty training, remember to add some extra underwear and pants in case of accidents.
Mine4Sure's tip: Our personalised drawstring cotton Tidy Bags are ideal to organise all the things to pack in your special childcare bag. Personalised in the name of your child and with the logo and in the colour of your choice, they allow their content to be clearly identified making it easy for the nursery key carer or your child minder to find what they need.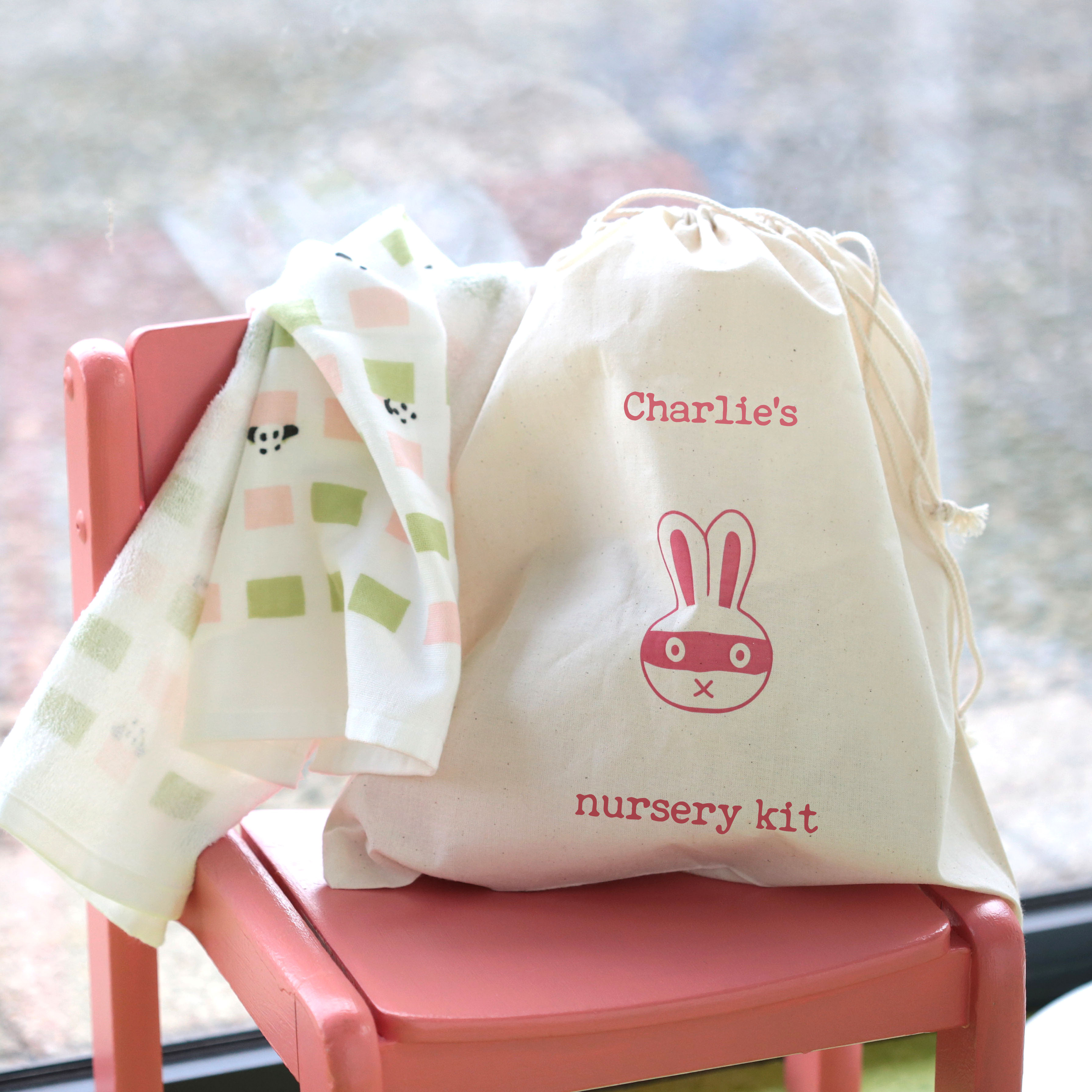 Outdoor clothing and shoes
Whether at nursery or with a child minder, your little one is likely to go and play outside.
Depending on the weather,  plan to pack a coat, scarf, hat and some outdoor shoes or wellies, if rainy or cold. On sunny days: a hat or cap, sunglasses and sun cream.
Some children wear slippers at home, the child minder or nursery may ask or offer they do the same whilst in their care.
If possible, favour some with non-slip soles.
Nappies, wipes and creams
You will want to check with the nursery or carer whether you take some in everyday or if you can leave a larger quantity there. Just bring a refill when necessary.
Milk: If you have a baby, you will need to provide the type of milk you use as well as sterilised bottles.
Food: Some nurseries and child minders might also prefer that you prepare your child's food and provide it every day.
Something to check with them before the start of childcare!
Medication: you will need to provide them as well as the appropriate prescription
Nurseries and childminders alike sometimes organised outings, field trips for the oldest children. The outing can last for a few hours or take the most part of the day. Providing the children with their own water bottle is a good way to make sure they stay hydrated and won't drink off someone else's bottle.
Mine4Sure's tip: Our personalised kids water bottles, made of stainless steel, are insulated and will keep the drinks hot for 12h and cold for 24h. Its sport beaker cap, complete with a straw, is great for the younger children but you can choose the screw top if you prefer and even have the option to buy one of each.
With 16 designs to choose from: Football, superhero, unicorn, cats, savana, flowers…, the most difficult will be to choose the design they like most!
There are 2 sizes available: 350ml and 600ml. For the young kiddos, we recommend the 350ml one.
Starting childcare: Label it all!
Is it necessary to label everything you bring when starting childcare?
Even if your child is with a child minder with a smaller number of kids than in daycare, your carer will really be grateful that you made his or her job easier. She may have the most amazing memory but still it is not easy to remember what belongs to whom.
In a nursery, chances are that other kids might have similar belongings.
To avoid mix ups, there is one easy solution: label it all to find it all!
Mine4Sure's tip: To label everything for childcare, clothes and objects, we have designed the Nursery pack! It contains all the name tags you will need to reduce the risk of losing or swapping your little one's belongings.
With its 60 name labels for clothes, you will be able to identify onesies, coats, jumpers, pants, comforter, teddy… Thanks to its personalised name stickers (18 round, 24 small, 6 rectangular, 6 pairs of special shoe stickers) you will label bottles, creams, boxes and all objects as well as shoes.
To print our name tags, we only use solvent free inks. The name labels for clothes happily withstand washing machine and tumble dryer cycles. The stickers for objects won't be afraid to go through the dishwasher, bottle warmer or steriliser.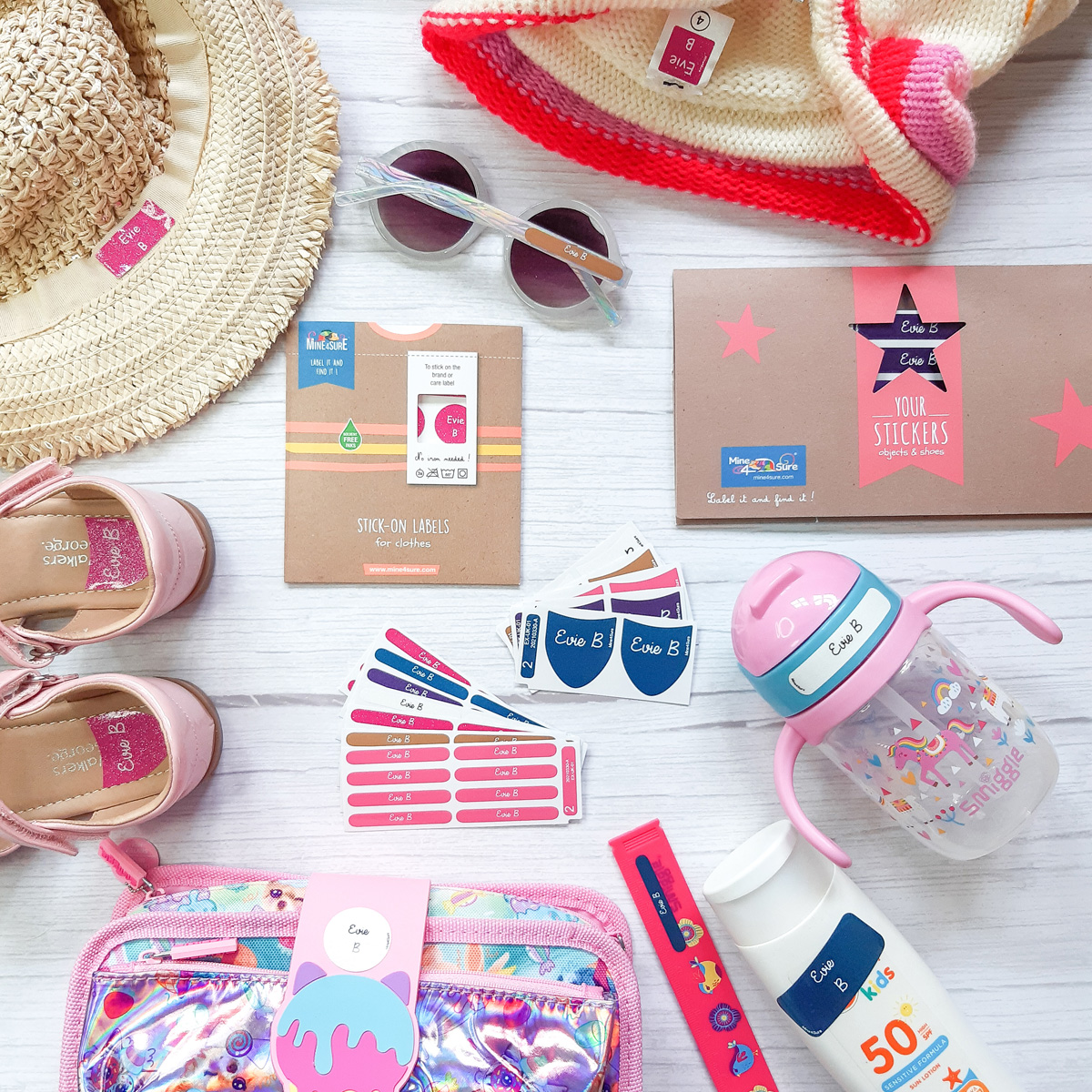 You are now ready to start childcare, knowing what you should bring! Wishing you all the best for this new adventure!
Don't hesitate to share with us your preparations for nursery with the #mine4sureandyou on our Instagram and Facebook accounts