Moving into a care home: Our tips to get ready
---
Moving a loved one into a nursing or care home is one of those BIG steps in one's life. There is so much to think about and get ready in often very little time!
One big question is what to pack and label? How to make sure nothing is forgotten and marked ready for the move?
More than ever in these times of pandemic when access to the rooms and visits are limited, it is essential to make sure everything is well labelled. So should something go walk-about, it is sure to be brought back to its rightful owner.
So here is our "moving into a care home" tips to get ready:
A list of essential clothes and belongings to pack
Of course, each home has its own requirements and recommendations for what to prepare and bring. However, strong of our customers and some of our own team members' experience, here is a list of basics to help you start.
Depending on the level of autonomy of the resident, you will need to plan for clothes easy to put on: t-shirts, skirts and tops rather than dresses, socks rather than tights
10 pairs of underwear, in cotton, washable at high temperature
4 vests, cotton, washable at high temperature
10 pairs of socks (don't forget the compression stockings)
6 easy to put on, and easy to wear, tops
4 summer night shirts or pyjamas, in cotton, washable at high temperature
4 winter night shirts or pyjamas, cotton, washable at high temperature
2 dressing gowns
4 skirts and 4 trousers for the ladies
8 pairs of trousers for the gentlemen
4 cardigans or jumpers, at least a fleece is also a good idea as it can be used as a jumper but also as a jacket
2 Pairs of slippers
2 Pairs of winter shoes and 2 pairs for the summer, easy to slip on
8 Fabric handkerchiefs or boxes of tissues
3 easy to put on jackets
1 coat
4 hand towels and 4 bath towels
6 Face cloth towels
3 complete sets of bed sheets (fitted sheet, pillow cases, duvet cover or flat sheet)
Favourite afghan or throw, to keep warm or to cover up when outside
Some more fragile fabrics, such as wool, silk and thermals, will not stand the "industrial" washing done by the care or retirement homes. If you cannot take care of the washings yourself, favour fabrics such as cotton, fleece…
In case, your relative needs hospitalisation, plan a small bag or suitcase to hold its personal belongings.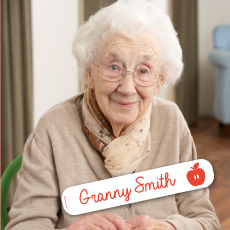 Care and hygiene products: What to pack when moving into a care home!
One of the key elements to take into account is the level of autonomy of your relative. If less mobile, favour bottles easy to open, even a pump bottle, to maintain as much independence as possible.
Hygiene basics:
Shower gel
Shampoo
Toothbrush and cup
Toothpaste
Denture's accessories (box, special toothbrush, fixing paste…)
Deodorant
Cologne or favourite perfume
Hairbrush or comb
A small washbag (in case of hospitalisation)
Personal belongings and objects
Although nursing homes organise events and activities for their residents, time passes slowly and it's important to provide our seniors with things to do. Here are some suggestions of what can be brought in addition to the basics:
Books
Crosswords
Wool and knitting needles
A tablet, if your relative is, at least a little, new technologies literate, or keen to learn 🙂
Card games
A radio set
A Mobile phone
Paper, cards, stamps and pens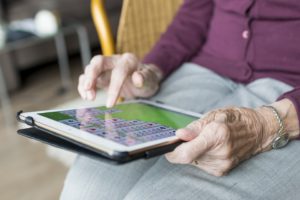 Label it all to find it all! What to label when moving into a care home: our tips
It is essential to label all your loved one's belongings and clothes to make sure nothing is lost and everything is returned to their rightful owner.
Labelling clothes:
Whether you take care of the washing or it's done by the nursing home does, it is very important to label everything, in the name of your loved one, so all clothes can be clearly identified before the move to the care or residential home. It minimises the risk of mix up and allows the staff to prepare the bags accordingly if you do the washing yourself.
For clothes, we recommend personalised iron on name labels, our best seller in terms of name labels for clothes, resistant to the high temperature washings done by the residential homes (90°). Our iron on name tags are easily fixed in a few seconds. Personalise them fully with the name of your relative, you can also add the room number. To finish, select the colour of the text as well as a logo your loved one would like.
If you are pressed for time, you could also use our stick on clothing labels. These labels take less than 3 seconds to apply on the care or brand labels of the garments.
Labelling tights:
To identify in one's name tights, compression tights or socks as well as garments made of more fragile fabrics, we recommend to use sewing labels.
Marking personal objects, shoes and slippers:
In order to avoid loss and mix up of their residents' belongings, the nursing and care homes require to label in the name of your loved ones ALL of their belongings including shoes. For this purpose, you can used our personalised name stickers.
Waterproof, long lasting these stick on labels are like all our name labels printed with solvent free inks.

The Senior Pack
Just the thought of labelling everything can be quite daunting! Here at Mine4Sure, to help you making this task a bit easier, we have created the Senior Pack. It, not only, contains 90 ultra-resistant iron on or sew on clothing labels (you choose which ones suit you best) but will also allow you to label objects and shoes thanks to the stickers it includes: 24 small stickers (for pens, hygiene products, phone, pill and hearing aid boxes…), 16 mini stickers (for glasses and small objects), 2 rectangular stickers (for walking stick, zimmer frame, wheelchair…) and 12 shoe stickers to label 6 pairs of shoes, slippers… All our labels are waterproof, washable and printed with solvent free inks.
Designed in collaboration with professionals working in care or nursing homes, this pack meets the specific requirements of our beloved seniors thanks to its vivid colours allowing a strong contrast. In addition, the "big characters" option makes it easier for the seniors with a visual deficiency. We have adapted the shapes of stickers and the logos for this pack to our seniors' tastes.
If you have any question on our labels and the marking of your loved ones' belongings, do not hesitate to contact Emma or Franziska, in our customer team. They will be very happy to answer all your questions 🙂 Just email them info@mine4sure.com