Make your own scratch card DIY
---
Make your own scratch card DIY for an upcoming birthday, a special celebration, Mother or Father's Day or just to say "I love you", "Thank you"…
With this cute DIY you will not only be sure to make the recipient very happy but you or the kids will love making it!
The material you will need to make your own scratch card DIY
A sheet of white, rather thick, paper
Clear adhesive tape
Some paint (water based or acrylic) in the colour of your choice
A very small quantity of white paint (water based or acrylic)
Washing up liquid
A fine paint brush
A pair of scissors
A felt tip pen or a biro
How to make your card
First of all, download and print the card template below and complete with your own little message.
To download your free printable, click on the button below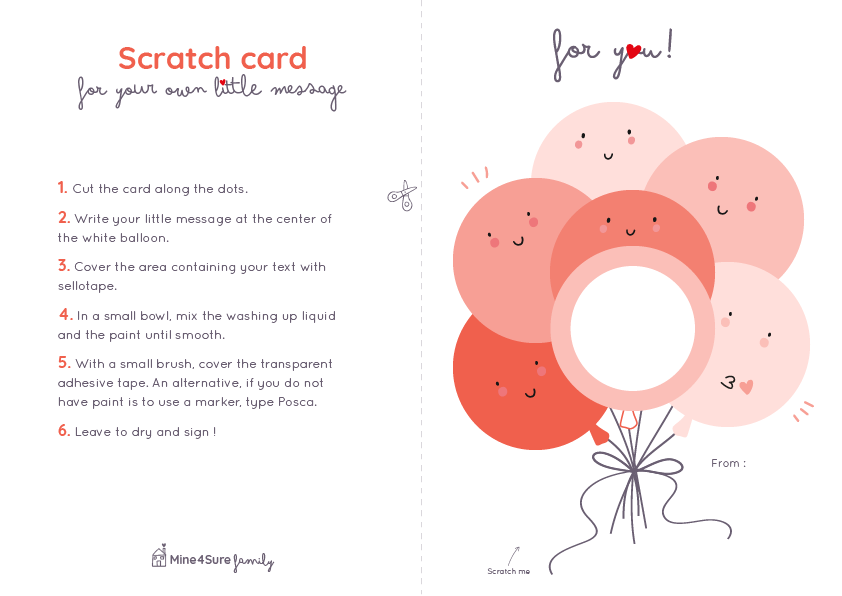 Next, cut along the dotted line
Now, write your own little message with a felt tip pen (or biro) in the central balloon
Once you have written your message, cover it with clear adhesive tape.
This will protect the text before painting over. If you do not have transparent tape handy, you can rub the text area with a candle, so the wax protects the text before painting over.
Next, prepare the paint to scratch by mixing in a small cup/dish one drop of washing up liquid and two drops of paint: One drop of coloured paint and one drop of white paint to make the mix more opaque. Mix until smooth.
With the paint brush, cover the area with the adhesive paint and in general the central balloon.
Leave to dry thoroughly
This card is so versatile, you can use it for lots of different occasions: a birthday, Mother or Father's Day, as a Thank You note, for teachers at the end of the school year, during teacher appreciation week, or to tell Nanna, Granny, Auntie… how much they are loved!
If you are looking for personalised gift ideas have a look at this article, where we list a selection of our top products your friends and family will love to receive: Personalized sewing labels for the keen knitters, crocheters…, labels for jam jars for the talented cook in your family, personalised tote bags and pouches for the teachers, coaches, aunties, mamas…