Iron on name labels: The easy solution to label all your clothes
---
Iron on name labels: The easy solution to label your clothes quickly and easily, in your name. Forget needles and threads, iron on clothing labels are quick to apply and long lasting.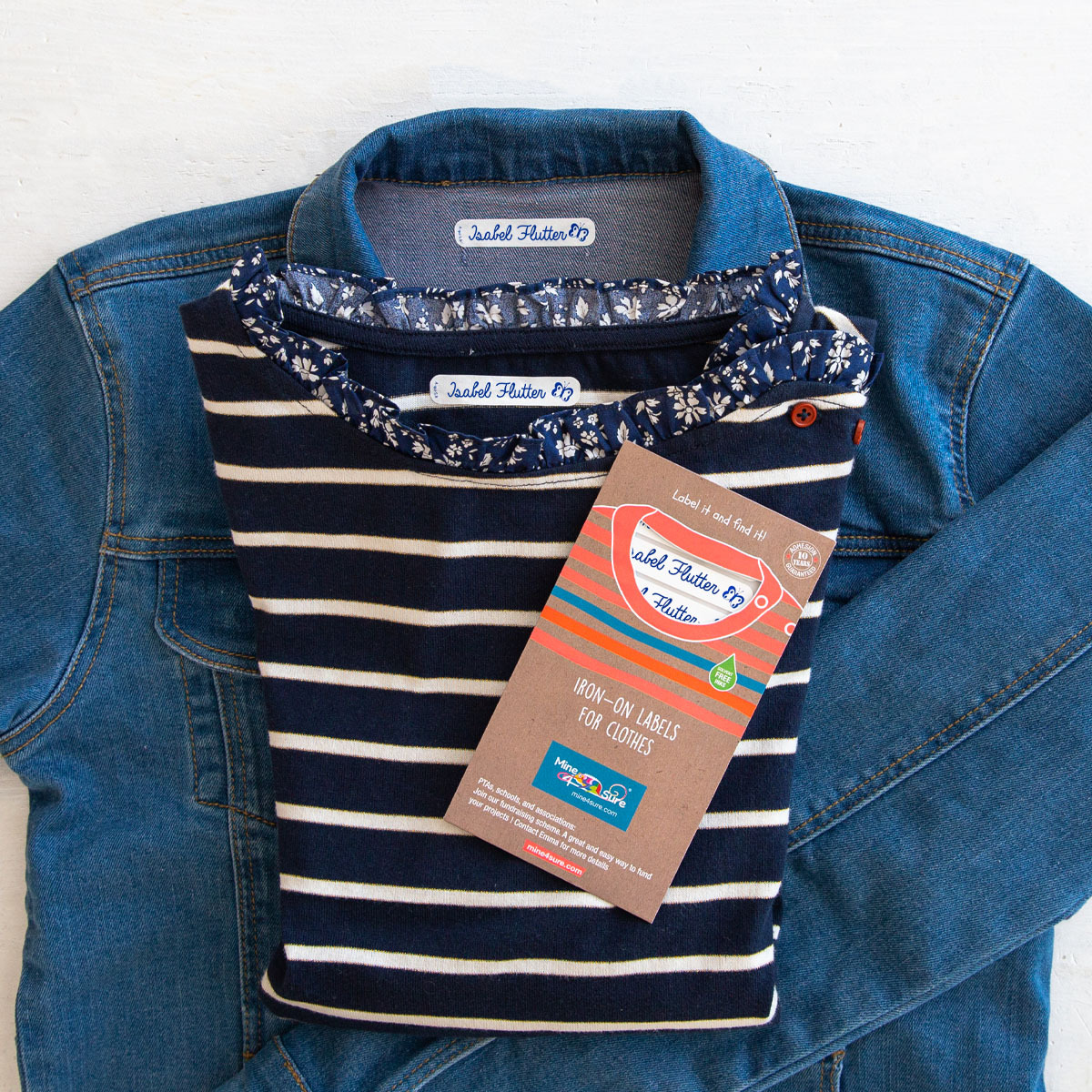 Personalised iron on name labels
What is an iron on label ?
Iron on name labels are an easy solution to label all your clothes. The iron on clothing labels can be fixed on all sorts of fabrics (cotton, synthetics, wool…). Fixing them is quick (less than 8 seconds) and easy. All you need is…. An iron !
The heat of the iron melts the glue at the back of the iron on tags and they bond with the fabric on which they are stuck. Once in place, the label is going nowhere.
You can wash and tumble dry the clothes over, the labels will not come off.
Iron on labels for clothes are really practical to identify in one's name school uniforms, PE kits, jumpers, gloves, hats, jackets and coats. No more lost or swapped jackets and sweaters in the playground. It is an essential item on the back to school list!
In Mine4Sure, iron on labels are fully personalised and are ideal to label in your children's names all their clothes. With up to two lines of text, you can, in addition to use their full name or just initials, add a class name, school year, room number…. The personnalisation does not stop there. You can choose the writing font : from the most classic font to a fancy one, as well as the colour of the text (8 colours are available).
Add the finishing touch to your labels adding a little picture. Animals, sports, fruits, fairy, princess, knight, pirate… the choice is yours with more than 50 pictures are available to choose from.
The hardest will be to pick one!
Added bonus: The kids will love helping you choose!
A little inspiration

Make the labels truly yours or your children from the comfort of your own home !
Choose amongst 8 colours of text (blue, pink, red, green, black, orange, purple, light blue) and 15 writing fonts.
Add a logo or not! It is entirely up to you. With over 100 logos to choose from, your children are sure one matching their favourite theme of the moment: football, fairy, unicorn, cat…

Our production time for all types of labels is 24/48h maximum. In addition, enjoy a free standard airmail delivery whether you live in the UK, Ireland, the USA or anywhere in the world and receive your labels directly into your letterbox!
Personalised iron on name labels: good for you and good for the planet
Clearly identifying your children's clothes limits the risks of their belongings getting lost for good and the need to buy replacements. For instance, the labelled school uniforml or coat, even if misplaced or forgotten at school, is more likely to find its way back to its rightful owner than the unmarked one. It also contributes to the sustainability chain and reduces the family's expenditures by limiting the repurchase of the lost items.
It allows, aswell, to sell the clothes in the second hand school shop or to pass on to younger siblings, cousins, charities… hence maintaining the sustainability virtuous circle 🙂
« How do I remove the iron on tags from my kid's clothes ? » is a frequently asked question.
No worries, although a label well stuck won't going anywhere if you don't want it to, we have a solution for you if you wish to remove it ! This way for our tips on removing your iron on labels from your clothes and fabric items.
Discover Mine4Sure's world of school labels and personalised products on Instagram and Facebook (@mine4sure)