Teacher's gift: Our free printable to say Thank You!
---
Soon…the end of the school year, the summer holidays and the time we say goodbye and thank you to all the great teachers, who have cared for our kids. Every year, the same question arises: what is the best Teacher's gift? How best show our appreciation for all the hard work and dedication they have put into? The Mine4Sure team has come up with a few teachers gift ideas, starting with a free printable to say Thank You! Just download and complete.
Of course, a box of chocolates or a bag of goodies is always appreciated but, all teachers will agree, they'll love even more a true personalised note.
Download your "Best Teacher" card free printable here
How to fill in the card?
First of all, print the card clicking on the link above
Then get your budding artist to draw the portrait of his or her teacher and write his or her name underneath.
Next, select the preferred subjects studied this year or add your own in the list: Maths, Art, Music… or add your own Geography, History …
Now, your child can draw his own auto-portrait to leave a lasting memory to his or her teacher 🙂
Finally, fill in the name, class year or name and school year at the bottom of the card.
More teacher's gift ideas to say thank you!
Because we love personalised presents and we know how hard it is to find a great present for teachers year after year, the Mine4Sure team has come up with several ideas of personalised presents that can complete the Best Teacher card:
The Thank You Teacher pack is a truly useful, personalised present! Thanks to the personalised mixed stickers it contains, teachers, coaches, assistants will be able to label in their name their belongings: pens, books, mug, cup…
Another good personalised gift idea to show our appreciation to the teachers or our everyday heroes (childminders, nannies, coaches, assistants…and the list goes on): The "Thank You" tote bag !
This tote bag is personalised with the initial of your choice, a name as well as your very own message.
No doubt it will be a very useful present teaches can use year after year and you can be sure there won't be 2 identical ones!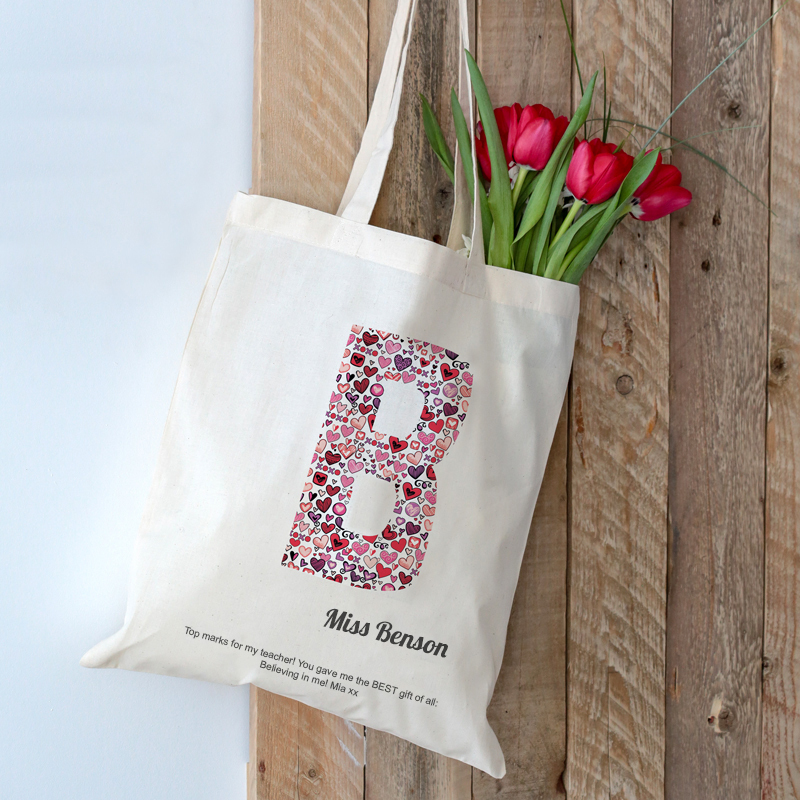 For homemade present ideas, head to our Pinterest where we have collated a lot of brilliant ideas. You can then add the finishing touch and sign off your creation with one of our One by One stickers, the personalised stickers with individual text.
Pstt! Do you know that Mine4Sure accompanies you throughout the year for your labelling needs for school, camp, sports activities, nursery… with our personalised name labels for clothes, objects and shoes; on your outings with our personalised kids water bottles; and special events and occasions with our personalised bags: Santa Sacks, Christmas stockings, Birthday sacks, Easter and Halloween bags…
From us all here in the Mine4Sure team, we hope you have a brilliant summer and fantastic summer holidays!
Keep in touch with us via Facebook, Instagram!