Christmas DIY: Rudolph the red nosed reindeer tree decoration
---
Not long now before Santa and his reindeers starts their journey round the world, that gives just enough time to make one more Christmas DIY : Rudolph the red nosed reindeer tree decoration. A super cute Christmas activity that the kids will love to do and that you love since it will be keeping them occupied (well, at least for a little while !)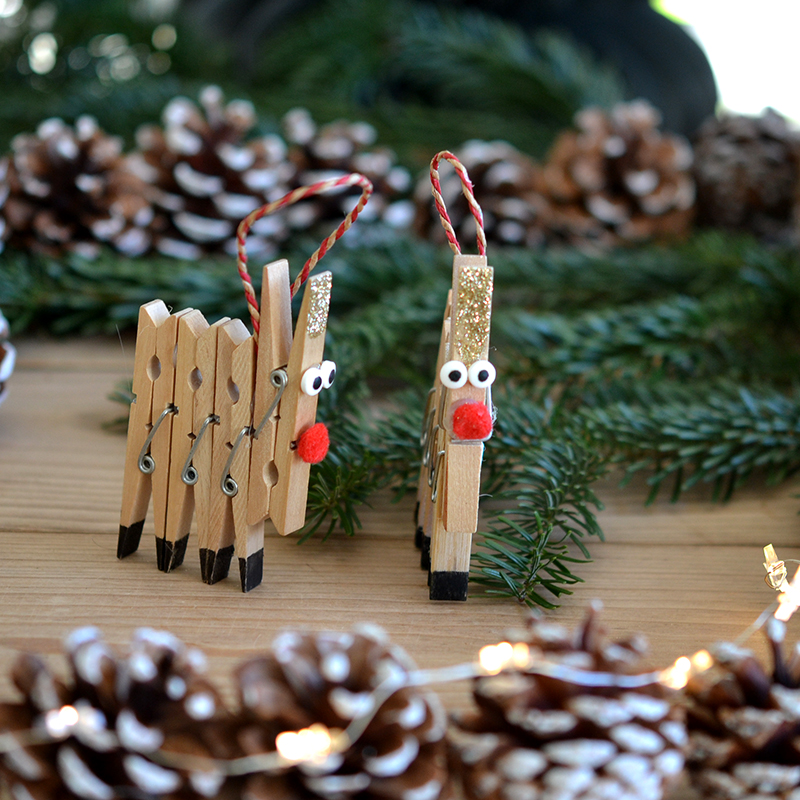 Christmas DIY: make your own Rudolph the red nosed reindeer tree decoration
Not only this tree hanger is super cute, it is also so fun and easy to make with the kids. It's the perfect DIY activity to make this holiday !
A little word of warning though, the risk is that your children love it so much they might go through your whole stock of clothespegs 😉.
To make this reindeer hanging decoration you will need:
4 wooden clothespins
2 littles eyes (googly or not)
One little red pompom
Glitter in the colour of your choice (here we used gold glitter)
Some gold string/twine
A black felt tip pen
Liquid glue
And ideally a glue gun too
Making Rudolph the red nosed reindeer tree decoration step by step
The first stage of this DIY is to make Rudolph's head and front.
For this, put some liquid glue on the top of one side of the peg (the part that you pinch to open the clothespin).
Next, sprinkle it with the glitter.
Now, glue just below where the glitter stops, the two little eyes
Add a drop of glue blow to stick the red pompom to make the nose
Finish this stage by cutting a length of string and sticking it at the back of the peg (making a loop so you can hang it)

The following stage consists of making Rudolph's body by coloring a small black square at the top of each of the 3 remaining pegs. Next turn them upside down so the little black squares make the hoofs and stick ticking the 3 clothespegs together with the glue gun.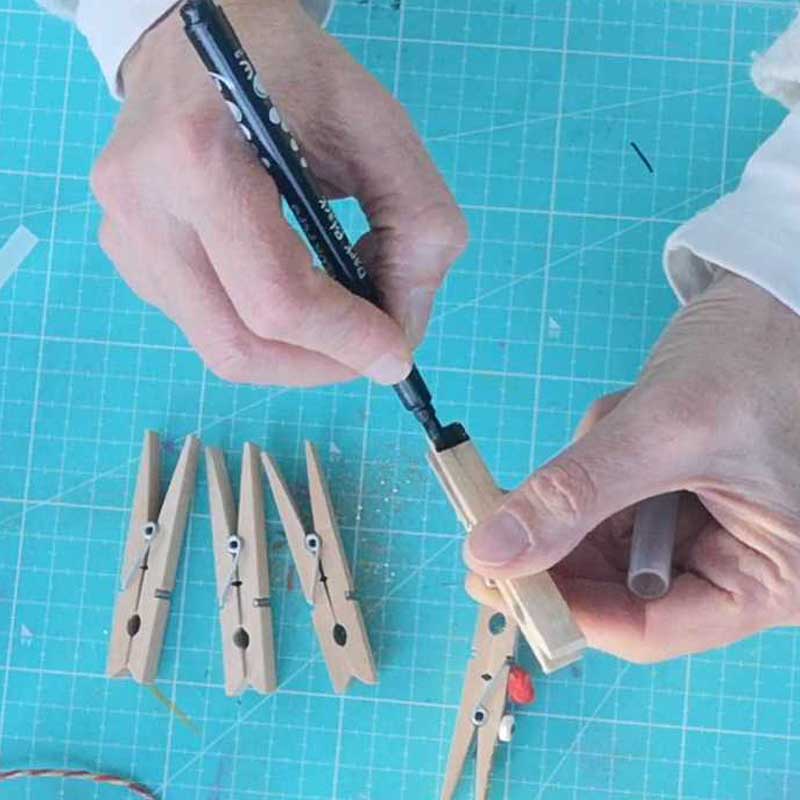 Finally, stick Rudolph's head at one end of the body offset towards the top.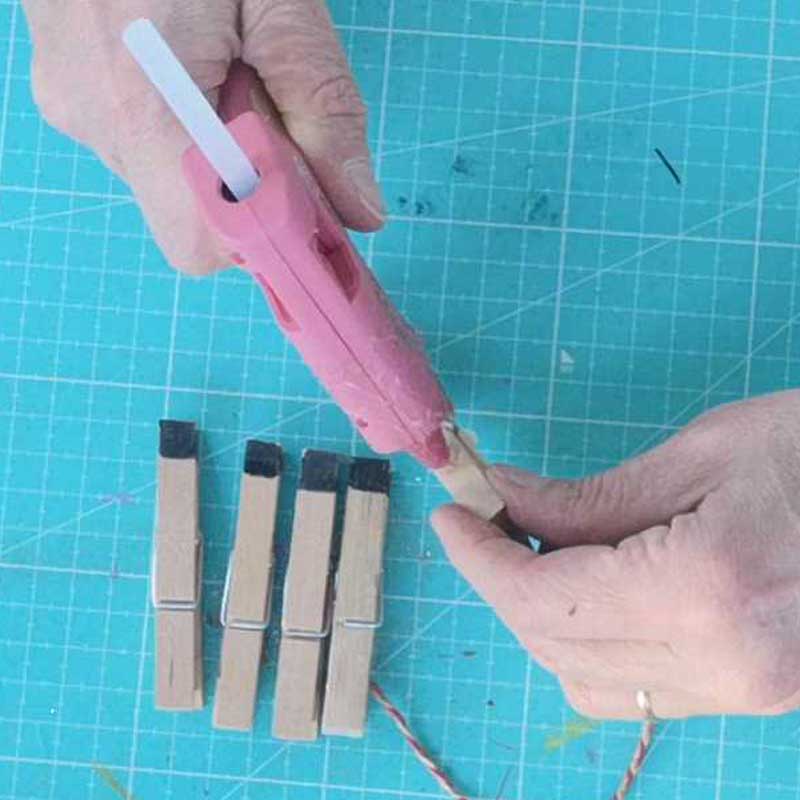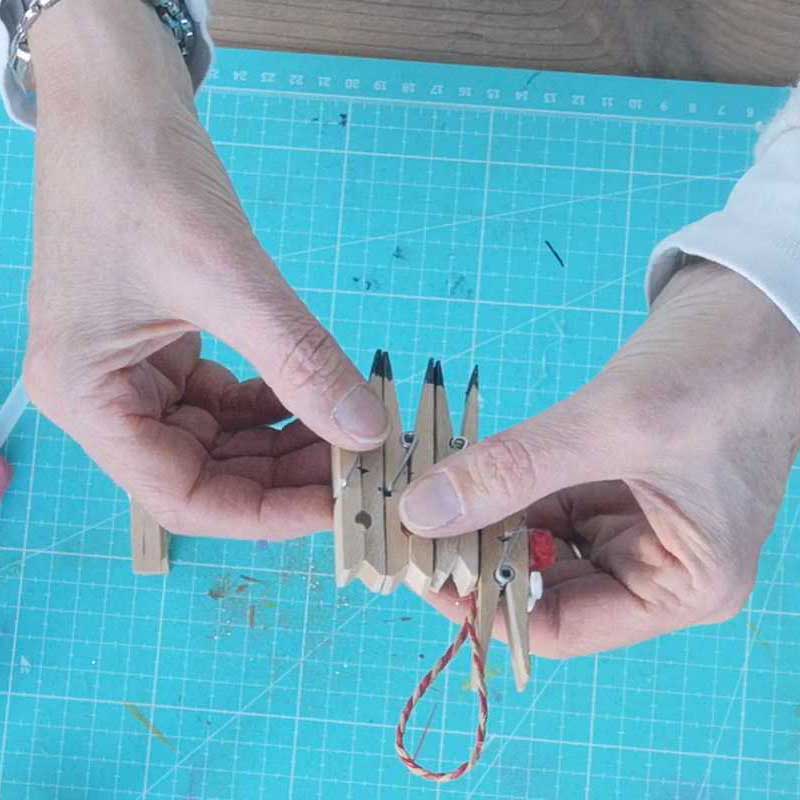 And here it is, your very own Rudolph the red nosed reindeer!
Now all you have to do is to find its place of proud on your Christmas tree 😊 or in your house to complete your Christmas decor.
Add a little bit more magic to your Christmas decor
To add a little touch of Christmas magic, discover our personalised Christmas stockings and Santa sacks.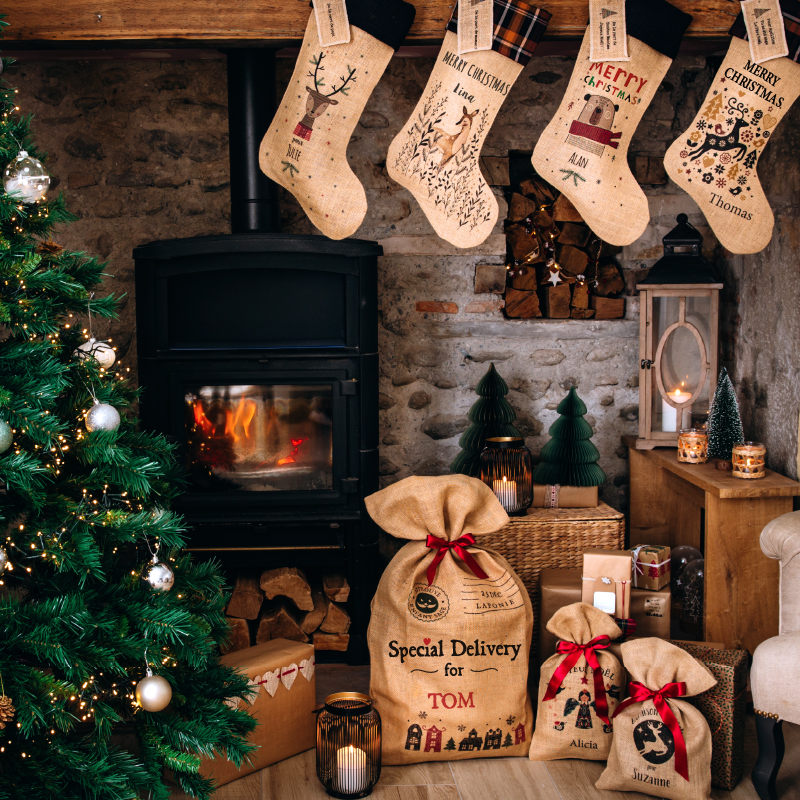 Hung from the mantelpiece or the banister on the stairs, our Christmas stockings, personalised in the name of each one of the members of your family; they, undoubtedly, add a special finishing touch to your Christmas decor.
And imagine everyone's joy on Christmas morning to discover their presents in their very own Santa sack, personalised with their name, under the tree. With all the gorgeous designs available, there can be a different one for each of your loved ones.
To wrap smaller gifts, discover our new Christmas gift bags. Also personalised in the name of the lucky recipient, they come in 2 different sizes (S and M). They are ideal to hold small gifts such as a telephone, a book, some jewelery and cherry on the cake or more seasonally appropriate star on the tree, this bag can be used year round to hold all sorts of treasures or their belongings (like cables and chargers…)