Personalised sewing labels: The finishing touch for all your creations!
---
You love sewing, knitting, crochet ? You are always making clothes, bags, hats, pouches … and are a firm believer in home made, handmade presents ?!
Why not adding personalised sewing labels : The finishing touch for all your creations !
Our satin sew in name labels are perfect for the job !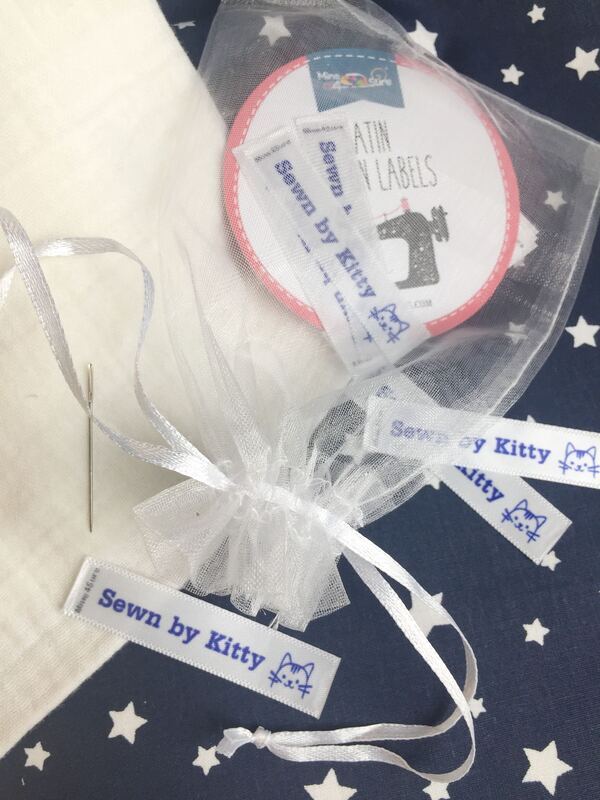 Personalised sewing labels for your creations
Mine4Sure's sew on name labels are one of our best sellers and ideal to label not only clothing items but also all your needle work. Made of satin, printed with solvent free inks, they are soft to the touch and so can be in contact with the most sensitive skins.
They are therefore great to label babies' clothes, onesies, comforters. These are also the perfect alternative to iron on name labels for all the clothes, tights, support or compression stockings.
These satin sew on labels are also ideal to use for labelling all fragile fabrics and handmade creations whether knitted, sewn or crochetted. They are ready and simple to use and thanks to being thermocut they will not fray.
How to personalise your satin sew in name labels
Personalised sewing labels: The finishing touch for all your creations! Whether you want to label your « needle » works of art or family heirlooms, these satin labels are ideal.
Start their personnalisation of your sewing labels by entering the text you want. Two lines of text are available (25 characters on the 1st line and 20 characters on the 2nd line).
Next you can select your favourite font. They are over 12 to choose from, you are sure to find one that suits your style or theme.
You can also choose to add a little picture to your labels. With over 50 to choose from, the most difficult will be to pick one.
Finally, select the colour of your text. Mine4Sure's personalised sew on labels are white, you have the choice amongst 9 colours of text. This will allow you to match them to your creation, or your theme.
A great gift idea
Let's face it, we are not all equal when it comes to perfect needle craft! If you are like me, whose grandmother taught every summer to knit and yet still can't manage the simplest of knitting knots, you may know "expert" crafters who deserve to have their name sewn in their creations for posterity. These sewing labels make the perfect gift for grannies, mums and best friends who knit, crochet and sew.
We love to see what our sew on labels are used for, do not hesitate to share your clever, beautiful creations with us on our Facebook and Instagram (@mine4sure)