Anti Monster Spray: To make bedtime a little bit easier!
---
Bedtime can be a stressful time for children. In addition to the separation with the rest of the family, being in the dark can be scary for some children. Imagination runs wild and you will be called endlessly to check for a monster under the bed or hidden in the wardrobe.
Louise, in our team, is an expert in wolves hunting in the most unexpected places (she checked inside a sock once !! yes, yes !!). In a spare time, she searched for a solution and found this great idea the Anti Monster Spray to make bedtime a little bit easier !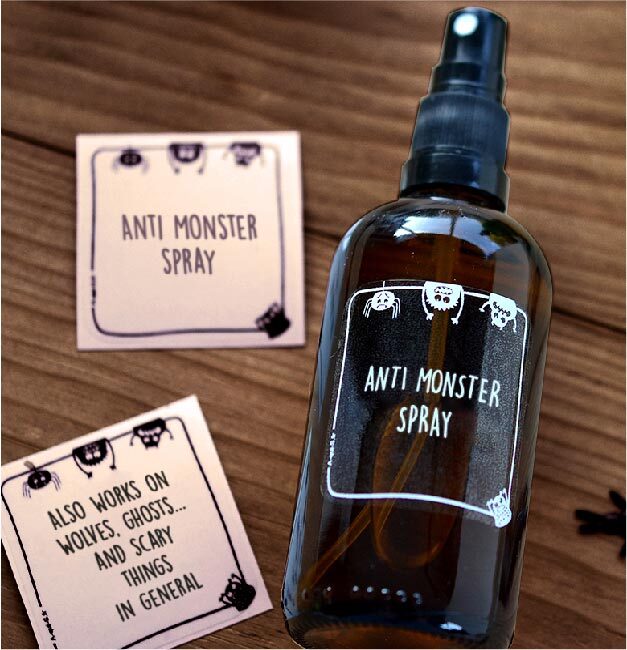 Anti Monster Spray : An easy recipe to make
Younger children and toddlers often develop a fear of the dark at bedtime. It is often associated with the presence of a monster or scary thing hidden in their room. No parents, so far, in the Mine4Sure team has been spared with the intensive search for a ghost, a wolve, a monster!
Louise, our current expert in bedtime wolf hunting, has found this great idea an Anti Monster Spray to make bedtime a little bit easier.
This anti monster potion is super easy to make at home and only requires a few « magic » ingredients.
You will need:
A spray bottle, the size of your choice
Some water
6/7 drops of the essential oil of your choice.
Lavender has relaxing properties. Orange blossom oil, also called neroli, great to help with anxiety, nervousness and stress.
The sweet smell of both will appeal to children.
A Monster themed « One by One » square sticker, made by Mine4Sure
Now, fill in the spray bottle is water.
Then, add the drops of your chosen essential oil.
If you are preparing it with your kids, why not muttering a magic spell when doing it to increase its efficiency?!
Finally, add your personalised monster frame label onto the bottle.
And Abracadabra !! Here you have it: Your Anti Monster Spray!
Personalise your spray bottle with a One by One square sticker
As all very important potions and products in the house, label your spray bottle with a Monster « One by One » square sticker! A new theme, especially designed for the occasion and with Halloween in mind.
This is as easy as making the actual Anti Monster Spray 😊
Available in sets of 2, choose a colour and personalise each labels by entering your own text, selecting the font and logo.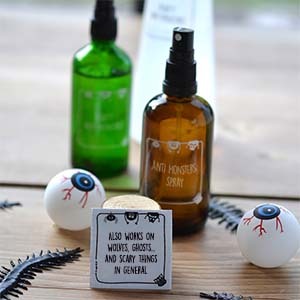 If monsters aren't a problem in your home, you can vary the text accordingly to the specific creature causing a problem : Anti witch spray, anti wolves spray … Possibilities are as endless as our kids imagination !
Personalise your stickers from the comfort of your own home and benefit from our free worldwide delivery !
How to use the Anti Monster Spray to make bedtime a little bit easier
At bedtime, when your child is ready to climb into bed and before turning off the lights, suggest to your child to spray the monster potion in all the places where one can hide. Letting your child do it boosts him or her confidence and makes the action more concrete. Of course, you can do this yourself if your little one prefers not to do alone. We recommend leaving the bottle in the room in case it is needed during the night.
This Anti Monster Spray has worked wonders for some of the children of the Mine4Sure family. It has the added benefit to be easy to make at very little cost.
Don't hesitate to share your experience and your tips to help make bedtime a little bit easier with us on Instagram and Facebook (@mine4sure)