Unicorn and panda masks printables
---
Because kids love dressing up! Unicorn and panda masks DIY to do with the kiddos
What is not to love about these adorable panda and unicorn masks free printables.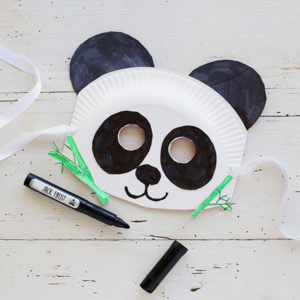 Easy to make, they will keep the kids occupy making them and playing dress up afterwards
First of all, choose your mask's template
For the adorable Unicorn and its flower wreath, click here!
For the cute Panda mask, it's here!
You will also need:
A white cardboard plate
Felt-tip pens or colouring pencils
Some ribbon or elastic
Glue and scissors
Ready, steady, make !
First , print the chosen design
Then have the kids colour  the differents parts, and cut them
To make the mask:
Cut the plate in two, rounding the middle bottom so it is more comfortable to wear.
If the plate is not white, it can be painted.
Make holes for the eyes
Stick the coloured in parts on the front of the plate
Then add, at the back, the ribbon or the elastic to maintain the mask in place
Time for your little unicorns and pandas to go on adventures….  whether riding rainbows or play hide and seek in the bamboo forest
You love unicorns and pandas?
Keep up with the scheme with our unicorn and panda logos on your personalised labels!
For more dressing up ideas, head this way!