End of school year free printable: Teacher assessment sheet
---
There is some excitement in the air… summer is here and school is almost over! Time to say goodbye and thank you to the kids' favourite teachers! For this occasion, why not swap role for once?
Our design team has come up with this fun "end of school year" free printable: A teacher assessment sheet for the children to complete and give top marks to their teachers.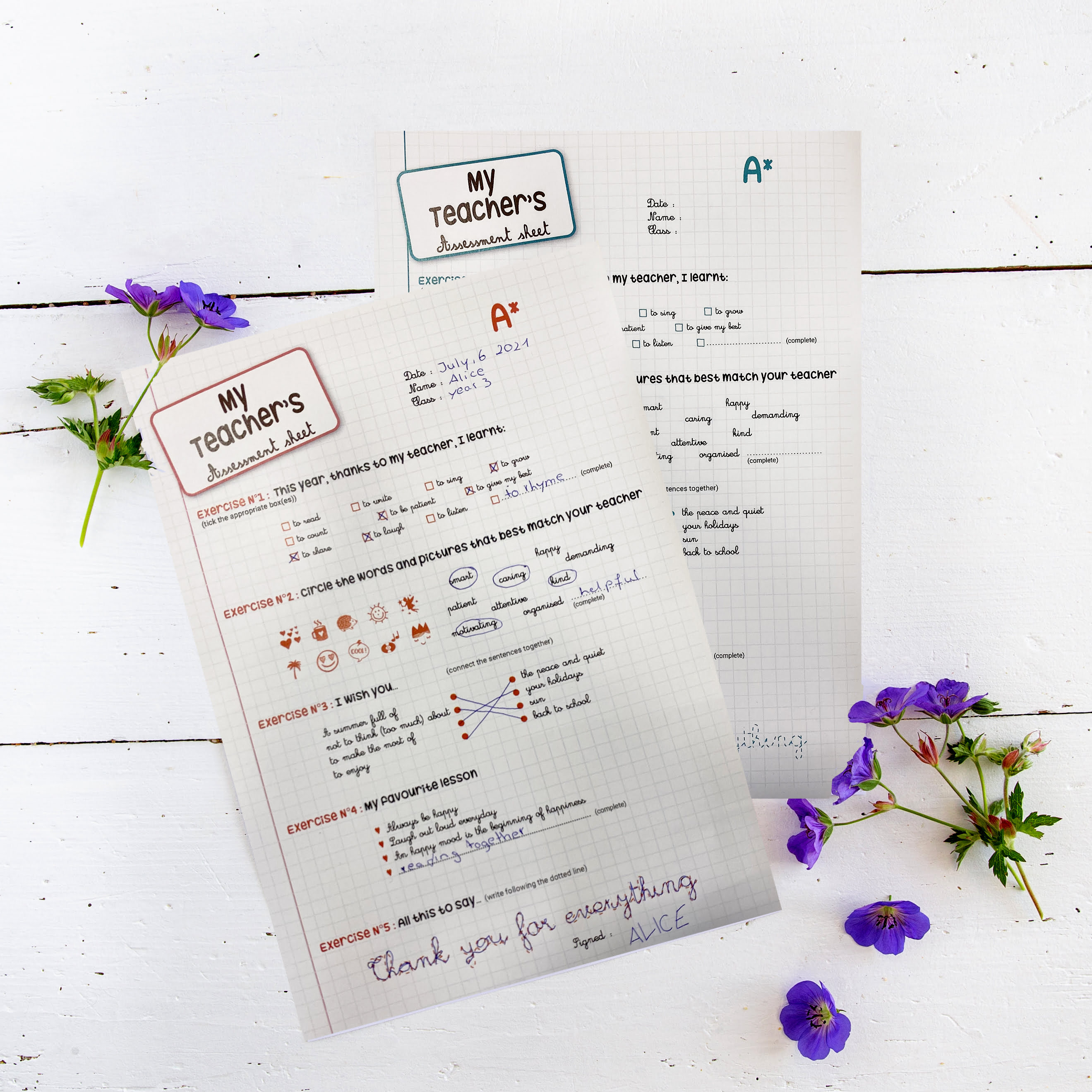 End of school year free printable:Teacher assessment sheet
Kids will love to swap role for once and the teachers will love receiving top marks from their pupils, especially when they come as a BIG thank you.
This way, to print our Teacher assessment free printable
How to complete the teacher assessment sheet
First thing first, fill the date and write your name
Then, thick the list all what has been learnt during the year thanks to your teacher
Next, circle the pictures and adjectives that best represent your teacher, in your opinion
In the following exercise, link the sentences to wish your teacher all the best.
Finally, choose your preferred lesson before saying a BIG thank you to your teacher with the "follow the dotes" writing practice.
Ready steady, write! The teachers will love this personal end of year note
More ideas to show your appreciation and say thank you teacher
To accompany this cute printable, here are a few more gift ideas teachers will love and use:
Teachers often use their own supplies and do not want them to disappear.
They will be so happy to use the personalised stickers to label their belongings at school thanks to the Thank You Teacher pack: a mix of 32 stickers in different sizes. A great personalised and very  useful present!
A personalised pouch in the name of the teacher, coach, assistant to tell them how amazing they are!
Very appreciated by the teachers who, then, can keep their things tidy in their bags.
Choose the design, add your very special note and you can be sure, this personalised gift will be a great hit with the person who receives it 🙂
Happy Summer!