Fall Treasure Walk: A fun activity for the whole family!
---
Fall is here! And with it its beautiful treasures. Why not make the most of the week-end to go on a Fall Treasure Walk: a fun activity for the whole family !
Getting the kids out of the house is not always an easy task, so we have come up with this great activity to do in the outdoor, easy to do and that the whole family can enjoy.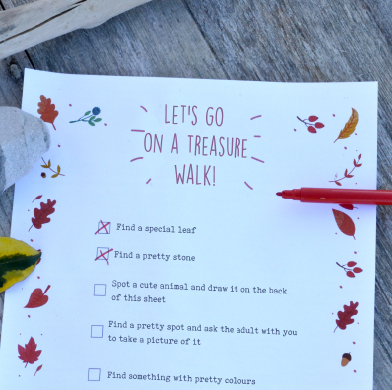 Let's go on a Fall Treasure Walk! An outdoor activity everyone will enjoy!
The sun is shining, the trees have put their gorgeous colours on, there are even a few puddles left to splash around in… yet the kids don't want to set a foot outside. Strong of our experience as parents, convinced that an outing in the fresh air is just what they (we) need, we have imagined this walk as a treasure hunt.
Tried and tested by the parents in our team, this outing turned out to be a « walk in the park » in all senses of the term ! Kids loved it and everyone got their dose of fresh air. So much so that they are eager to do it all over again next week-end.
We have prepared a list of « treasures » the children can look out for whilst outside : plants, rocks, trees, landscapes… Nature at its best ! More than just a fun outing, this allows the kids to develop their curiosity, imagination and observation skills. They also realise how much nature has to offer and how important it is to preserve it.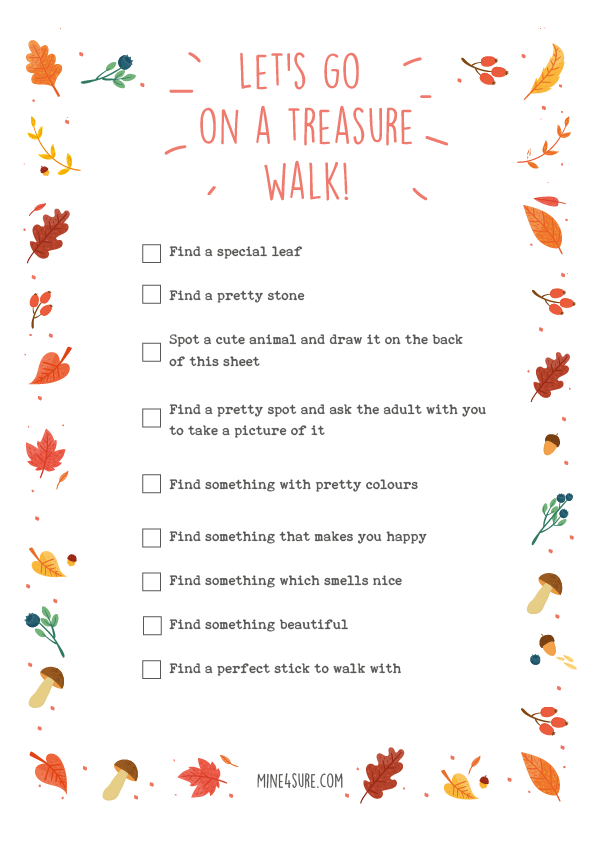 For this activity, you will need :
to download and print the « Fall Treasure Walk » PDF
to take a pen to tick the items on the list
and a small bag to carry the treasures, if you want to back them home
Kids loved this Fall Treasure Walk and want to do it again ?
Here a few ideas to make a new list :
Find an oak, chestnut, hazelnut … leaf
Collect 6 acorns
Draw your favourite tree
Find something red, green, orange…
Don't hesitate to create your own list according to where you live and what can be found around you or the season. Afterall, outdoor walks are great for everyone year round.
On our blog you will find other great DIY ideas with an autumn feel, like this Leaf mask DIY. The kids will love making this beautiful with the beautiful leaves collected during their walk in the park or the woods.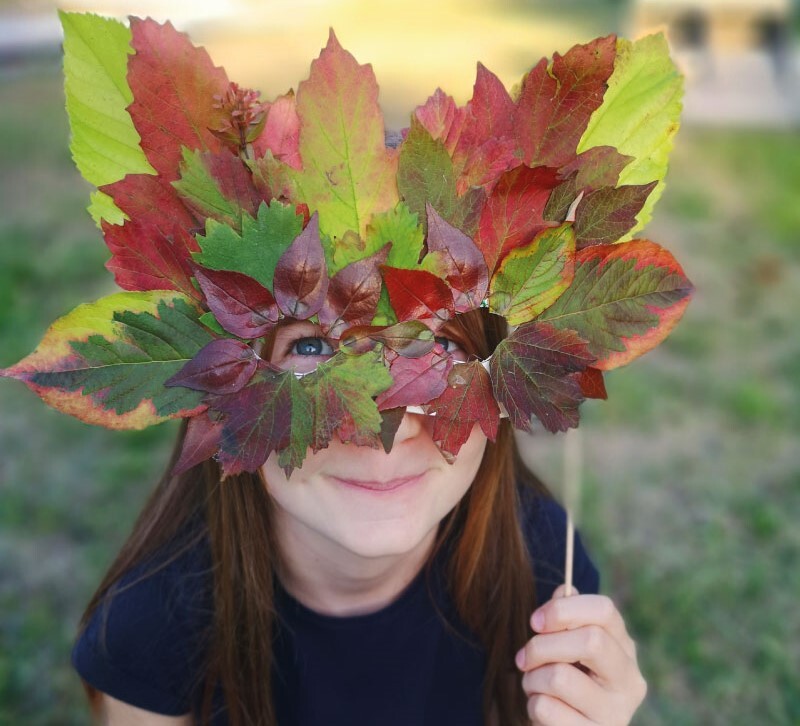 For more DIY ideas, tips and follow the adventures of the Mine4Sure family, join us on instagram (@mine4sure) and Facebook (@mine4sure)