Autumn decoration idea: A frightfully gorgeous front door!
---
It's Fall Y'all! Time for spiced pumpkin lattes, knitting and sewing snuggled up by the fire and … dressing your front door, in autumnal colours with this autumn decoration idea.
With Halloween lurking just around the corner, give this Fall leaves wreath a Halloween twist and make your front door frightfully gorgeous!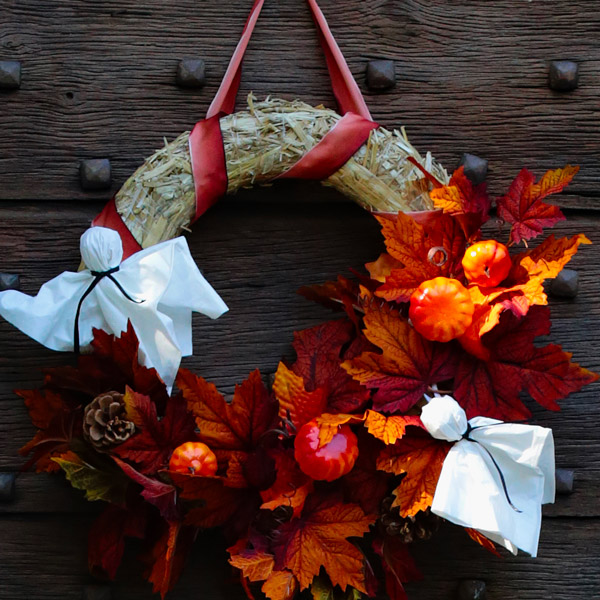 An Autumn wreath with a Halloween twist: THE autumn decoration idea!
What started as a beautiful homemade autumn wreath on, our very own, Emma's front door got transformed easily into a Halloween front door decoration as October moved in and pumpkins were ready to pick in her veg patch 😉
She's agreed to share with us how to make it
So, first things first! Make the wreath
To make this wreath, you will need :
A straw wreath of the diameter of your choice. They can be found in any good craft store or garden centre.
Some pine cones. Emma found hers during a walk in the woods but you can also buy them in craft shops or online
Some false small size pumkins
A big-ish bunch of real autumn foliage for a natural feel or if you want to re-use your wreath year after year a couple of false branches with autumn leaves.
Some copper wire
A beautiful ribbon to wrap around the wreath and hang it on the door (at least a 2m length)
Next, proceed with the assembly :
First of all, wrap the ribbon around the wreath. Finish by a loop at the top of the wreath so you can hang it on your door.
Fix the foliage on the bottom half or on the side of the wreath using the copper wire.
Once you are satisfied with your base, add the pine cones, and decorative pumpkins.
Give your Autumn decoration wreath idea, an Halloween twist !
These ghostly lollipops are scarily easy and quick to make.
All you need are :
Lollipops
As many pieces of white tissues than you have lollipops
And again a short length of thin black satin ribbon for each lollipop
First, dress up the lollipops in their best Halloween costumes.
This is dead-easy! Just cover the lollipop with the tissue, attaching it with the piece of thin black satin ribbon.
Then add the sweet (literally) little ghosts onto your wreath. You can attached them using the copper wire.
Now all you have to do is to snuggle up on your favourite armchair, and get started on your homemade Christmas presents : knitted, crocheted, sewn or for the more organised ones amongst us, you can add the finishing touch to the presents you spent the summer making with Mine4Sure sewing labels.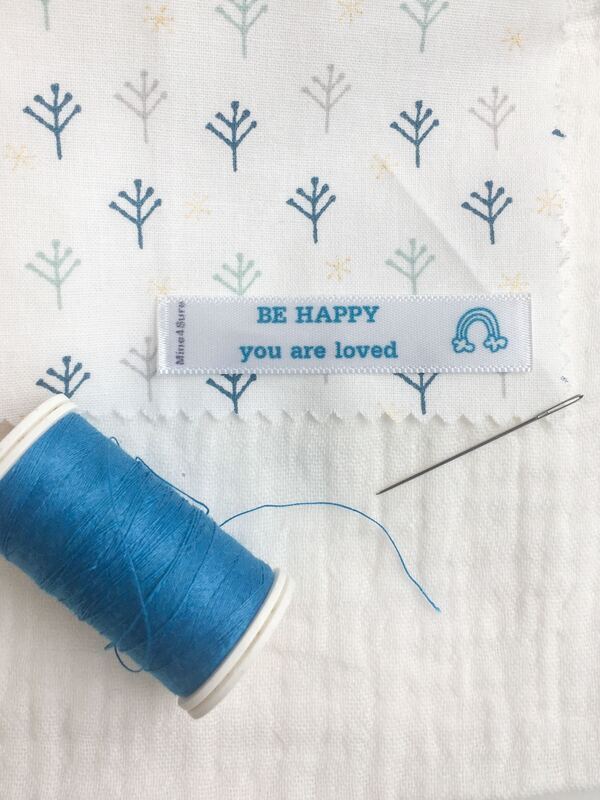 For more Halloween inspiration follow us on Pinterest and don't hesitate to share your wreath creations and Halloween decor with us on our social media platforms Instagram and Facebook. See you soon!