Fruits and chocolate biscuit sticks kabobs
---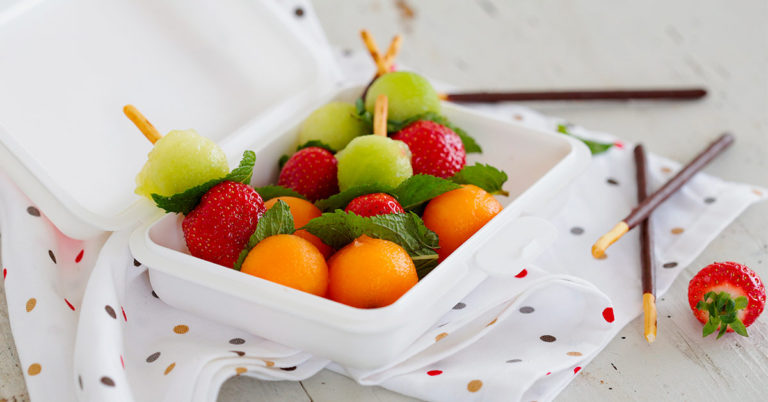 Summer's here! With its sunny weather, warm temperatures and vitamin loaded fruits a plenty😊 July is the perfect month to make the most of all the yummy, refreshing fruits nature has to offer. And we have the perfect recipe for snacks and picnics: Fruits and chocolate biscuit sticks kabobs. A super yummy recipe, tried and tested by the whole of the Mine4Sure family 😊
Ingredients for fruits and chocolate biscuit sticks kabobs
A pack of chocolate biscuit sticks
A punnet of strawberries
1 orange melon
1 green melon
Fresh mint leaves
A straw
Step by step prep
Now that you have all the ingredients, let's get making!
First of all, quickly rince the strawberries and mint leaves
Next, stem the strawberries and put them aside
Now, prepare single mint leaves
For the next step, you will need to cut the melons in halves and remove the peeps
Once your melons are prepped, you will need to make small balls using a baller spoon.
Finally, using the straw, hollow out the centre of the melon balls and the strawberries. That's our SUPER TIP to make sure the fruits don't break or squash and that you can easily slide them on the biscuit sticks 😉
Now, all you have to do is to pile the fruits onto the chocolate biscuit sticks alternating balls of orange melon, mint leaves, strawberries, and balls of green melon.
Our little tip!
Chocolate biscuit sticks tend to get soggy quickly because of the fruit juices: these fruity kabobs will be better if you eat them very quickly after you make them 😊
Head to our blog for more recipes and DIYs to make with the children during the summer holidays.