Unicorn birthday invitation free printable
---
In the scale of important things in family life, birthday party organisation is probably quite high on the list. It starts by finding the theme and the cutest, best party invitation that won't cost a fortune, nor take all your « already stretched » spare time!
If your «baby » (big or small) is still very much into fairies, unicorns… This unicorn birthday invitation free printable is FOR YOU !
Quick and easy to make, it is also a great activity to involve the kids in. They will absolutely love it and can let their creativity do the work to make truly personalised invitations.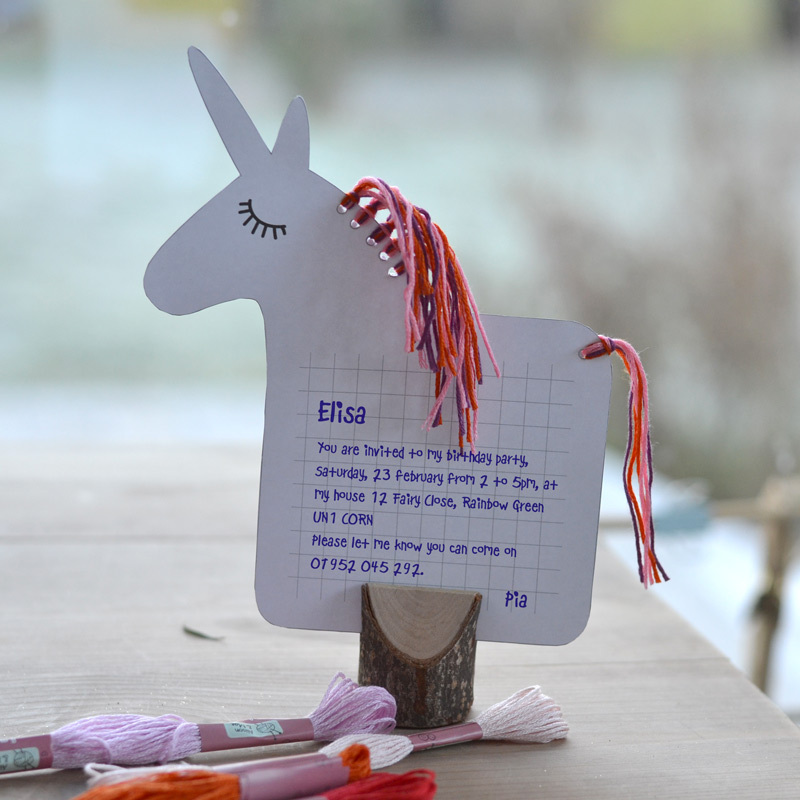 Make your unicorn birthday invitation
The perfect birthday invitation is an essential part for the perfect birthday party !
We have prepared for you a very cute template. All you need to do now is to print, cut out and decorate your unicorn. Then it is ready for you to write your invitation.
Start by printing of unicorn birthday invitation and let your imagination create magical and unique creatures ! The activity is simple enough that your children, from an early age, can participate and make their own too
They can decorate the card with some drawings, but you can also add glitter or some other decorations.
Then all you will have left to do at the back is to use your best writing and prose skills to write the perfect invitation
The little holes marked are especially for you to create the mane and tail of the unicorn.
We made the tail and mane using small lengths of colourful yarn but you can also use embroidery cotton thread (mouline or other). Just use your child's favourite colour(s) and there you have it : an easy to make, adorable unicorn birthday invitation 😊
Activities ideas for a funfilled birthday party
It's one thing to have a beautiful invitation, but organising the party to keep the kids occupied is another ! Here are a few ideas of activities that you can do at home.
Treasure hunts are always a big hit with kids of all ages and you are sure to keep them occupied for quite a while. You can carry your Birthday party theme throughout the hunt by creating relevant clues to guide them to the treasure.
The good thing about a treasure hunt is that it can be done inside or outside depending on your settings and the weather.
If you need some inspiration, check out the two treasure hunts we created that you can use as such or adapt to create your very own.
Musical chairs
A classic! You will several chairs, a bit of music and (maybe the most difficult) enough space.
A little tip : If chairs take too much space or come in short, you can also use cushions or large paper circle on which kids can stand rather than sitting down.
Just place the chairs (number of kids minus 1) in a circle. The goal is to seat as fast as possible on the available chairs as soon as the music stops. Remove a chair on each round until there are two kids left for one chair ! Fun guaranteed !
Cake decorating
No birthday party without a cake ! Of course, you can have a big cake to share or you could also prepare in advance cupcakes that kids can decorate themselves. Have sprinkles, cake decorations, a selection of different colour icing (if you feel brave) and other small candies.
Your little guests can either eat their cake on the spot or take them home with them as a little souvenir of the great time they had.
Share your tips and good ideas for birthday parties with us on Instagram or Facebook (@mine4sure)
Wishing you a fabulous, fun filled Birthday party !