Strawberry Jam: Spring goodness on toast!
---
Hello May! So happy to see you and all the good things you bring: bank holidays, May flowers, strawberries… One of our favourite fruits! Strawberry jam is like spring goodness on toast! Year round…
From the traditional recipe to some with a twist, discover our favourite recipes to make them memorable!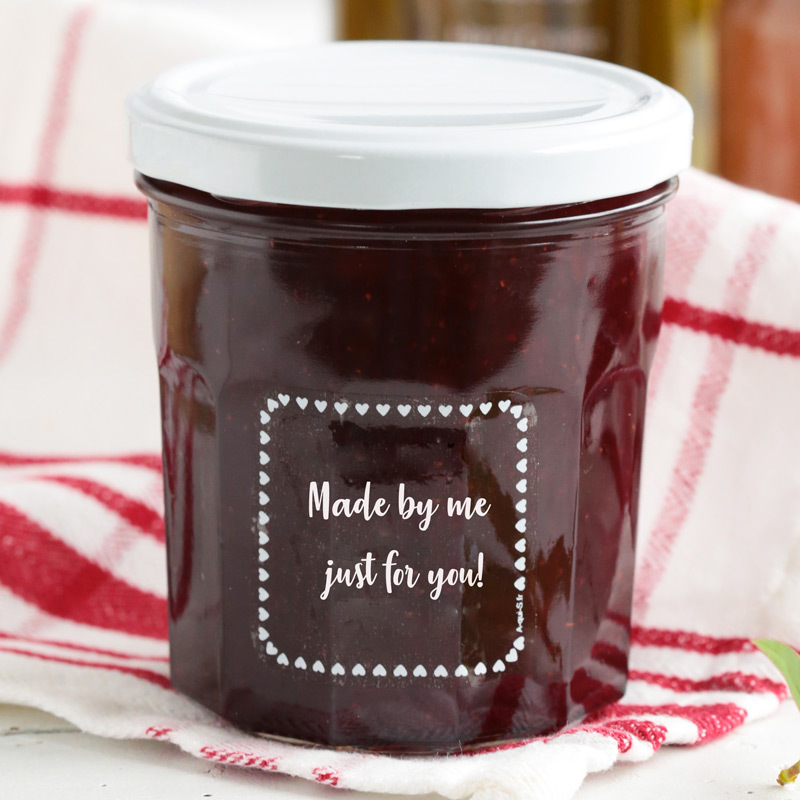 Make your Strawberry jam unique!
Homemade strawberry jam makes a great pressie to be enjoyed year round! Whether you follow a classic recipe or add some spring ingredients to make it even more special, here is our little guide from the making to adding the final personalised touch with custom jam labels.
Strawberry jam recipe
Rich in fibers and vitamins, strawberry jam is easy to make. You only need 3 ingredients:
1kg of strawberries
750g of sugar
The juice of a lemon
First of all, wash your strawberries delicately and dry them as carefully as possible
Next, crush them in a large recipient, mixing in the sugar and lemon juice. This can be done directly in the saucepan you will use to cook the jam.
Heat the mixture at low temperature, mixing permanently, until the sugar is completely dissolved. Once you reached this stage, increase the heat progressively and bring to the boil.
Now, to check if the jam is ready, pour a little jam on a cold plate. If the jam doesn't run, it is ready. Otherwise, cook it for another 5 minutes.
Finally, pour the mixture in sterilised jam jars.
Strawberry jams with a twist!
Looking for ideas to add a twist to your classic strawberry jam? Here are some suggestions of combinations we love:
Strawberry and basil jam:
Simply add some basil leaves (about 10 big leaves) to the mix above (for the same quantities as given above). To release all the flavours, mix the basil leaves with the strawberries, sugar and lemon juice and leave to stand for a whole night.
The flavours will blend.
The following day, cook your mixture as indicated.
Strawberry and Rose petals jam:
April showers bring May flowers and rose in your strawberry jam! Rose petals will add a very unique flavour to your strawberry jam.
To make strawberry and rose petals strawberry jams, first mix well the sugar and the strawberries. Then, leave to stand for the night.
Towards the end of the cooking (15min), add the petals (about 40g of untreated petals) and carefully mix until you reach the desired consistency.
Strawberry and Rhubarb jam:
Rhubarb and strawberry is a very nice mix of flavours when combined in jam.
To make it, there are a few changes in the recipe chronology compared to the classic Strawberry jam. Wash and cut the rhubarb into pieces, then mix with the sugar and let macerate overnight. Then add the crushed strawberries into the sugar, rhubarb mix and mix gently.
And cook as per the instructions for the classic Strawberry jam.
How to store your jams
Glass jars are undoubtedly the best to store your delicious homemade jams. Before using them, make sure the lids are in a good shape as the edges of the jars.
You will need to sterilise them first. For this, you can plunge them into boiling water for a few minutes. Use throngs to get them out safely.
Do not dry them with a cloth, but leave them to dry before pouring your jams in. It is essential that the jars are perfectly dried.
Once your jam has reached setting point, you can pour directly into the hot sterilised jars, leaving a 2 cm gap at the top. Close the lid and return the jars upside down to create an air vacuum. Your jams will keep for longer!
Store your jars in a dark, cool cupboard until use.
Now, all you have left to do is to label the result of "hard" work with beautiful jam jar stickers! As well as adding the finishing touch, having labels on your jam jars will allow you to clearly indicate the contents, the date of your jams making it easier to store, use and even gift!
Label your homemade jams
Paper labels have been the traditional way of labelling jam and pickles jars but they tend to be sensitive to time, humidity and heat (becoming yellow, the text fading, or becoming unstuck).
If you have been following us up a little bit, you will know by now our love for labels: Whether name labels for clothes, sewing labels or stickers for shoes and objects! We will stop at nothing to find things to labels and jam jars are just another thing Mine4Sure customised stickers are perfect for.
Labels for jam jars are long lasting, water and dishwasher proof, as well as personalised. They are a beautiful alternative to paper labels and allow you to personalise your homemade jams with, not only, the contents and dates of your jam but also with a personal message or who made them these yummy jams.
These stickers are square, ultra thin and will adapt to all your jars for jams. And cherry on the cake, they are printed with solvent free inks. You can add up to 5 lines of text for very own personalisation.
Easy to order and to customise directly online from our website, in the comfort of your own home, you can make them truly yours. The hardest might be to decide amongst all the personalisation options offered. There are more than 30 background colours available, from pastel to gold, silver or transparent, and different finishes (metal, mat, sparkly)! Add a decor or logo, there are over 50 to select from.