Halloween candy treasure hunt free printable
---
With the back to school rush over, our minds are already focusing on the next celebrations coming up : Halloween ! Things are getting better (covid wise) but will we be able to roam the streets and trick or treat as we did pre-pandemic ?
In case Halloween has to be spent in door or if you fancy doing something a bit different, we have come up with a Fang-tastic Halloween candy treasure hunt free printable for « trick or treaters » of all ages !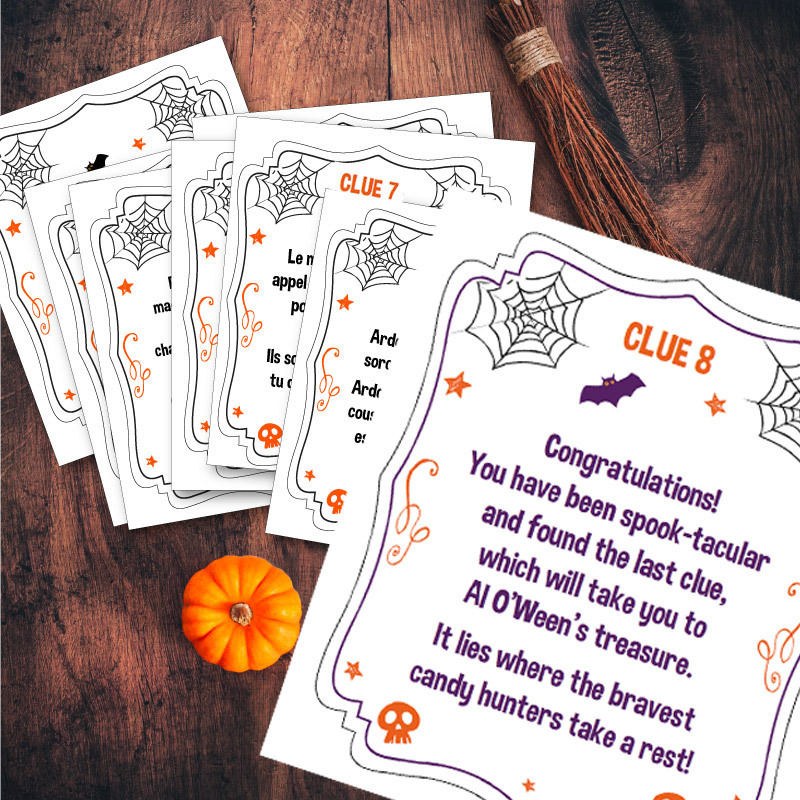 Halloween Candy Treasure Hunt
Look what our design team has prepared for candy and treasure hunters !
A Halloween treasure hunt that can be organised in your own home. All you need to do is download our free printable, print it, cut each clue card and hide them.
Instructions
Download our free Halloween Treasure Hunt printable « The Al O'Ween Fang-tastic candy hunt »
Print the cards ideally in colour
Cut out all 8 clue cards
Hide all but clue card n°1 in the house*
Have fun with your kids
Remember to hide the candy treasure
*the 8 hiding places:
First things first, to start the candy  hunt, give out clue n°1 to your little candy hunter
1- The 1st hiding place, where to put clue n° 2, is in the washing machine
2- Next, hide clue card n° 3 on page 13 of your child(ren) favourite book
3- The 3rd hiding place, where to put clue card n° 4, is in the pots and pans drawer/cupboard in the kitchen
4- The monster in chief could be you or a designated partner « in crime », he/she will be handing out clue card n°5
5- Now, hide clue n° 6 in a pair of shoes
6- To hide n° 7, you will need to find the best spot in the snack cupboard
7- Finally, slip clue n° 8 under a cushion on the sofa
8- Last but not least, you need to hide Al O'Ween's treasure under the bed(s) of your treasure hunter(s)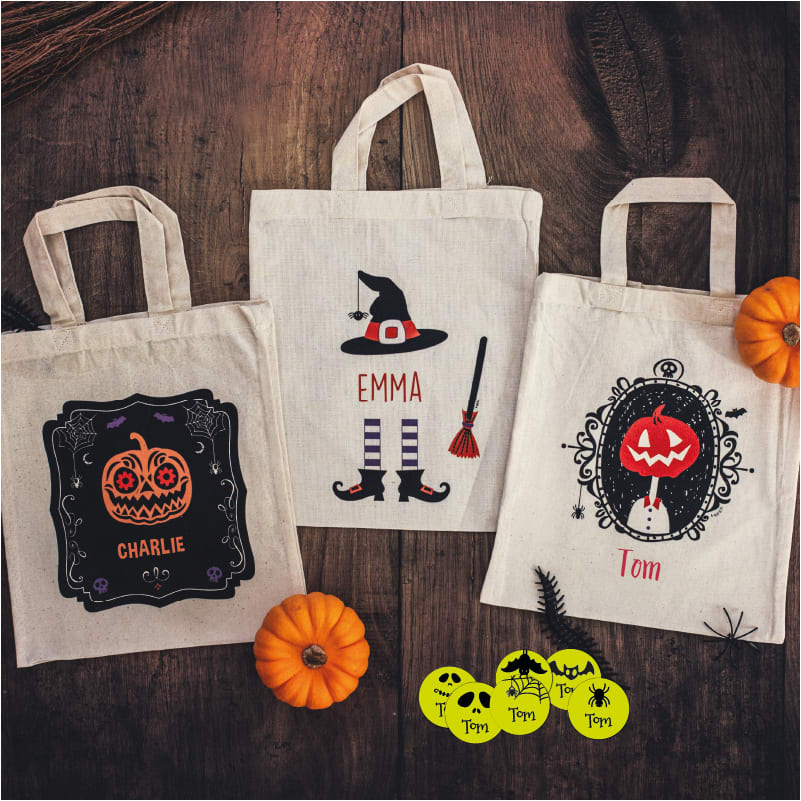 Our personalised Halloween tote bags are great to store Al O'Ween's fang-tastic treasure or to collect candy and sweet treats on a traditional trick or treat outing. Personalised in the name of your candy hunter, there is no risk of swapping bounties.
Our treat to you is that delivery is free worldwide if you choose the standard delivery !
Happy Halloween and candy hunting !
For more good ideas, Halloween's DIYs, visit our page on Pinterest or browse through the blog where you can find plenty of other ideas, including our Halloween themed origami finger game for another fun time.