Courgette and carrot quiche recipe: quick and easy!
---
I don't know about you but here in the office we are always exchanging ideas of new recipes to answer THE question: What to make for dinner ?!
How about this deliciously looking courgette and carrot quiche recipe? with the added bonus that it is a lovely way to get the kiddos to eat some of their 5 a day.
A delicious and quick to do recipe that you'll want to do over and over.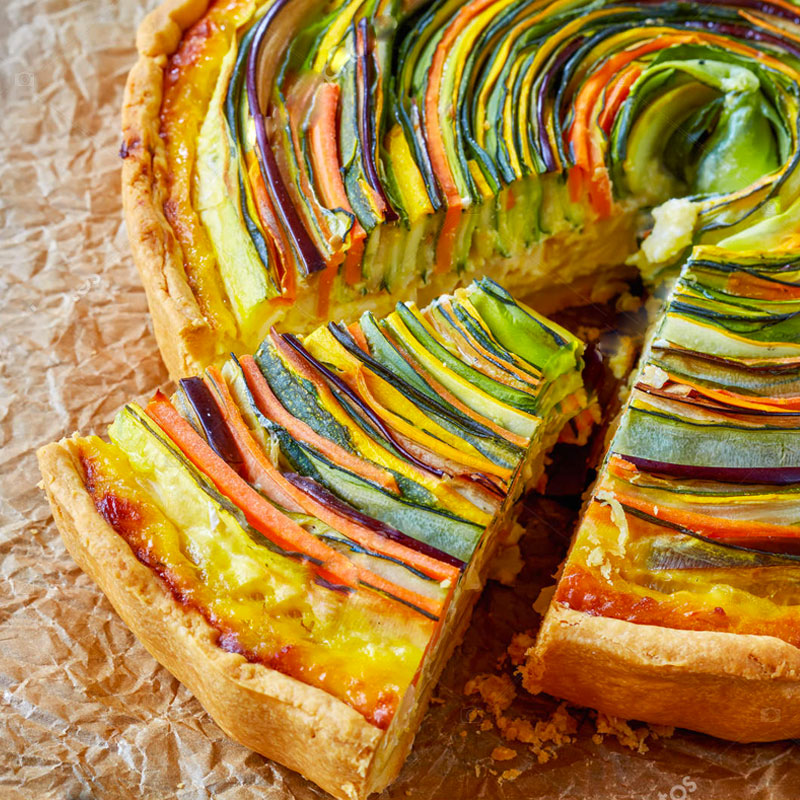 Courgette and carotte quiche recipe: the ingredients you will need:
Shortcrust pastry
2 courgettes
3 carrots
4 eggs
1 clove of garlic
25cl double cream
300ml milk or 300 ml single cream
150g grated cheese
pinch of salt and pepper
Recipe :
First, preheat your oven (180°C – gaz mark 4)
Then, line a deep-ish tart case with greaseproof paper
Before, lining the tin with the pastry, working it in the corners and all the way up the sides.
Remove the extra pastry so there is a clean edge
Thinly slice the carrots and courgettes, then line them on their long side alternating one carrot slice, one courgette slice.
Work your way round the dish to the center, starting from the outside. So it looks like a flower
Once the vegetables are in place, beat the eggs together and add the double cream, the milk, the crushed garlic, salt, pepper ending with the grated cheese.
Once the mix is done, pour over the carrots and courgettes
Finally, cook in the oven (at 180° C) for 50 minutes
Serve the courgette and carrot quiche warm with a mixed salad for example. Bon appetit!
This way for more courgette recipes!