Crab card: an adorable summer diy!
---
We have the perfect DIY to do with your kids this summer: this adorable crab card. Kids will love to make and family and friends will love to receive. You can use this card as a birthday card or a holiday postcard.
This card is the perfect invite for a sea themed birthday party. Your kids can send this holiday card to their friends or the grand-parent to stay in touch during the summer break.
This crab card is super-easy and so fun to make!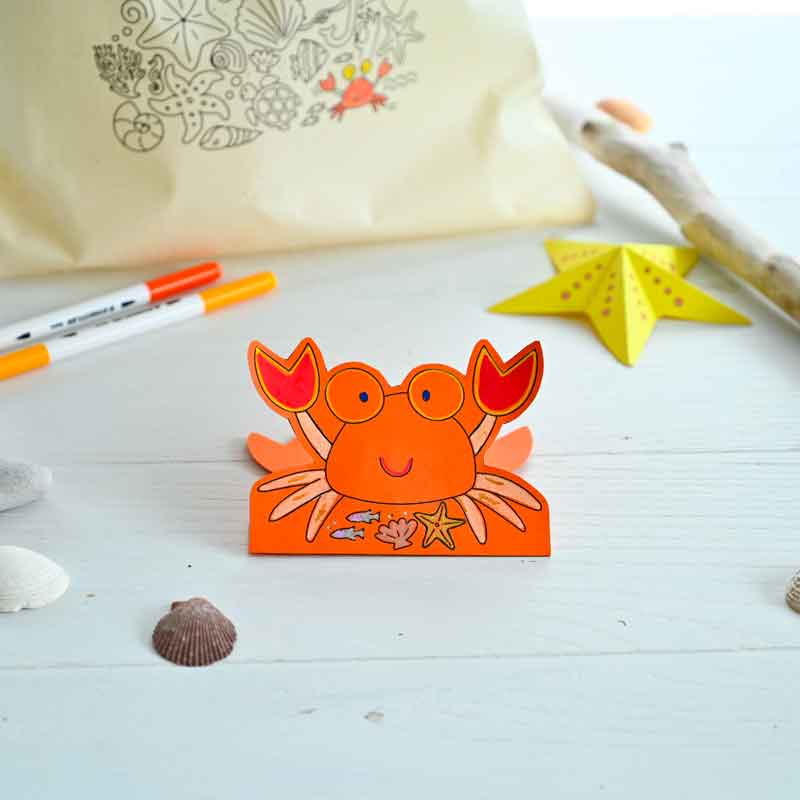 Make the crab card diy
All you need to do this summer DIY is:
A pair of scissors
Some coloured pencils, felt tip pens or markers
Glue
A sheet of paper (coloured or not)
Making the summer card step by step
First, download the DIY by clicking on the button below and print it. You can print the card on a colour paper sheet or on a white paper sheet and colour the crab yourself.
Next, cut out the crab and the little rectangle with the small squares.
Then, glue the square on the back of the crab. This is the part you will use to write your little note, invite…

Once you're done with the cutting, let's the fun commence and get on with the colouring! The children can let their creativity and imagination run wild and have fun colouring with their favourite colours: orange, red, yellow, blue…
When the colouring is done, fold the card in half following the dotted line, just like the picture above. The crab must be on the outside.
Your card is now ready for you to add your little note.
What will you use your card for? An invitation to an under-the-sea themed birthday party, an little invite for a summer sleepover or play time. Maybe to send news to Granny and GrandPa?
Just a little tip: It might be easier to write the text on the rectangle before you actually stick it on the inside of the crab card 😉
All you need to do is, once it is written, fold it in half following the dotted line and match the fold with the one on the crab card.