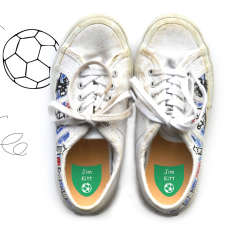 Sold in sets of 6 or 12 pairs of stickers.
Bring an end to last or swapped shoes thanks to our specific shoe stickers!
Suitable for all shoe sizes. They are delivered with a transparent overlay which is resistant to perspiration and rubbing. All pictures can be printed on the shoe stickers.
Dimensions: 30x33mm
from $12.95
Bi-coloured shoe stickers
ACDG1
6 x pairs of bi-coloured shoe stickers (30x33mm)
"Clever" stickers that will not only identify the owner of the shoes but help him or her recognise the left foot from the right.
A different colour for each side and a picture of the appropriate foot (left foot for left shoe / right foot for right shoe) will help your children differentiate left from right and put an end to mixed-up shoes !
Suitable for all shoe sizes.

To resist rubbing and sweat, the print is protected by a transparent overlay (supplied with the stickers) .
from $12.95